Pressemeldungen 2016
Press Release Filters
Note: Click on the FILTER button to apply your filter Settings.
Year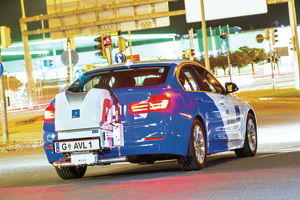 AVL M.O.V.E Newsletter Juni 2016
Die RDE Monitoring Phase hat begonnen – Machen Sie sich bereit für RDE!
---
Mit der amtlichen Veröffentlichung der EU-Verordnung 2016/427 vom 31. März 2016 wurde der lang erwartete Beginn der RDE-Prüfungen festgelegt. 20 Tage nach der Bekanntmachung im offiziellen Amtsblatt der Europäischen Union werden zukünftig für die Typgenehmigung von neuen Kraftfahrzeugen in der Europäischen Union Tests im realen Fahrbetrieb erforderlich sein. Der 20. April 2016 markiert somit einen Meilenstein in der Entwicklung von RDE für Pkw und leichte Nutzfahrzeuge. Es handelt sich dabei um das erste von insgesamt vier RDE-Paketen, um bei Pkw in Europa, Tests unter realen Bedingungen einzuführen.
AVL M.O.V.E iS – Der Industriestandard zur Messung von Emissionen im realen Fahrbetrieb (RDE)
Mit dem neuen AVL M.O.V.E Portfolio, stellt AVL eine vollständige und maßgeschneiderte Lösung für Emissionsprüfungen von Pkw im realen Fahrbetrieb vor, die den stetig steigenden Anforderungen dieser neuen Gesetzgebung gerecht wird. Seit der Einführung des AVL M.O.V.E iS Portfolios im Jahr 2012 als erstes "echtes" RDE-taugliches portables Emissionsmesssystem entwickelte es sich schnell zur bevorzugten Lösung der Automobilindustrie. Als Marktführer mit mehr als 100 Referenzen und mit unseren Technologie- und Kompetenzzentren in Kundennähe, kann AVL beispiellose Sicherheit garantieren, um diese Herausforderungen einfach und sicher zu bewältigen und den RDE-Messerfolg zu gewährleisten.
Als Marktführer bietet AVL erstklassige Leistung bei maximaler Ausbeute von gültigen Testergebnissen unter diversen Testbedingungen.
Das vollständige RDE-System für Straßentests besteht aus:
AVL M.O.V.E System Control … zur zentralen Datenerfassung und -anzeige
AVL M.O.V.E GAS PEMS iS … zur Messung gasförmiger Emissionen
AVL M.O.V.E PN PEMS iS … zum Messen von Partikelanzahlemissionen
AVL M.O.V.E EFM … zur Bestimmung des Abgasmassenstroms
AVL CONCERTO M.O.V.E … zur automatischen Datennachverarbeitung
Das M.O.V.E iS System wurde speziell für den Einsatz außerhalb des Fahrzeugs und zur Montage auf einem Träger auf der Anhängerkupplung entwickelt. AVL M.O.V.E GAS PEMS iS ist ein kompaktes und robustes, mobiles Gerät zur Ermittlung der NO-/NO2- und CO-/CO2-Emissionen von Diesel- und Benzinfahrzeugen. Mit AVL M.O.V.E GAS PEMS iS lassen sich Ergebnisse erzielen, die vergleichbar sind mit denen von heutigen Rohemissionsmesssystemen auf Prüfständen.
Außerhalb der gut konditionierten Umgebung eines Prüfstandes, offenbart die Partikelmessung im praktischen Fahrbetrieb neue Herausforderungen für die Messgeräte wie Vibrationen, Neigungen, Beschleunigungen sowie Temperaturabfall und Druckverluste. Außerdem ist eine effiziente Vorbehandlung erforderlich, um präzise und reproduzierbare Messungen für die gesamte Bandbreite an möglichen realen Fahrbedingungen zu gewährleisten.
Das AVL M.O.V.E PN-PEMS Modul verfügt über eine herausragende Robustheit gegenüber Vibrationen, Neigungen, Fahrzeugbeschleunigungen und erweiterten Umgebungsbedingungen (-10 bis 45 °C, bis zu 3000m Höhe) und sorgt für größtmögliche Langzeitstabilität beim Sensor, basierend auf dem einzigartigen kontinuierlichen Nullabgleich. Eine größere Genauigkeit und höchste Reproduzierbarkeit kann durch den erweiterten Sensormessbereich und die damit erforderliche geringere Verdünnungsrate erzielt werden.
Da sich die Emissionsgesetzgebung auf die Berechnung in Masse pro Kilometer (g/km) konzentriert, ist es zwingend erforderlich, eine direkte und unabhängige Abgasmassenstrommessung zu verwenden. AVL M.O.V.E EFM ermöglicht äußerst genaue und wiederholbare Messungen unter dynamischen Bedingungen im Abgastrakt, um das Risiko von Berechnungsfehlern zu reduzieren.
Automatische Datennachverarbeitung garantiert eine einzigartige Effizienz während Ihres Testprozesses
Die Auswertung und Verarbeitung der Testdaten kann ganz einfach durch die "AVL Concerto M.O.V.E" Software erfolgen. Das leistungsfähige Tool zur Nachverarbeitung wurde speziell für den automatischen Umgang mit AVL M.O.V.E In-Vehicle-Messdaten entwickelt. Die Software unterstützt den Anwender durch die Auswertung, Korrelation und Validierung der gemessenen Daten aus den verschiedenen In-Vehicle-Anwendungen. Vordefinierte Layouts reduzieren den Aufwand für eine komplette Testvalidierung und eine Bewertung des Kraftstoffverbrauchs. Mithilfe des anwendergeführten Ansatzes lässt sich ein TÜV-zertifizierter Bericht mit nur wenigen Klicks erstellen, auch von nicht-fachkundigen Benutzern.
Für weitere Informationen über RDE und die bevorstehenden gesetzlichen Änderungen, die Entwicklungsmethodik und zukünftige Trends wenden Sie sich bitte an: Waldemar Rott, E-Mail: waldemar.rott@avl.com; Tel.: +49 6134 7179 58
AVL ist das weltweit größte, unabhängige Unternehmen für die Entwicklung, die Simulation und das Testen von Antriebssystemen (Hybrid, Verbrennungsmotoren, Getriebe, Elektromotoren, Batterien und Software) für Pkw und Nutzfahrzeuge. AVL beschäftigt weltweit über 8.050 Mitarbeiter. 2015 betrug der Umsatz 1,27 Milliarden Euro.