Pressemeldungen 2016
Press Release Filters
Note: Click on the FILTER button to apply your filter Settings.
Year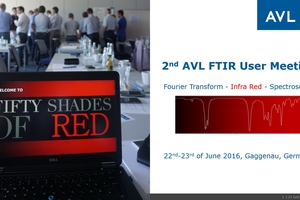 FTIR-Anwendertreffen als bedeutender Branchentreffpunkt etabliert
Vom 22. bis 23. Juni 2016 lud AVL Emission Test Systems zum 2. FTIR-Anwendertreffen nach Gaggenau ein.
---
Neuss, 9. August 2016 – Vom 22. bis 23. Juni 2016 lud AVL Emission Test Systems zum 2. FTIR-Anwendertreffen nach Gaggenau ein. Neben technischen Vorträgen von AVL-Experten und Kunden konnten Interessenten der Fourier-Transform-Infrarot-(FTIR)-Analysentechnologie aus dem deutschsprachigen Raum in spannenden Fachdiskussionen und Gesprächen kundenspezifische Applikationen und Anforderungen thematisieren. Als großer Vorteil des FTIR-Netzwerks gilt, dass Anwender des Abgasmesssystems und AVL-Experten die Möglichkeit haben, Trends in der FTIR-Abgasmessung frühzeitig zu erkennen und einen aktiven Part in der Weiterentwicklung zu übernehmen. Die Teilnehmer erhielten einen Einblick in die neuesten Entwicklungen, die im Rahmen einer praktischen Vorführung demonstriert wurden.
"Das FTIR-Anwendertreffen bietet eine ideale Plattform, Erfahrungen im Bereich der Abgasmesstechnik, deren praktischer Anwendung sowie neuen Trends und Entwicklungen auszutauschen. Gleichzeitig erhalten wir zahlreiche gute Anregungen für Produktverbesserungen, die in die nächste Produktgeneration einfließen können. Auch der direkte Erfahrungsaustausch zwischen den Anwendern bringt immer wieder neue Erkenntnisse", sagt Konrad Hinterhofer, Geschäftsführer der AVL Emission Test Systems GmbH.
Zu dem 2. FTIR-Anwendertreffen in Gaggenau konnte AVL Emission Test Systems erneut zahlreiche Personen aus Industrie und Forschung begrüßen, darunter Teilnehmer von Automobil- und Motorenherstellern, Zulieferern und Universitäten. Im ersten Teil der Veranstaltung, der sich auf aktuelle Trends, Produktneuheiten und Entwicklungen in der weltweiten Gesetzgebung konzentrierte, erlangten die Teilnehmer umfassende Kenntnisse hinsichtlich deren Auswirkungen auf die Prüfstandsumgebung. Im weiteren Verlauf des Anwendertreffens berichteten Kunden und AVL-Experten abwechselnd von Ihren Erfahrungen bei spezifischen Applikationen des FTIR-Abgasmesssystems und den damit einhergehenden neugewonnenen Erkenntnissen.
Über AVL Emission Test Systems
AVL Emission Test Systems GmbH mit Sitz in Neuss und Gaggenau beschäftigt mehr als 300 Mitarbeiter in Deutschland und produziert und entwickelt seit über 40 Jahren modernste Abgasmesstechnik für den Motoren- und Fahrzeugbereich.
Über AVL
AVL ist das weltweit größte, unabhängige Unternehmen für die Entwicklung, die Simulation und das Testen von Antriebssystemen (Hybrid, Verbrennungsmotoren, Getriebe, Elektromotoren, Batterien und Software) für Pkw und Nutzfahrzeuge. AVL beschäftigt weltweit über 8.050 Mitarbeiter. 2015 betrug der Umsatz 1,27 Milliarden Euro.