Pressemeldungen 2016
Press Release Filters
Note: Click on the FILTER button to apply your filter Settings.
Year
Für die Antriebe von morgen
Modernstes AVL-Technologiezentrum im Raum Stuttgart eröffnet
Das derzeit modernste Technologiezentrum von AVL wird am 26. Januar 2016 im Raum Stuttgart offiziell in Betrieb genommen.
---
Nach knapp 15 Monaten Bauzeit werden auf neun Prüfständen Motoren, Antriebsstränge und Fahrzeuge entwickelt und getestet, eine Aufstockung auf 25 Prüfstände ist durch modulare Bauweise möglich. AVL CEO Helmut List: "Das Prüfzentrum ist für die Erfüllung hoch anspruchsvoller Entwicklungsaufgaben ausgelegt und flexibel gestaltet, sodass wir auf zukünftige Anforderungen rasch reagieren können. Mit der Eröffnung dieses Tech Centers setzen wir am Standort Deutschland einen weiteren, wichtigen Meilenstein."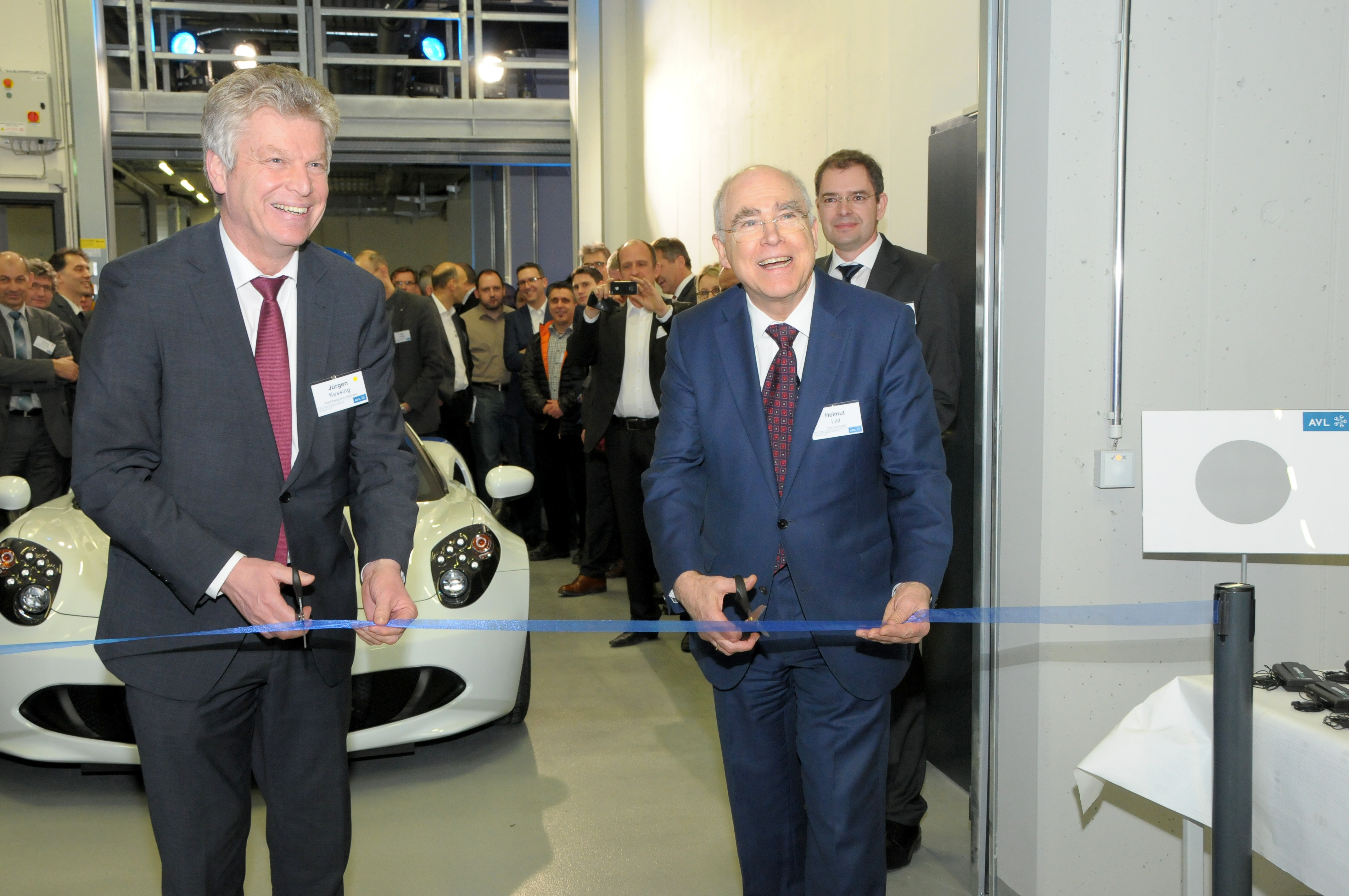 CEO Helmut List (re.) und Jürgen Kessing, Bürgermeister von Bietigheim, bei der Eröffnung des neuen Technologiezentrums in der Nähe von Stuttgart.
Als innovativer, kompetenter und verlässlicher Partner der Automobilindustrie verfügt AVL über tiefgehendes Know-how: Die Herausforderungen der Zukunft wie Real Driving Emissions, Zero-Emission-Zones, CO2-Reduktion und weltweite Flottenverbrauchsziele erfordern optimale Teilsysteme wie Motor, Getriebe, E-Antrieb, Energiespeicher und Regelung, vor allem aber ein optimales Zusammenspiel dieser Antriebskomponenten. Neben der Erfüllung der reinen Zulassungsbestimmungen steht für die Automobilhersteller im Stuttgarter Raum das Akustikverhalten und die markenspezifische Fahrbarkeit im Vordergrund. Elmar Zimmer, Geschäftsführer AVL Deutschland GmbH: "Mit dem neuen Prüfzentrum bieten wir unseren Kunden nun auch lokal die gesamte AVL Entwicklungsmethodik, von der modellbasierten Entwicklung am virtuellen Prüfstand über den Motorenprüfstand, den Antriebsstrangprüfstand bis zur Validierung im Gesamtfahrzeug an."
Das neue AVL Tech Center im Gewerbegebiet Laiern in Bietigheim-Bissingen wurde auf der Basis neuester Erkenntnisse errichtet und verfügt aktuell über zwei Allradrollenprüfstände (für Emissions- und Akustikentwicklung), mehrere HIL-Systeme, einen Akustik Motorenprüfstand, zwei Antriebsstrangprüfstände und zunächst vier Motorenprüfstände. Neben der Fahrzeug- und Motormontage, den Werkstätten, Laboren und Lager stehen den Mitarbeitern attraktive Büroräumlichkeiten zur Verfügung.
Das moderne Technikzentrum ist Teil des globalen Ausbaus von Entwicklungsstandorten von AVL mit Headquarter in Graz, Österreich. In Deutschland beschäftigt AVL in sechs Niederlassungen derzeit rund 2000 Mitarbeiter in der Nähe zu wichtigen Automobilherstellern.
AVL ist das weltweit größte unabhängige Unternehmen für die Entwicklung, Simulation und das Testen von Antriebssystemen (Hybrid, Verbrennungsmotoren, Getriebe, Elektromotoren, Batterien und Software) für PKW und Nutzfahrzeuge. AVL beschäftigt weltweit über 7.470 Mitarbeiter. 2014 betrug der Umsatz 1,15 Milliarden Euro.