Pressemeldungen 2017
Press Release Filters
Note: Click on the FILTER button to apply your filter Settings.
Year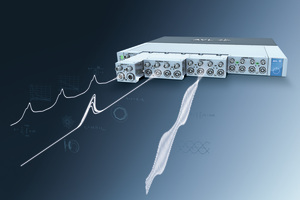 Leistungsstarke Lösungen und hochwertige Ergebnisse für schnelle Erkenntnisse
Pressemitteilung: AVL X-ion™ e-Power
Verbesserte Verbrennungsstrategien auf der einen und Elektrifizierung auf der anderen Seite sind die Schlüssel zu einem sauberen Antrieb, führen aber gleichzeitig zu einem erhöhten Entwicklungsaufwand. AVL begegnet diesem Trend mit AVL X-ion™, der neuen modularen High-Speed-Datenerfassungsplattform für die Antriebsstrangentwicklung.
Das speziell an die neuen Anforderungen zugeschnittene, flexible Datenerfassungssystem kann mit minimalem Aufwand an verschiedenste Prüflinge, Testumgebungen und Messaufgaben angepasst werden. Neu ist auch die Verbindung von klassischer kurbelwinkelbasierter Messtechnik (Verbrennungsmotoren) mit zeitbasierter Messtechnik (e-Antrieb) in einem System für Hybridentwicklung und die Kombination von extrem schneller Messdatenerfassung mit höchster Auflösung und Messgenauigkeit.
"Durch das modulare Konzept von AVL X-ion™ eignet sich das neue Hochgeschwindigkeitsmesssystem hervorragend für den Einsatz in der Verbrennungsmesstechnik, bei optischen Untersuchungen, in der Rotationsanalyse sowie bei der e-Leistungsmessung. Dank seiner innovativen Bauweise stellt AVL X-ion™ eine zukunftssichere Investition dar, die in kürzerer Zeit qualitativ hochwertige Ergebnisse liefert und zu schnelleren Erkenntnissen führt", erklärt Roland Jeutter, Geschäftsführer der AVL Deutschland GmbH.
Ungeachtet der Architektur eines Antriebstrangs ist es im gesamten Entwicklungsprozess von entscheidender Bedeutung, sowohl die einzelnen E-Komponenten wie Batterie, Inverter und E-Motor zu optimieren als auch das Antriebssystem in seiner Gesamtheit zu untersuchen. Eine optimale Synergie zwischen diesen Komponenten bietet maßgebliche Vorteile wie z.B. minimale Komponenten- und Systemkosten, die Reduktion von Kraftstoffverbrauch und CO2 bei gesteigerter Fahrzeugreichweite und Kundenakzeptanz sowie beste Fahrbarkeit (Realfahrt). Die innovative AVL X-ion™ Einheit liefert ein besseres Verständnis vom Zusammenspiel der Komponenten und hilft, die Entwicklungsziele mit geringerem Aufwand zu erreichen.
AVL e-Power Analyse
Die AVL e-Power Analyse, basierend auf AVL X-ion™, ist eine leistungsstarke Lösung mit anwendungsspezifischen e-Power X-FEMs (Front-End-Module). Maximal vier e-Power X-FEMs können in einer Basiseinheit eingebaut werden. Zusammen mit den Signalaufbereitungseinheiten für Hochspannungen (HVP-Box) und Hochstromwandlern (CSS-Box) ist das System sowohl für komplett elektrische als auch für hybride Antriebsstränge entwickelt worden. Die PC-basierte Betriebssoftware AVL IndiCom™ berechnet alle Resultate und speichert die Rohdaten für die Nachbearbeitung.
AVL ist das weltweit größte, unabhängige Unternehmen für die Entwicklung, Simulation und das Testen von Antriebssystemen (Hybrid, Verbrennungsmotoren, Getriebe, Elektromotoren, Batterien und Software) für PKW, Nutzfahrzeuge und Großmotoren. AVL beschäftigt weltweit über 8.600 Mitarbeiter. 2016 betrug der Umsatz 1,4 Milliarden Euro.
Kontakt

Dipl.-Ing. Michael Ksela, Unternehmenssprecher AVL

Tel +43 664 132 81 78

AVL Deutschland GmbH

Peter-Sander-Str. 32

55252 Mainz-Kastel
---