Pressemeldungen 2017
Press Release Filters
Note: Click on the FILTER button to apply your filter Settings.
Year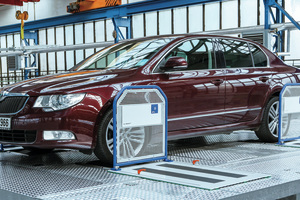 Pressemitteilung: 1000. AVL Rollenprüfstand an ŠKODA übergeben
AVL übergab ihren 1.000 Fahrzeugrollenprüfstand an ŠKODA. Der Jubiläumsprüfstand ist Hauptbestandteil eines neuen Rollenprüfstandlabors im Stammwerk des tschechischen Automobilherstellers. Urs Gerspach, Geschäftsführer AVL Test Systems and Global Operations: "Wir bieten unseren Kunden zukunftsweisende Komplettlösungen zur Abgasprüfung – so eignet sich das moderne Labor nicht nur hervorragend für die Optimierung vorhandener Technologien, sondern ebenso für die Entwicklung von neuen Antriebskonzepten, auch in Richtung Elektrifizierung."

Das Nachfahren realer Straßentests unter extremen und reproduzierbaren Umgebungsbedingungen ist mittlerweile an der Tagesordnung und bildet die Grundlage für verlässliche Testergebnisse. Der gerade an ŠKODA übergebene AVL ROADSIM Allradrollenprüfstand wird den neuesten Anforderungen moderner und zukünftiger Entwicklungsaufgaben gerecht, indem er das Frontloading von Straßentests sowie das perfekte Zusammenspiel von realer und virtueller Testumgebung ermöglicht. In Verbindung mit den durchgängigen AVL Entwicklungswerkzeugen und dem AVL Engineering Know-how werden damit im Prüflabor die verschiedensten Fahrzyklen der Straße hochgenau simuliert. "Dank des neuen Rollenprüfstandlabors haben wir ein modernes Tool, dessen Bedeutung in Zukunft weiter steigen wird – sowohl in Bezug auf die Qualitätssicherung unserer Fahrzeugproduktion als auch in der Entwicklung zukünftiger und extrem effizienter Antriebseinheiten", so Martin Hrdlička, Leiter Chassis and Aggregate Development ŠKODA. Christian Strube, ŠKODA Vorstandsmitglied und verantwortlich für R&D: "Mit diesem neuen, hochmodernen Rollenprüfstandlabor setzt ŠKODA neue Trends in Sachen Motorentwicklung und -prüfung."

Der Prüfstand besitzt einen Hochleistungs-AC-Motor je Achse, wodurch es möglich ist, eine große Bandbreite von Kleinst- bis hin zu Oberklassefahrzeugen mit 300 kW im Dauerbetrieb zu testen. Aufgrund des Hochgenauigkeitspakets ermöglicht der Prüfstand eine präzise und realistische Straßensimulation mit hochgenauer Achssynchronisation (±0,02 km/h). Zudem erlaubt der breite Temperatur-Einsatzbereich von -30° C bis +60° C die Nachbildung extremer Bedingungen.

AVL ist das weltweit größte, unabhängige Unternehmen für die Entwicklung, Simulation und das Testen von Antriebssystemen (Hybrid, Verbrennungsmotoren, Getriebe, Elektromotoren, Batterien und Software) für PKW, Nutzfahrzeuge und Großmotoren. AVL beschäftigt weltweit über 8.600 Mitarbeiter. 2016 betrug der Umsatz 1,4 Milliarden Euro.
---