Pressemeldungen 2017
Press Release Filters
Note: Click on the FILTER button to apply your filter Settings.
Year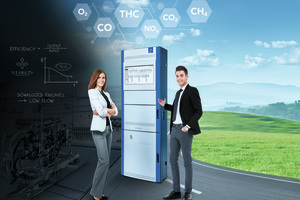 Pressemitteilung: AVL AMA SL™, die neue Dimension der Abgasmessung
Die neue Abgasmessanlage AVL AMA SL™ definiert den Status Quo der Abgasmessung neu: Das jüngste Mitglied der AVL AMA-Produktfamilie überzeugt mit einem minimalistischen Anlagenaufbau, benötigt lediglich geringe Durchflussraten für hochpräzise Messergebnisse und ist deutlich energieeffizienter und wartungsärmer als herkömmliche Systeme. Die AVL AMA SL™ analysiert mit einem großen dynamischen Messbereich bis zu acht Abgaskomponenten und bestimmt optional die Abgasrückführrate (AGR). AVL präsentiert die revolutionär-neue Abgasmessanlage der Weltöffentlichkeit im Zuge der Automotive Testing Expo Europe in Stuttgart.
"Bei der Entwicklung der neuen AVL AMA SL™ haben wir zunächst alle Komponenten wie Analysatoren, Pumpen, Leitungen, Filter und Ventile analysiert, um diese entweder zu optimieren oder deren Anzahl zu reduzieren. So ist es AVL gelungen, eine Abgasmessanlage zu konstruieren, die neben wesentlich geringeren Wartungskosten nur noch ein Drittel des Platzes einer herkömmlichen Anlage benötigt", erklärt Konrad Hinterhofer, Geschäftsführer der AVL Emission Test Systems GmbH.
Immer strikter werdende Abgasgesetzgebungen mit neuen und längeren Testzyklen und die steigende Komplexität von Motor- und Antriebsprüfständen stellen hohe Anforderungen an die Abgasmessung. Durch die damit einhergehende große Anzahl an erforderlichen Messsystemen stellt der Betrieb der Anlagen einen signifikanten Kostenfaktor dar. Die Effizienz der Anlagen hängt daher von einem hochstabilen Betrieb, zuverlässigen Messergebnissen und bedienerfreundlichen Service-Konzepten ab. Denn ein wirtschaftlicher Betrieb des Prüfstands verlangt nach minimalen Wartungszeiten und möglichst wenigen zeit- und kostenaufwändigen Prüfläufen je Messaufgabe. Mit ihrem smarten Design liefert die AVL AMA SL™ die beste Lösung für diese komplexen Anforderungen. Dank einer konsequenten Reduzierung und Minimierung der Komponenten benötigt die Abgasmessanlage nur eine geringe Standfläche mit einer Tiefe von 30 cm und schafft so Freiraum für eine neuartige Gestaltung der Prüfzentren. Gleichzeitig liefert die AVL AMA SL™ absolut präzise Messergebnisse, wofür lediglich geringste Gasvolumina erforderlich sind. Der Motor und die Abgasnachbehandlung werden so in keiner Weise durch die Probeentnahme beeinflusst, weshalb teure, redundante Prüfläufe ausbleiben. Durch die um bis zu 90 % geringere Probeentnahmemenge ist die Anlage auch ideal für kleinere Motoren – beispielsweise von Hybridfahrzeugen oder Motorrädern – geeignet. Die AVL AMA SL™ ist zudem unabhängig von der Kraftstoffart und somit bestens für die Entwicklung und Zertifizierung von Verbrennungsmotoren gemäß sämtlichen weltweit gültigen Abgasgesetzen einsetzbar.
Darüber hinaus punktet die AVL AMA SL™ mit geringen Betriebskosten, denn sie verbraucht 40 % weniger Energie und der Wartungsaufwand ist aufgrund der reduzierten Komponentenanzahl nur nahezu halb so hoch wie bei herkömmlichen Messanlagen. Dank Kleinspannungsversorgung ist die Anlage auch während des Betriebs sicher zugänglich. So können Mitarbeiter z. B. einen Analysator warten, während die anderen Analysatoren weiter ihren Messauftrag erledigen. Eine reibungslose Integration in das bestehende AVL PUMA Open 2™ Prüfstandsnetzwerk ist dank AVL ActiveLink™ jederzeit leicht durchführbar.
Mit der neuen AVL AMA SL™ Abgasmessanlage setzt AVL neue Standards in der Abgasmesstechnik und stellt erneut ihre Innovationsführerschaft unter Beweis.
Über AVL Emission Test Systems
AVL Emission Test Systems GmbH mit Sitz in Neuss und Gaggenau beschäftigt mehr als 300 Mitarbeiter in Deutschland und produziert und entwickelt seit über 40 Jahren modernste Abgasmesstechnik für den Motoren- und Fahrzeugbereich.
Über AVL
AVL ist das weltweit größte, unabhängige Unternehmen für die Entwicklung, die Simulation und das Testen von Antriebssystemen (Hybrid, Verbrennungsmotoren, Getriebe, Elektromotoren, Batterien und Software) für Pkw, Nutzfahrzeuge und Großmotoren. AVL beschäftigt weltweit über 8.600 Mitarbeiter. 2016 betrug der Umsatz 1,4 Milliarden Euro.
---