Pressemeldungen 2017
Press Release Filters
Note: Click on the FILTER button to apply your filter Settings.
Year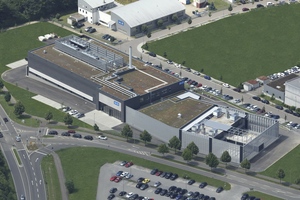 Pressemitteilung: AVL erweitert das Tech Center Stuttgart
Neuer Allradrollenprüfstand und zwei zusätzliche Motorenprüfstände
---
Mainz-Kastel, 24. Oktober 2017 – Mit drei neuen Prüfständen erhöht die AVL Deutschland GmbH ihre Prüfkapazitäten im Tech Center Stuttgart. Knapp 18 Monate nach der offiziellen Inbetriebnahme ergänzen ein neuer Allradrollenprüfstand sowie zwei Motorenprüfstände in Containerbauweise das Prüfzentrum in Bietigheim-Bissingen. Durch die flexible Gestaltung des modernen AVL-Technologiezentrums, können die neuen Motorenprüfstände nach nur drei Monaten und der Rollenprüfstand nach sieben Monaten Bauzeit in das bestehende Tech Center integriert und in Betrieb genommen werden. So ist AVL jederzeit in der Lage, auf zukünftige Anforderungen schnellstmöglich zu reagieren.
Zur Erfüllung hoch anspruchsvoller Entwicklungsaufgaben
Branchendominierende Themen wie Real Driving Emissions, CO2-Reduktion und weltweite Flottenverbrauchsziele erfordern optimale Teilsysteme wie Motor, Getriebe, E-Antrieb, Energiespeicher und Regelung, vor allem aber ein bestmögliches Zusammenspiel sämtlicher Antriebskomponenten. Eine größtmögliche Synergie zwischen diesen Komponenten bietet maßgebliche Vorteile wie z. B. minimale Komponenten- und Systemkosten, die Reduktion von Kraftstoffverbrauch und CO2 bei gesteigerter Fahrzeugreichweite und Kundenakzeptanz sowie beste Fahrbarkeit. Dr. Christof Gietzelt, Leiter Tech Center Stuttgart, AVL Deutschland GmbH: "Mit der Erweiterung unseres Technologiezentrums bieten wir unseren Kunden nun noch mehr Entwicklungs- und Testmöglichkeiten, von der modellbasierten Entwicklung am virtuellen Prüfstand über den Motorenprüfstand, den Antriebsstrangprüfstand bis zur Validierung im Gesamtfahrzeug an."
Das AVL Tech Center Stuttgart in Bietigheim-Bissingen wurde im Hinblick auf zunehmende zukünftige Anforderungen erweitert und verfügt nun über drei Allradrollenprüfstände (für Emissions- und Akustikentwicklung), mehrere virtuelle Prüfstände, einen Akustik-Motorenprüfstand, zwei Antriebsstrangprüfstände und aktuell sechs Motorenprüfstände. Neben der Fahrzeug- und Motormontage, den Werkstätten, Laboren und Lager stehen den Mitarbeitern attraktive Büroräumlichkeiten zur Verfügung.
Fakten zu den neuen Prüfständen
Emissions-Allradrollenprüfstand
Maße:
12 m x 9 m x 4 m (L x B x H)
Leistung:
2 x 280 kW/420 kW (Nennleistung/Überlast); Leistungsvermessung möglich
Geschwindigkeit:
bis 250 km/h
Temperaturbereich:
+10 °C bis +40 °C
Konditionierung:
770 kW Zellenlüftung
Ausstattung:
• 48" Allradscheitelrolle
• Vollausgestattet mit Emissionsmesstechnik zur Messung der allerneusten Gesetzgebung (EU6, Real Driving Emissions, etc.)
• Ausgestattet für den Einsatz von AVL Methodik-Werkzeugen wie ACD, AVL CAMEO™, DriCon, AVL InMotion™, AVL-DRIVE™, etc.
Motorenprüfstände
Maße:
8,5 m x 5,2 m x 3,5 m (L x B x H)
Leistung:
Nennleistung 700 kW, 1500 Nm, 10.000 U/min, sowohl Längs-, als auch Queraufbau mit der Original-Abgasanlage
Ausstattung:
Vormontierte Container-Prüfstände, Ein Modul bestehend aus:
• Zwei Prüfständen
• Messtechnik-, Medien- und Haustechnikraum
• Abgetrennte Bedienräume
Über AVL
AVL ist das weltweit größte, unabhängige Unternehmen für die Entwicklung, die Simulation und das Testen von Antriebssystemen (Hybrid, Verbrennungsmotoren, Getriebe, Elektromotoren, Batterien und Software) für Pkw, Nutzfahrzeuge und Großmotoren. AVL beschäftigt weltweit über 8.600 Mitarbeiter. 2016 betrug der Umsatz 1,4 Milliarden Euro.