Pressemeldungen 2017
Press Release Filters
Note: Click on the FILTER button to apply your filter Settings.
Year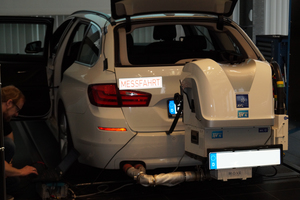 Pressemitteilung: AVL und TÜV Hessen informieren zum Thema Real Driving Emissions
In Kooperation mit AVL fand Ende März im Technologie- und Umweltzentrum (TUZ) von TÜV Hessen in Pfungstadt ein Expertentraining zum Thema Real Driving Emissions (RDE) statt. Unter der Leitung von TÜV Hessen und mit fachlicher Expertise von AVL bekamen die Teilnehmer aus der Automobil- und Zulieferindustrie theoretische Information und praktische Inhalte zu diesem branchendominierenden Thema vermittelt.
Neben der zyklusbasierten Zertifizierung am Prüfstand werden zukünftig auch reale Straßenfahrten in die Abgasüberwachung der Fahrzeuge miteinbezogen. Der neue Testzyklus WLTP (Worldwide Harmonized Light-Duty Vehicles Test Procedure) und das RDE-Verfahren, deren beider Einführung für September 2017 geplant ist, sollen so für realitätsnahe Kraftstoffverbrauchswerte und reduzierte Emissionen sorgen.
"In diesem Jahr steht die europäische Abgasgesetzgebung für Fahrzeuge vor weitreichenden Veränderungen. Gleichzeitig stellen diese die Automobilindustrie vor große Aufgaben. Gemeinsam mit unserem Partner TÜV Hessen haben wir uns dazu entschieden, unsere Kunden bei diesem zukunftsweisenden Thema zu unterstützen, um die Herausforderungen im Bereich RDE gemeinsam zu bewältigen." sagt Roland Jeutter, Geschäftsführer der AVL Deutschland GmbH.
Im Kontext dieser Entwicklung ergeben sich neue Herausforderungen bei der Plausibilisierung und Einhaltung der ambitionierten Abgasgrenzwerte sowie in der Bereitstellung ausreichend sensitiver und robuster Messtechnik. Beim RDE-Expertentraining gaben AVL und TÜV Hessen einen umfassenden Überblick über den derzeitigen Stand dieser Entwicklungen und deren Auswirkungen auf den Testalltag.
Am Vormittag informierten die Experten beispielsweise über die aktuelle RDE-Gesetzgebung, die Sicherheitsbestimmungen sowie über die Montage der portablen Emissionsmesssysteme (PEMS) am Fahrzeug und die Vorbereitung einer Messfahrt. Am Nachmittag erhielten die Teilnehmer unter anderem wichtige Informationen zur Streckenfindung und zur Auswertung von Messfahrten sowie zahlreiche wertvolle Praxistipps. Im Anschluss konnten die Teilnehmer direkt mit den Experten von AVL und TÜV Hessen in den Dialog treten, um individuelle Fragestellungen unmittelbar vor Ort zu klären.
Über TÜV Hessen
TÜV Technische Überwachung Hessen GmbH (TÜV Hessen) ist eine international tätige Dienstleistungsgesellschaft mit Sitz in Darmstadt. TÜV Hessen steht für die Sicherheit und Zukunftsfähigkeit von Produkten, Anlagen und Dienstleistungen und das sichere Miteinander von Mensch, Technik und Umwelt. Bei technischen Prüfungen und Zertifizierungen ist TÜV Hessen Marktführer in Hessen, aber auch deutschlandweit gefragt und international erfolgreich. TÜV Hessen hat mehr als 60 Standorte in Hessen, Niederlassungen in vier weiteren Bundesländern und Partnerunternehmen auf drei Kontinenten.
Als einer nachhaltigen Unternehmenskultur verpflichteter Arbeitgeber übernimmt TÜV Hessen in vielfältiger Form Verantwortung für Menschen, Gesellschaft und Umwelt. In den Geschäftsbereichen Auto Service, Industrie Service, Real Estate, Life Service und Managementsysteme erbringen rund 1.300 Mitarbeiter über 220 TÜV®-Dienstleistungen für Unternehmen und Privatkunden. TÜV Hessen ist eine Beteiligungsgesellschaft der TÜV SÜD AG (55 Prozent) sowie des Landes Hessen (45 Prozent) und erwirtschaftete im Jahr 2016 einen Umsatz von rund 129 Millionen Euro.
Über AVL
AVL ist das weltweit größte, unabhängige Unternehmen für die Entwicklung, die Simulation und das Testen von Antriebssystemen (Hybrid, Verbrennungsmotoren, Getriebe, Elektromotoren, Batterien und Software) für Pkw, Nutzfahrzeuge und Großmotoren. AVL beschäftigt weltweit über 8.600 Mitarbeiter. 2016 betrug der Umsatz 1,40 Milliarden Euro.
Kontakt

Dipl.-Ing. Michael Ksela, Unternehmenssprecher AVL

Tel +43 664 132 81 78

AVL Deutschland GmbH

Peter-Sander-Str. 32

55252 Mainz-Kastel
---