Pressemeldungen 2017
Press Release Filters
Note: Click on the FILTER button to apply your filter Settings.
Year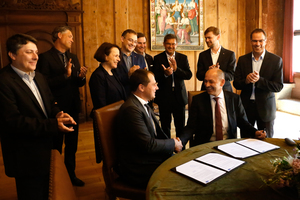 Pressemitteilung: Kaspersky Lab und AVL Software and Functions unterzeichnen Kooperationsvereinbarung für die Entwicklung im Bereich Automotive Cybersecurity
Regensburg, 1. Juni 2017 – Eine stetig wachsende Anzahl von Fahrzeugfunktionen – wie Ferndiagnosen, Telematik und Infotainment – benötigt Kommunikationswege zwischen Fahrzeug und Cloud sowie mit anderen Infrastrukturen. Mit dem Datenaustausch von und zum Auto wachsen die technologischen Möglichkeiten, jedoch bieten diese Kanäle verstärkt Angriffsflächen für Cyberattacken. Das Risiko, dass in die Fahrzeugelektronik eingedrungen wird, fordert methodische, organisatorische und technische Maßnahmen, damit die Privatsphäre, die Sicherheit und finanzielle Werte nicht verletzt werden und der Schutz sämtlicher Fahrzeugeigenschaften gewährleistet wird.
Kaspersky Lab und AVL Software and Functions arbeiten zukünftig eng miteinander zusammen, um die Herausforderungen in der Cybersicherheit der nächsten Generation automobiler Systementwicklung gemeinsam zu meistern. Ziel hierbei ist es, ein gemeinschaftliches und umfassendes partnerschaftliches Konzept zur Erzielung fortschrittlicher, integrierter Sicherheitstechnologien zu schaffen.
Dr. Georg Schwab, Geschäftsführer der AVL Software and Functions GmbH und Hr. Alex Moiseev, CSO von Kaspersky Lab unterzeichneten am 1. Juni die Kooperationsvereinbarung in Regensburg. Die Vereinbarung umfasst folgende Inhalte:
Gemeinsame Entwicklung einer Softwarelösung zur Gewährleistung einer angriffssicheren Kommunikation zwischen Fahrzeugkomponenten, dem Auto und seiner extern verbundenen Infrastruktur
Harmonisierung zwischen integrierter automobiler Entwicklung und bewährten Cybersicherheits-Praktiken und -Technologien
Verknüpfung von Sicherheits-Produkten mit Fahrzeugkomponenten und Fokusierung auf umfassende Sicherheitslösungen für die Automobilindustrie
Aufbau eines Trainings- und Coaching-Portfolios für automobile Datensicherheit
Konsequente Erweiterung des Geschäfts mittels eines lückenlosen und breit gefächerten Portfolios für die funktionale und IT- Sicherheit der zukünftigen vernetzten und autonomen Fahrzeuge
Ein zentrales Ziel ist die Erschaffung einer verlässlichen und flexiblen Software-Plattform, die es den Fahrzeugherstellern erlaubt, eine Secure Communication Unit (SCU oder Car Gateway) zu entwickeln und in ihren Autos zu implementieren. Hierbei werden Hardware und zusätzliche Software verwendet, die auf die geplanten Produkte abgestimmt sind. Abschließend wird die konzeptionierte SCU-Lösung mit sicherheitsbezogenen Verifizierungs- und Validierungsmethoden getestet. Dieses umfassende Entwicklungspaket wird nicht nur die von der Industrie benötigten technischen Umfänge, sondern auch neue Konzepte für die Absicherung des Software-Designs enthalten.
Kaspersky Lab und sein technologischer Partner AVL Software and Functions GmbH werden exemplarisch eine sichere Kommunikationsplattform auf der New Mobility World der IAA 2017 in Frankfurt von 12. - 17. September präsentieren.
Alex Moiseev, CSO von Kaspersky Lab, sagt: "Kaspersky Lab's Automotive Security Experten haben die Anfälligkeit vernetzter Fahrzeuge und die rasant ansteigenden Angriffsflächen für Cyberattacken seit vielen Jahren beobachtet. Wir glauben, der einzige Weg, das vollständig vernetzte Fahrzeug-Ökosystem abzusichern, ist die Zusammenarbeit zwischen den IT-Sicherheitsexperten und ihren Pendants in der Automobilindustrie. Unsere Partnerschaft mit AVL Software and Functions GmbH stellt einen wichtigen Meilenstein auf unserer Reise dar – begonnen mit der Sicherheit innerhalb des Fahrzeuges und erweitert auf die Kommunikation zwischen Fahrzeugen (C2C) sowie der Fahrzeuge mit der Infrastruktur (C2X)".
Georg Schwab, Geschäftsführer der AVL Software and Functions GmbH, erklärt: "AVL als ein Unternehmen der Automobilbranche ist die Bedeutung zuverlässiger und sicherer Kommunikationskanäle zwischen dem Fahrzeug und dessen Umgebung bewusst. Um die Ansätze und Konzepte sowie die Implementierung der Sicherheitslösungen auf umfassende Weise zu gestalten, fokussiert sich AVL auf die Kooperation mit Kaspersky Lab, einem sehr erfahrenen Cybersecurity-Unternehmen. Unser Ziel ist es, der führende Partner in Bezug auf automobile Datensicherheit zu werden."
Über AVL
AVL ist das weltweit größte, unabhängige Unternehmen für die Entwicklung, die Simulation und das Testen von Antriebssystemen (Hybrid, Verbrennungsmotoren, Getriebe, Elektromotoren, Batterien und Software) für Pkw, Nutzfahrzeuge und Großmotoren. AVL beschäftigt weltweit über 8.600 Mitarbeiter. 2016 betrug der Umsatz 1,4 Milliarden Euro.
Über Kaspersky Lab
Kaspersky Lab ist ein global agierendes Cybersicherheitsunternehmen, das im Jahr 1997 gegründet wurde. Die tiefgreifende Threat Intelligence sowie Sicherheitsexpertise von Kaspersky Lab ist Basis für Sicherheitslösungen und -Services zum Schutz von Unternehmen, kritischen Infrastrukturen, staatlichen Einrichtungen sowie Privatanwendern weltweit. Das umfassende Sicherheitsportfolio des Unternehmens beinhaltet führenden Endpoint-Schutz sowie eine Reihe spezialisierter Sicherheitslösungen und -Services zur Verteidigung vor komplexen und neu aufkommenden Cyberbedrohungen. Mehr als 400 Millionen Nutzer und 270.000 Unternehmenskunden werden von den Technologien von Kaspersky Lab geschützt.
Erfahren Sie mehr unter www.kaspersky.com.
---