Pressemeldungen 2017
Press Release Filters
Note: Click on the FILTER button to apply your filter Settings.
Year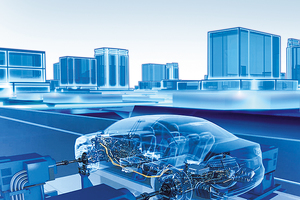 Pressemitteilung: Neue AVL Plattform Testbed.CONNECT™ vernetzt Simulation mit physischem Test
AVL treibt die digitale Durchgängigkeit in der Produktentwicklung weiter voran und vernetzt mit der neuen Plattform Testbed.CONNECT™ den physischen Test am Prüfstand mit der Simulation. So lassen sich in jeder Entwicklungsphase fundierte Entscheidungen auf Gesamtfahrzeug-Ebene treffen.
Testbed.CONNECT™ ist eine offene Plattform, die Fahrzeug- und Komponentenmodelle einfach und robust an den Prüfstand bringt. Prüflinge und Modelle verschmelzen hiermit zu einem virtuell/realen Prototypen, der vollautomatisiert und unter reproduzierbaren Bedingungen getestet werden kann. Weil sich fehlende Prototypen-Teile flexibel durch virtuelle Komponenten ersetzen lassen, ergeben sich in den Testfeldern neue Möglichkeiten für frühzeitige Integrationstests. Vorteil aus Simulationssicht ist die Nutzung der Prüfstandsergebnisse zur Verbesserung der Modellqualität. Neben Test und Simulation können mit Testbed.CONNECT™ auch Prüfstände untereinander vernetzt werden. So entsteht aus einem Testfeld ein intelligentes und agiles Prüfnetzwerk, in dem einzelne Prüfstände in kürzester Zeit zu einem Integrationsprüfstand gekoppelt werden können.
Die neue AVL-Plattform lässt sich für alle Prüfstandstypen unabhängig vom Hersteller einsetzen und ist nicht an eine bestimmte Simulationssoftware gebunden. Daher können die detaillierten Modelle, die in den Simulationsabteilungen der Fahrzeughersteller vorliegen, im gesamten Prüffeld weiterverwendet werden. Modelle aus verschiedenen Quellen können sowohl in Echtzeit- als auch Nicht-Echtzeitumgebung ausgeführt und in die Prüfstandsumgebung integriert werden. Der Prüfstand muss für Modelländerungen nicht abgestellt werden; Parametrierungen und Analysen erfolgen ebenfalls online. Dank fortschrittlichster Algorithmen werden die komplexen Modelle in harter Echtzeit mit einer Abtastrate von bis zu 10 kHz mit den realen Komponenten gekoppelt.
Testbed.CONNECT™ ist Teil der Integrated and Open Development Platform (IODP) – eine AVL-Strategie, mit der durch weitreichende Vernetzung eine ganzheitliche Systementwicklung ermöglicht wird. "Mit Testbed.CONNECT™ schließen wir die Wissensschleife zwischen virtueller und realer Welt", erklärt Wolfgang Puntigam, Head of Department IODP. "So lassen sich zu jedem Zeitpunkt der Entwicklung Entscheidungen für das Endprodukt treffen - weil die notwendigen Informationen immer vorhanden sind." Damit ist Testbed.CONNECT™ neben Model.CONNECT™ (AVLs Co-Simulationsplattform) ein wichtiger Baustein, um einen agilen und effizienten Entwicklungsprozess für die nächste Generation intelligenter, ökologischer Fahrzeuge zu etablieren.
AVL ist das weltweit größte, unabhängige Unternehmen für die Entwicklung, Simulation und das Testen von Antriebssystemen (Hybrid, Verbrennungsmotoren, Getriebe, Elektromotoren, Batterien und Software) für PKW, Nutzfahrzeuge und Großmotoren. AVL beschäftigt weltweit über 8.600 Mitarbeiter. 2016 betrug der Umsatz 1,4 Milliarden Euro.
Kontakt
Dipl.-Ing. Michael Ksela, Unternehmenssprecher AVL
Tel +43 664 132 81 78
---