Pressemeldungen 2017
Press Release Filters
Note: Click on the FILTER button to apply your filter Settings.
Year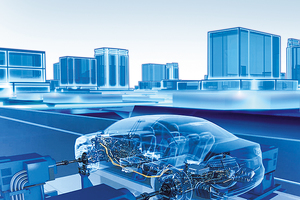 Automotive Testing Expo Europe 2017 in Stuttgart vom 20. bis 22. Juni
Pressemitteilung: Vision von morgen bereits heute Realität
Mainz-Kastel, 14. Juni 2017 – Im Rahmen der Automotive Testing Expo Europe 2017 vom 20. bis zum 22. Juni 2017 in Stuttgart präsentiert AVL am Stand 1604 zahlreiche Lösungen, um branchendominierende Themen wie die Vernetzung von Simulation und Prüfstand sowie Fahrerassistenzsysteme (ADAS) und autonomes Fahren bestmöglich zu adressieren. Dabei reicht die Bandbreite an technischen Lösungen von Testbed.CONNECT™ zur Verbindung von Simulation und Prüfstand bis hin zum AVL DrivingCube™ als Integrations- und Testumgebung für Fahrerassistenzsysteme und autonomes Fahren.
Das Beste aus zwei Welten – Testbed.CONNECT™
Aus der Fahrzeugentwicklung ist die Simulation heute bereits nicht mehr wegzudenken, jedoch ist sie häufig nicht mit dem Prüfstand verbunden und fließt somit nur am Anfang des Entwicklungsprozesses ein. Es bedarf innovativer neuer Lösungen, um diese Lücke zu schließen. Was nicht in Hardware vorhanden ist, muss mit simulierten Komponenten ergänzt werden, wobei die Wiederverwendung bereits bestehender Simulationsmodelle im Vordergrund stehen sollte. Testbed.CONNECT™ ermöglicht die flexible Anbindung der, in einer Office-Umgebung erstellten Modelle an den Prüfstand, unabhängig von Software- und Prüfstandsherstellern. Dieser Ansatz ermöglicht eine Sicht auf das gesamte Fahrzeug und sorgt für einen konsistenten und integrierten Ansatz, der zu höherer Effizienz, niedrigeren Entwicklungsrisiken und einer optimalen Nutzung der internen Ressourcen führt.
"Aufgrund der enormen Komplexität und zeitlichen Vorgaben im modernen Fahrzeugentwicklungsprozess ist das Verlagern von Aufgaben in frühere Prozessstufen zu einer strategischen Notwendigkeit geworden. Mit unseren Lösungen können Anwender frühzeitig, schnell und fundiert entscheiden und eine höhere Effizienz und höchste Produktqualität erzielen. Durch die Verbindung der virtuellen und realen Welt leistet AVL einen wesentlichen Beitrag, um die Vision der Automobilindustrie von morgen in die heutige Realität umzusetzen," sagt Roland Jeutter, Geschäftsführer der AVL Deutschland GmbH.
Integrations- und Testumgebung in einem – AVL DrivingCube™
Die Lösung AVL DrivingCube™ überbrückt die Lücke zwischen den etablierten HiL-Tests im Labor und realen Fahrtests. Sie bietet eine einzigartige Integrations- und Testumgebung für Fahrerassistenzsysteme und selbstfahrende Fahrzeuge durch die Bereitstellung von fahrbereiten Fahrzeugen in kompletten virtuellen Umgebungen, einschließlich aller Klima- und Fahrsituationen, um hocheffiziente und automatisierte Testprozesse im Gesamtfahrzeug zu realisieren.
Über AVL
AVL ist das weltweit größte, unabhängige Unternehmen für die Entwicklung, die Simulation und das Testen von Antriebssystemen (Hybrid, Verbrennungsmotoren, Getriebe, Elektromotoren, Batterien und Software) für Pkw, Nutzfahrzeuge und Großmotoren. AVL beschäftigt weltweit über 8.600 Mitarbeiter. 2016 betrug der Umsatz 1,4 Milliarden Euro.
---