Pressemeldungen 2018
Press Release Filters
Note: Click on the FILTER button to apply your filter Settings.
Year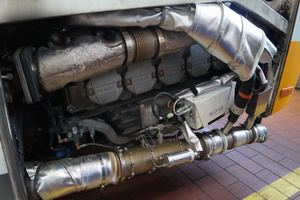 Die Stadt Mainz hat angekündigt, in den nächsten Jahren ihren Fuhrpark zu modernisieren und setzt bei diesem Projekt auf Unterstützung von AVL.
Freie Fahrt für saubere Busse
Die Mainzer Verkehrsgesellschaft (MVG) möchte den Antrieb ihrer Flotte modernisieren und plant hierzu, vorzeitig 23 Dieselbusse mit Euro-VI-Norm anzuschaffen, die die aktuellen Euro-III-Fahrzeuge ersetzen sollen. Darüber hinaus sollen 98 Busse nachgerüstet werden, die derzeit lediglich die Euro-IV-Norm oder die Euro-V-Norm erfüllen. Durch den Einbau von zusätzlichen Filtern erhofft sich die MVG, die Stickoxid-Emissionen um etwa 90 Prozent zu reduzieren. Ferner läuft bereits die Anschaffung von vier Brennstoffzellenbussen, die mit Wasserstoff aus der Power-to-Gas-Anlage des Wirtschaftsparks Mainz betrieben werden sollen. Die Bestellung von vier bis sechs batteriebetriebenen Bussen hängt noch von der Höhe der finanziellen Förderung durch den Bund ab. Ab 2021 plant man in der rheinland-pfälzischen Landeshauptstadt nur noch emissionsfreie Fahrzeuge für die Busflotte der Mainzer Mobilität anzuschaffen.
Bis es soweit ist, soll jedoch vorab die alte Euro-IV- und Euro-V-Dieselflotte durch ein Retrofit-SCR-System auf Euro-VI-Norm umgerüstet werden. Für die Umrüstung der 98 Busse fallen Kosten von rund zwei Millionen Euro an. Nahezu ein Schnäppchen verglichen mit dem Anschaffungspreis eines einzigen neuen Dieselbusses in Höhe von circa 350.000 Euro. Beim Prototypen-Bus, den die MVG mit einem Retrofit-SCR-System der Firma TwinTec ausgestattet hat, haben die Grazer PTE-Kollegen im April Messfahrten durchgeführt, um die Wirksamkeit der Umrüstung von Euro IV auf Euro VI zu prüfen und zu dokumentieren. Da bei den Prüffahrten lediglich ein Busfahrer sowie ein Techniker von AVL an Bord des Fahrzeugs sind, wurde der Bus, um eine normale Fahrt abzubilden, mit zahlreichen Sandsäcken beladen, die das Gewicht der Fahrgäste simulieren.
Der hintere Teil des Gelenkbusses, wo sich auch der Motor befindet, wurde mit AVL-Technik vollgepackt. So fanden in diesem Bereich u. a. ein AVL M.O.V.E Gas PEMS, ein AVL M.O.V.E PM PEMS, die dazugehörige AVL System Control, die Stromversorgung und sämtliche Peripherie-Geräte sowie Leitungen und Schläuche ihren Platz. Um valide Messergebnisse zu generieren, wurden zwei 10-Liter-Prüfgasflaschen mit (THC / CO / CO2 / NO) und (NO2) sowie eine 10-Liter-Nullgasflasche (N) im Bus sicher fixiert. Eine autarke 24-Volt-Energieversorgung für die Abgasmesstechnik, bestehend aus mehreren Lkw-Batterien und einem Stromaggregat, war ebenfalls mit an Bord. Vor der zweistündigen Messfahrt durch die Mainzer Innenstadt kalibrierte der PTE-Kollege aus Graz die Messgeräte und bereitete alles mit Hilfe der System Control entsprechend vor. Sie zeichnet die Messdaten auf und steuert die Vor- und Nachbereitung. Pro Tag fanden je zwei Messfahrten statt. Verantwortlich dafür war zum einen die Mainzer Verkehrssituation und zum anderen die Kalibriervor- und Nachbereitung.
Nach dem Abschluss der Messfahrten mit dem umgerüsteten Euro-VI-Dieselbus, wurde die komplette Technik in einen nicht umgerüsteten, herkömmlichen Euro-IV-Gelenkbus eingebaut, um mit diesem die erforderlichen Vergleichsfahrten durchzuführen. Basierend auf diesen Messungen ließen sich die Emissionsunterschiede im Vergleich zur Nachrüstlösung sehr exakt ermitteln. Um die Fahrzeugpartikelmasse zu bestimmen, wurden die Rußkonzentrationsspur und die emittierte Abgasmasse aufgezeichnet. Parallel hierzu erfolgte eine Filterbeladung eines gravimetrischen Filters, auf vorgewogenen Filterplättchen. Diese wurden anschließend im Labor konditioniert und die Beladung bestimmt.
Die innerhalb dieses Projektes präsentierten Zwischenergebnisse zeigen deutliche Verbesserungen der emittierten Schadstoffemissionen besonders bei NOx sowie massive Partikelreduktionen (PM). Aber auch Nachteile traten bei der Messung zu Tage: Ein auftretender Leistungsverlust durch den erhöhten Abgasgegendruck und der gestiegene Kraftstoffverbrauch stehen im Gegenzug zu den deutlich reduzierten Emissionen. Nach Abschluss der Testfahrten erstellten die Grazer PTE-Kollegen ihren Abschlussreport und die MVG erhielt die dokumentierten Ergebnisse.
Neben der Stadt Mainz sind auch weitere deutsche Städte aktuell damit beschäftigt, gleiche oder ähnliche Projekte zu planen oder arbeiten bereits an der Umsetzung. So beschäftigt das umwelt- und gesundheitspolitische Thema Dieselfahrverbot derzeit u. a. die Städte Koblenz und Paderborn. Zwar gibt es auf Bundesebene gute Fördermöglichkeiten, jedoch sind die Verfahren für die finanzielle Unterstützung sehr langwierig. Zudem können in Deutschland momentan lediglich maximal 70 Städte von den Nachrüstrichtlinien profitieren.
Besonders erfreulich bleibt abschließend zu erwähnen, dass AVL durch dieses Projekt eine mögliche Entscheidungshilfe zur Luftreinhaltung im direkten Umfeld der Zentrale in Mainz-Kastel beisteuern konnte.
---
---