Pressemeldungen 2018
Press Release Filters
Note: Click on the FILTER button to apply your filter Settings.
Year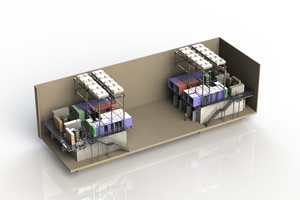 Pressemitteilung: Neue AVL-Containerprüfstände für Hightech-Motorenwerk in Polen
Mainz-Kastel, 9. Oktober 2018 – AVL beliefert die Daimler AG mit fortschrittlichen Motorenprüfständen in Containerbauweise für ihr neues Motorenwerk in Jawor, Polen. Die neuen Heißtestprüfstände kommen bei der Produktion von modernen Vierzylinder-Diesel- und Benzinmotoren für Hybridfahrzeuge und konventionell angetriebene Pkw zum Einsatz.
Im Vergleich zu herkömmlichen Prüfständen bietet die Containerbauweise den Vorteil, dass diese – bereits parallel zum Bau des Motorenwerkes in Jawor – bei AVL aufgebaut und vorinstalliert werden. Somit erhält das Motorenwerk einen nahezu vollständig vorinstallierten und mobilen Prüfstand, der dann vor Ort lediglich an die Medienversorgung (z. B. Kaltwasser, Strom etc.) angeschlossen wird und danach umgehend in Betrieb genommen werden kann.
"Wir sind sehr stolz, das globale Produktionsnetzwerk der Daimler AG mit unseren modernen Testsystemlösungen zu unterstützen. Unser Kunde verfügt nun über noch mehr Testmöglichkeiten für die Produktion kraftstoffsparender Motoren. Mit unserer umfassenden Expertise in schlüsselfertigen Projekten sind wir der zuverlässige Technologiepartner für derartige Großprojekte", sagt Roland Jeutter, Geschäftsführer der AVL Deutschland GmbH.
Startschuss für die gemeinsame Zusammenarbeit bei diesem Turnkey-Projekt war im Herbst 2016. Die Realisierung erfolgte in einer für diese Projektgröße beispielhaften Laufzeit von knapp 21 Monaten vom Projektbeginn bis zur Lieferung der vier schlüsselfertigen Motorenprüfstände. Dabei wurden sämtliche Prüfstandskomponenten wie beispielsweise die Messtechnik und die Konditionierung gemeinsam mit dem Kunden und kompetenten Unterlieferanten gemäß Daimler-Standards individuell konzipiert.
Über AVL
AVL ist das weltweit größte, unabhängige Unternehmen für die Entwicklung, die Simulation und das Testen von Antriebssystemen (Hybrid, Verbrennungsmotoren, Getriebe, Elektromotoren, Batterien und Software) für Pkw, Nutzfahrzeuge und Großmotoren. AVL beschäftigt weltweit über 9.500 Mitarbeiter. 2017 betrug der Umsatz 1,55 Milliarden Euro.
---
---