Pressemeldungen 2018
Press Release Filters
Note: Click on the FILTER button to apply your filter Settings.
Year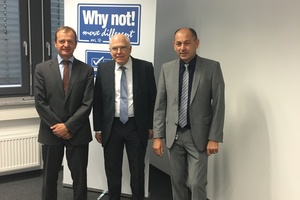 Der Leitspruch für den Erfolgskurs lautet: Why not! Move different
Zehn Jahre AVL Software & Functions GmbH - von Null auf 450 qualifizierte Arbeitsplätze
Mit Regensburgs Bürgermeisterin Gertrud Maltz-Schwarzfischer und weiteren Repräsentanten aus Politik und Wirtschaft, Unternehmensgründer Prof. Dr. Helmut List und nicht zuletzt mit vielen Gästen aus den Reihen der Belegschaft feierte die AVL Software & Functions GmbH am 6. Juli ihr zehnjähriges Bestehen in Regensburg. Die Jubiläumsveranstaltung in einem festlich geschmückten Zelt beim Technologiezentrum im Gewerbepark Regensburg stand unter dem Firmenmotto: Why not! Move different. Und es gibt gute Gründe zum Feiern: Innerhalb von nur zehn Jahren wurde die Zahl der Arbeitsplätze von Null auf mehr als 450 hochgefahren. Wobei das stetig expandierende (Automotive) Engineering-Unternehmen praktisch durchweg hochqualifizierte Ingenieure und Techniker einstellt.
Anfangs nur ein Tisch und zwei Stühle
Die erfolgreiche Regensburger Tochter der AVL List GmbH (Stammsitz Graz/Österreich) ist Teil des weltweit größten, unabhängigen Unternehmens für die Entwicklung, Simulation und Prüftechnik von Antriebssystemen und wurde 2008 unter der Leitung von Dr. Georg Schwab und Dr. Wolfgang Schelter gestartet. Diese Anfänge in Ostbayern waren noch von einer sehr bescheidenen Ausstattung geprägt: Für die ersten Vorstellunggespräche hatte man lediglich ein kleines Büro im Gewerbepark angemietet, schlicht möbliert mit einem Tisch und zwei Stühlen. "Es wehte ein Start up-Spirit in den Räumen der AVL Software & Functions", erinnert sich Dr. Georg Schwab, Geschäftsführer der AVL SFR. Dank der hohen Einsatzbereitschaft und Kreativität der Mitarbeiter/-innen sei das junge Unternehmen aber zügig zu dem geworden, was es heute ist: Ein erfolgreicher Entwicklungspartner, der hohes Ansehen in der Industrie genießt.
Projekte entwickeln immer mehr Schub

Im Zuge der technologischen Transformationsprozesse in der Automobilindustrie ist in den zurückliegenden drei Jahren mächtig Schub in die Projekte der AVL gekommen, womit selbst das erst 2015 eingeweihte Entwicklungscenter nahe der Grün- und Wasser-Landschaft im Gewerbepark unerwartet schnell wieder zu klein wurde. Inzwischen arbeiten mehr als 450 Mitarbeiter aus 35 Nationen mit Hochdruck an innovativen Lösungen und es werden laufend neue, qualifizierte Arbeitsplätze geschaffen. Der Fokus liegt auf technologisch führenden Software- und Systemlösungen für eine zukunftsorientierte, umweltverträgliche Mobilität sowie der Entwicklung und Integration intelligenter Elektronikkomponenten und -systeme. "Letztlich ist ein so enormes Wachstum nur durch das hohe Vertrauen seitens unserer Kunden möglich", so Anton Angermaier, Geschäftsführer der AVL SFR seit Juli 2017. "Über diese Anerkennung der gemeinsamen Arbeit freuen sich unsere Teams sehr."
Videobeitrag zum zehnjährigen Bestehen von AVL Software & Functions in Regensburg:
https://www.tvaktuell.com/mediathek/264668/
---