Pressemeldungen 2020
Press Release Filters
Note: Click on the FILTER button to apply your filter Settings.
Year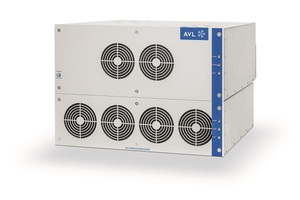 Realitätsnahe Abbildung der physikalischen Gegebenheiten im Fahrzeug
Pressemitteilung: Störströmen auf der Spur – Der neue AVL Ripple Emulator™
Mainz-Kastel, 21. Juli 2020 – Die mobile und flexible AVL Lösung wurde speziell dafür entwickelt, Wechselströme bis zu einer Frequenz von 200 kHz auf den DC-Bus des Prüfstands aufzuprägen und das Verhalten des Inverters direkt an der Batterie nachzubilden. Mit dem AVL Ripple Emulator™ lassen sich die physikalischen Gegebenheiten im Fahrzeug realitätsnah und unabhängig von Spannungslage, DC-Strom oder Leitungslängen nachbilden und tiefgehende Kenntnisse über die tatsächliche Lebensdauer (State of Health) und Performance der Batterie generieren. Darüber hinaus eignet sich der Emulator als breitbandige Signalquelle für Impedanzmessungen.

Hochvolt-Komponenten (HV) wie Batterien oder Inverter zählen zu den Schlüsselelementen in modernen elektrischen Antriebsstrangkonfigurationen. Aus diesem Grund sind gründliche Tests und Prüfläufe vor dem Serienbetrieb absolut erforderlich. Der emulierte Lade- oder Entladestrom am Prüfstand weicht jedoch typischerweise vom realen Strom am HV-Bus des Fahrzeugs ab. Zurückzuführen ist dies in erster Linie auf die hochdynamischen Störströme (Ripple) des Inverters. Diese Ripple-Ströme können die Lebenszeit der Fahrzeugbatterie beeinflussen oder verantwortlich dafür sein, dass andere Komponenten des HV-Busses ihren sicheren Betriebszustand verlassen.

"Die Abbildung von realitätsnahen Fahrzeugbedingungen ist eine Grundvoraussetzung, um verlässliche Aussagen über die Lebensdauer und Performance von Batterien treffen zu können", erläutert Roland Jeutter, Geschäftsführer der AVL Deutschland GmbH. "Mit dem AVL Ripple Emulator™ sind unsere Kunden in der Lage, das reale Verhalten des Inverters und seine Auswirkungen auf die Batterie präzise abzubilden, wodurch Sie ein noch besseres Systemverständnis erhalten."

Die AVL Lösung wurde speziell für das Testen und Verifizieren von Batterien entwickelt. Ziel ist es, die Ripple-Ströme des Inverters so zu emulieren, wie diese im realen Fahrzeug auftreten. Mit einem patentierten Regelverfahren lassen sich Signalform, Amplitude und Frequenz direkt am Prüfling regeln. Zudem erlaubt das Einkoppel- und Regelkonzept das Aufprägen von hohen Amplituden auch bei hohen Frequenzen. Die direkte Stromregelung des überlagerten AC-Stroms erfolgt äquivalent zum Inverter. Unabhängig von der DC-Spannung ist ein Einsatz des Emulators während des gesamten Batterie-Entwicklungsprozesses und somit bei Zelle, Modul und beim Pack möglich. Seine einfache Installation in bestehende Prüfzellen und die schnelle Einbindung in Automatisierungssysteme garantieren kurze Umrüstzeiten. Ausgezeichnet durch einen geringen Platzbedarf, ist der AVL Ripple Emulator™ auch dank seiner Trolley-Bauweise mobil im Prüffeld einsetzbar. Auf diese Weise ermöglicht die neue Emulationslösung eine große Flexibilität in der Versuchsplanung und eine hohe Geräteauslastung im Prüffeld.

Über AVL
AVL ist das weltweit größte, unabhängige Unternehmen für die Entwicklung, die Simulation und das Testen von Antriebssystemen (Hybrid, Verbrennungsmotoren, Getriebe, Elektromotoren, Batterien und Software) für Pkw, Nutzfahrzeuge und Großmotoren. AVL beschäftigt weltweit über 11.500 Mitarbeiter. 2019 betrug der Umsatz 1,97 Milliarden Euro.
---