Back
18th Stuttgart International Symposium
Go back
18th Stuttgart International Symposium
13th - 14th of March, 2018
Haus der Wirtschaft, Stuttgart, Germany
share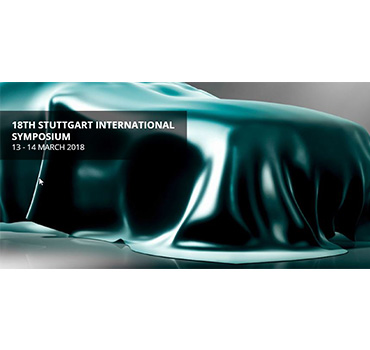 share
13th - 14th of March, 2018
Haus der Wirtschaft, Stuttgart, Germany
Visit us at Booth Nr. L-09
18th Stuttgart International Symposium
Automotive and Engine Technology
---
The
Stuttgart International Symposium
is established as one of the most important discussion forums in the field of vehicle and engine development with about 900 participants. More than 100 presentations of this international event and the parallel technical exhibition combine proven solutions with innovative concepts.
Topic
The influence of start-up companies on future vehicle development
In a rapidly changing world, the automotive industry is confronted with new challenges almost daily: the increasingly problematic reputation of the diesel engine, consumers made uneasy by the mixed reporting of nitrogen oxide and particulate emissions, increasing competition in electric drives from new competitors and the evermore difficult task of communicating ef fectively to the public that there is a huge difference between prototypes, small-scale manufacture and true mass production.
---
Speakers
Conference Program
Wednesday, March 14, 2018
08:30 - 09:00
Erkenntnisse durch datenanalytische Methoden im Kontext automotiver Prüfstände
Andreas Festl
Virtual Vehicle Research Center
Franz Michitsch
Team Leader, ITS, SBDS Developmt. Data Analytics&Smart Services, AVL List GmbH
Michael Schmeja
Virtual Vehicle Research Center
Peter Priller
Principal Technology Scout Embedded Systems, ITS / TR Research & Technology Management, AVL List GmbH
11:05 - 11:35
Vernetzte Prüfstände – Frühzeitige Validierung im verteilten Entwicklungsumfeld
Albert Albers
IPEK, Karlsruher Institut für Technologie (KIT)
David Nickel
Doktorand Connected Test Beds, ITS, AVL List GmbH
Katharina Bause
IPEK, Karlsruher Institut für Technologie (KIT)
Date
13th - 14th of March, 2018
Location
Haus der Wirtschaft, Stuttgart, Germany