Go back
The Digital Trend Conference "Engine & Environment"
May 25 - 29, 2020
The Digital Trend Conference Platform,
Share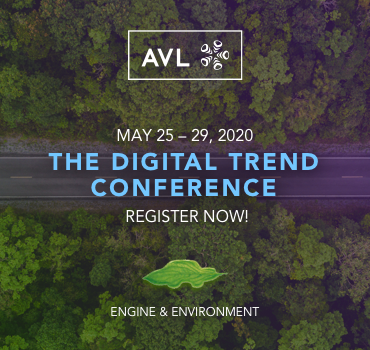 Share
May 25 - 29, 2020
The Digital Trend Conference Platform,
COMING SOON!
The Digital Trend Conference "Engine & Environment"
---
Register now, get your log-in credentials and platform link via e-mail and access the platform from May 25 8 am CEST.


Engine & Environment goes Digital

New challenges call for new ideas – and for new ways of sharing them. That's why one of the automotive industry's most influential trend conferences is switching gears and moving into the virtual world!

Because your safety is our priority, we are bringing the 32nd International AVL Conference "Engine & Environment" to you – free of charge and 100% digital!

Connect with leading industry experts and engineers from all around the world without leaving your desk. We'll bring the latest trends and insights towards a zero impact mobility to you, whenever and wherever you want! Watch the keynote speeches via live stream or on demand from May 25–29.

You can also share your ideas and views via the conference's interactive comments. Discussing industry trends and challenges in the global effort towards achieving zero impact mobility has never been easier!

Our experts will also discuss your most interesting comments and questions raised in our interactive comment sections in three separate panel discussions on Friday, May 29. Make sure to contribute by Wednesday, May 27 4 pm and your input might be discussed later by our leading experts!

Register now and join us and the community for a unique interactive experience!


ABOUT THE CONFERENCE

2019 saw a global decline in the sales of passenger cars and the reluctance to purchase can be explained by a certain sense of uncertainty on the part of the buyers. As vehicles are usually kept by the same owner for a longer period of time, the buying decision has long-term consequences. Under such conditions, it is an almost impossible task for vehicle buyers to take the boundary conditions into account for many years in advance.

This uncertainty, however, also affects vehicle manufacturers. Will enough customers be willing to buy electric vehicles? If yes, at what price? Or will more customers be convinced once more to buy a diesel engine that contributes significantly to CO2 reduction? Should vehicle development then indeed focus on electric vehicles or do manufacturers have to invest in combustion engine development once more? Which role will the different hybrid concepts play and will the fuel cell in particular meet its high expectations? Furthermore, will legislation allow CO2 trading in the automobile industry in order to accelerate e-fuel development?

One thing, however, is certain: Pollution in cities must be reduced further, just like every possible measure needs to be taken to actually reduce CO2. Electric vehicles cannot be the only solution for the entire transport sector and more actions must be taken in order for mobility to remain affordable.
Topic
This year's "Engine & Environment" will see a variety of topical keynote presentations, for example:
Climate targets as the driving force for cradle-to-grave considerations
Technological diversity or BEV dominance
Influence of new mobility concepts on future powertrains and infrastructures
Affordable zero-impact emission solutions for hybrid powertrain technologies
From climate-neutral powertrains to emission-free braking (system – powertrain – brake – energy management)
Furthermore, participants will be able to discuss the following topics in detail:
Mobility: affordable and climate neutral
Electrification in A and B segment: financial feasibility and customer acceptance
Total cost of ownership/operation
Market acceptance
Energy sources
Hydrogen, e-fuels, biofuels
Energy infrastructure
CO2 lifecycle balance
Recycling
Engine and vehicle emissions
Reliability
Recuperative braking
Zero-impact emission measures
Range: battery size vs. range extender
Range extender: combustion engine vs. fuel cell
---
Agenda
All keynote speeches and presentations will be available online from Monday, 25 May, 8 am to Friday, 29 May, 6 pm CEST.
KEYNOTE
To Bur the Footprint of Mobility – A Holistic Approach
Dr. Nikolai Ardey, Executive Director Group Innovation, Volkswagen AG
The Heart of Electric Vehicles
Philippe Hamon, CTO, Valeo Siemens eAutomotive
A Developing Country Transition to Low Carbon Mobility
Phillip Lindsay Lake, Powertrain Director, Vinfast
Closing the Loop – Li-Ion Traction Batteries Recycling
Ralf Mittermayr, CEO, Saubermacher Dienstleistungs AG
Electrified Propulsion Strategy – Geely's Path to Zero Impact Emissions
Ingo Scholten, Vice President, Geely PT
Future Powertrain Mix for Passenger Cars
Heiko Weller, Senior Vice President Engineering, Powertrain, Passenger Cars, Robert Bosch GmbH
SPEAKER
On the Way to Zero CO2 Mobility
Dr. Georg Bäuml, Head Environmental Product, Volkswagen AG
Synthetic Diesel Production – A Sector Coupling Approach for Decarbonizing Future Mobility
Dirk Becker, Head of Design & Fuel Cell, AVL List GmbH
Charging Ecosystem Taycan
Otmar Bitsche, Director E-Mobility, Dr. Ing. h.c. F. Porsche AG
Zero Impact ICE – A Vision?
Prof. Dr. Helmut Eichlseder, Head of Institute, TU Graz
E-tech: How to Merge Electric Drive Feeling and Fuel Consumption!
Nicolas Fremau, Expert for the "Hybrid Traction Energy Architecture" Sub-Domain of the "CO2 & Vehicle Environmental Technology", RENAULT
Affordable Climate Protection / Zero Impact Emission – The ICE as a Key Element
Dr. Christian Martin, Product Manager Gasoline Engine Powertrain Systems Passenger Car, AVL List GmbH
The Global Carbon Cap – A Legislation for Cost Efficient CO2 Reduction
Dr. Hermann Pengg, Head of Project Management e-fuels, Managing Director Audi e-gas Betreibergesellschaft, Audi AG
Zero Impact Emission Vehicle
Surya Yadla, Team Leader – Powertrain Concepts, FEV Europe GmbH
---
Location
The Digital Trend Conference Platform,
---