Go back
6th International Symposium on Development Methodology
November 10 - 11, 2015
Kurhaus, Wiesbaden, Germany
Share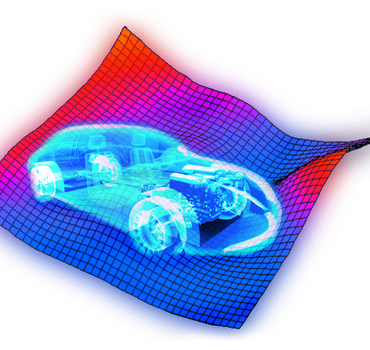 Share
November 10 - 11, 2015
Kurhaus, Wiesbaden, Germany
6th International Symposium on Development Methodology
---
The sixth International Symposium on Development Methodology is just around the corner. Reason enough to further refine the successful format and take into account future trends. A lot of intense discussions and feedback within the programme committee has confirmed the strategic orientation of the conference; so not only the new methods themselves but also their transfer and roll-out into the development process will be discussed. In addition to technology, the human interaction is at the centre of the processes. Even the best approaches are ineffective if they cannot be implemented and actually become effective. Following the launch of disruptive technologies, we therefore have given this year's event the subtitle "Crossing the Chasm" and extended the focus to the complete vehicle.

The optimization of development processes takes place in the context of dynamic changes. Issues such as CO2-targets and Real Driving Emissions (RDE), which must be reconciled with the conflicting demands of customer acceptance, have to be addressed methodically. How well and quickly these can be achieved is a crucial element in competitive differentiation. Considering that the diversity of concepts, vehicles and their powertrain systems will further increase in the foreseeable future, the intelligent use of simulation, test and application data will become a key topic. The challenge is remarkable, since it is essential to balance partially contradictory aspects of integration, open data and tool chains as well as usability. The effective link between simulation and test plays a key role.

The programme committee faced the particularly demanding challenge of compiling an optimized programme from the numerous proposed abstracts, as the number of development methodologies continues to rapidly increase. Model based development is thereby the focus of implementation, but it is also being challenged by new "model free" approaches for certain tasks.

In addition the major challenges that have to be met, global development cooperation, is addressed in international papers. Just as the development has to be shaped increasingly across different domains – connectivity is just one example – the composition of the contributors is also a key success factor. Numerous OEMs are present – AMG, BMW, CNH, Daimler, Ducati, GM, JLR, Tata and Volkswagen – as well as major suppliers such as Bosch, Continental and Schaeffler. Other participants include leading engineering service providers together with international and German universities.

Therefore this event provides a forum in which specialists and decision makers from the different areas of technology and management can discuss the state of the art and can establish a foundation for future orientation. This time the interests of the engineers responsible for the vehicle application field are addressed in addition to those of the regular participants.

One traditional event can already be announced: there will be an exciting social programme as well – an ideal forum for intensive discussions and the exchange of ideas. I am sure that within the scope of the symposium many crucial topics will be addressed and I will be pleased to welcome you in Wiesbaden in November.
Agenda
Conference Program 2015
Tuesday, 10th of November 2015

08:45
Welcome and Opening of the 6th International Symposium on Development Methodology
Prof. H. List – AVL List GmbH
09:00
Beyond the innovation chasm: The invention of Standards and the ignition of global wealth
H. Stuhlmann – Continental Automotive GmbH
09:30
Modern development platform for the calibration of vehicle powertrains
Prof. Dr. U. D. Grebe, T. Dobes, H. Jansen, T. Kaserer, K. Klumaier, M. Riener – AVL List GmbH
Session 1*:
Vehicle & Powertrain
Chairman: Prof. G. Hohenberg – IVD Professor Hohenberg GmbH, Graz, Austria
10:00
Challenges in Drivability Calibration during the Development of the Mercedes-AMG GT
Dr. J. Fischer, M. Sc. S. Weber, M. Körner – Mercedes-AMG GmbH Dr. R. Jakobi, Dr. F. Kirschbaum – Daimler AG
10:30
Introduction of a virtual multi-parametric optimization based on a multi-domain simulation of the vehicles thermal behavior
M. Dobmann – Volkswagen AG, Prof. Dr. J. Hadler – Automobil-Prüftechnik Landau GmbH
11:00
Break
11:30
Model Based Optimization of the Ducati Multistrada MY15 with Desmodromic variable Valve Timing (DVT)
G. Zerbini, G. Cugnetto – Ducati Motor Holding S.p.A. M. Ivarson – AVL List GmbH
12:00
Calibration on Powertrain test rigs
C. Karthaus, Z. Karlsson,T. Paland, F. Kirschbaum, H. Behrendt – Daimler AG
12:30
Lunch
Session 2*:
Process, Rollout & People
Chairman: Prof. R. Isemann - Technische Universität Darmstadt
14:00
Standard tests – the key to innovative test operation in engine test field
Dr. J. Rückert, C. Hillers, Dr. H. Konrad – BMW AG
14:30
Worldwide Roll-Out of Calibration Tools: Challenges arising from the Expansion on Global Market
Dr. H. Sequenz, Dr. K. Kidorova, Dr. L. Sarbu – Continental Automotive GmbH
15:00
Sustainable Design Decisions Based on Cross-Linked Cause and Effect Chain Models Applied for the Optimization of an Automatic Transmission
T. Freudenmann, M. El-Haji – Karlsruher Institut für Technologie (KIT), B. Schick – AVL List GmbH, C. Sibla, M. Müller – ZF Friedrichshafen AG
15:30
Break
Session 3*
Data Intelligence
Chairman: Prof. R. Isemann - Technische Universität Darmstadt
16:00
The BIG Data Challenge for the Powertrain Calibration Process
S. Foster, P. G. Abad – Jaguar Land Rover Limited
16:30
Data-based Models on the ECU
R. Diener, Dr. M. Hanselmann, T. Lang, Dr. H. Markert – Robert Bosch GmbH, Dr. H. Ulmer – ETAS GmbH
17:00
Calibration Data Reuse – An effective approach to control increasing complexity and multiplicity of variants
L. Meyer, Dr. G. Schopp, A. Stolz – Continental Automotive GmbH
Outlook:
Autonomus Driving
Prof. Dr. C. Beidl - Technische Universtität Darmstadt
17:30
Methods to maximize efficiency on CNH Industrial agricultural equipment by using precision farming solutions
U. Sommer – CNH Industrial Österreich GmbH
18:30
Welcome Cocktail followed by Dinner

Wednesday, 11th of November 2015

Session 4*:
New Methods in Test & Simulation
Chairman: Prof. S. Jakubek - Technische Universität Wien
09:00
Improving the usability and time effort of model based engine calibration tasks by means of a new developed online approach
N. Sandmeier, Dr. K. Röpke – IAV GmbH
09:30
Adaptive test planning approach for the calibration of the longitudinal car dynamics on test benches
Y. Dursun, Dr. R. Jakobi, Dr. F. Kirschbaum, J.-C. Goos – Daimler AG Prof. Dr. S. Rinderknecht – Technische Universität Darmstadt
10:00
Implementation of Computational Intelligence Non-model-based Multi- Objective Online Engine Calibration
Dr. H. Ma, Dr. M. Tayarani, Prof. H. Xu, Prof. X. Yao – University of Birmingham, B. Neaves – Jaguar Land Rover Limited
10:30
Break
11:00
TATA Revotron Engine: Multi Drive Modes – An Intelligent Drive Options
K. Chandru, Viswanatha HC, S. Sridhar, G. Gupta, M. Ravishankar – Tata Motors Ltd. Pune, India
11:30
DoE and beyond: the evolution of the model based development approach – how legal trends are changing methodology
G. Vitale, Dr. M. Kordon, T. Fortuna, Dr. H.-M. Koegeler, N. Schuch – AVL List GmbH
12:00
Successful integration of a model based calibration methodology for Non-standard corrections and protection functions.
M. Hollander, B. Vos, S. Scheidel – AVL List GmbH
12:30
Lunch
Session 5*:
The RDE Challenge
Chairman: Prof. H. Eichlseder - Technische Universität Graz, Austria
14:00
Simulation and Test Methodology for the Development of Powertrain Systems under Real Driving Emissions Boundary Conditions
H. Maschmeyer, D. Schmidt, Prof. C. Beidl – Technische Universität Darmstadt
14:30
Challenge EURO VIc – The integrated development approach of Adam Opel AG
A. Döhler, B. Ley, P. Schaffner – Adam Opel AG
15:00
RDE and WLTC Emissions Optimisation with Co-simulation of Real Time Physical and DoE Models
Dr. J. Seabrook, J. Mullineux – Ricardo UK Ltd.
15:30
Smart Engineering: Changes and Challenges from a global Supplier Standpoint
Prof. P. Gutzmer – Schaeffler Technologies AG & Co. KG
16:00
Closing Remarks
Prof. Dr. C. Beidl – Technische Universität Darmstadt, R. Jeutter – AVL Deutschland GmbH, Mainz-Kastel
16:30
End of conference
---
Date
November 10 - 11, 2015
Location
Kurhaus, Wiesbaden, Germany