Go back
77. International Conference on Agricultural Engineering LAND.TECHNIK AgEng 2019
November 8 - 9, 2019
Hannover Fairground, Hannover, Germany
Share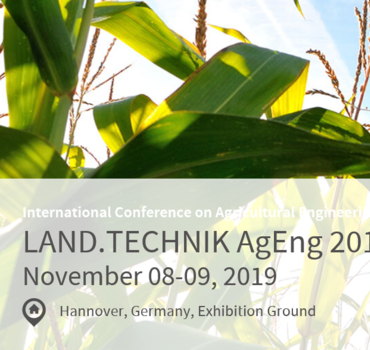 Share
November 8 - 9, 2019
Hannover Fairground, Hannover, Germany
Visit us at our booth (F47, hall 15) at the AGRITECHNICA
77. International Conference on Agricultural Engineering LAND.TECHNIK AgEng 2019
---
The International Conference on Agricultural Engineering LAND.TECHNIK AgEng 2019 will be held from November 8-9, 2019 in Hanover, Germany covering the latest developments and innovations on powertrain technology, tractors, combine harvesters, automation in agriculture, renewable energy and digitalization.

The International Conference on Agricultural Engineering is the official opening event of biannual AGRITECHNICA, the world's most prominent exhibition of agricultural machines and equipment.

The conference is the ideal platform for specialists, experts and professionals from around the world to prepare the future of agriculture.

Facts & figures from 2017: 1100 participants. 70 presentations. 20 sections
Topic
Tractors
Powertrains, electric drives and mobile hydraulics
Agricultural information technologies, precision farming, software engineering and data handling
Automation, electronic components and sensors, locating, tracking and navigation
Technologies of soil protection, tillage and sowing
Harvesting technologies
Sustainable energy for agricultural applications
Industrial product development and market service
---
Exhibition
Come and join us for fruitful discussions at the International Conference on Agricultural Engineering LAND.TECHNIK AgEng 2019 in Hanover and find out more about AVL's powertrain competencies and solutions for agricultural machinery.

Don't miss our technical presentation on "AVL eTractor – Novel vehicle concept to challenge future working process requirements".
---
Additional Information
Program is not available at the moment. Programm will follow as soon as possible.
---
Date
November 8 - 9, 2019
Location
Hannover Fairground, Hannover, Germany