Go back
AGRITECHNICA 2019
10th - 16th of November, 2019
Hannover Fairground, Hannover, Germany
Share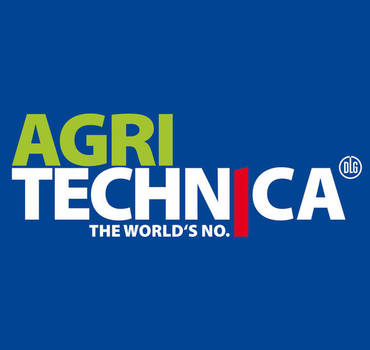 Share
10th - 16th of November, 2019
Hannover Fairground, Hannover, Germany
Visit us at our booth (Nr. F47, hall 15)
AGRITECHNICA 2019
---
The AGRITECHNICA will be held again from 10 to 16 November 2019 in Hanover, Germany and set the stage for 2,900 exhibitors from 50 countries around the world to present the latest solutions and concepts for agricultural machinery & equipment.

In addition to farm equipment and agricultural machinery, innovative products, cutting-edge solutions and new technologies for water and energy-saving cultivation and concepts for sustainable management and for the future of plant production are shown.
Topic
Tractors & Transport

Wheel loaders & front loaders, transport vehicles, conveyors

Soil & Seed

Tillage equipment, drills & planters

Harvest

Combines, forage & root crop harvesters

Crop Protection & Fertilizing

Machinery & equipment for crop protection, crop care & fertilizing

Special Crops

Fruit, vegetable & special crop production, sprinklers & irrigation systems

Storage

Crop processing, conditioning & storage solutions

Digital Assistance

Electronics, ag software & precision farming system

Farm Inputs

Seed, fertilisers, pesticides, fuels & lubricants

Woodland & Landscape

Forestry equipment, municipal equipment, equipment for landscape management

Knowledge

Associations, federations, organizations, academic & research institutes, farm management consulting & services

Trade & Services

Workshop equipment & services, used machinery trading

Systems Components

Powertrains, drives and mobile hydraulics
Systems, modules, components & accessories for agricultural machinery and related industries
---
Exhibition
Join us at the world's leading trade fair for agricultural machinery and visit us at our booth (Nr. F47, hall 15) to discover more about AVL's powertrain developments and solutions for agricultural machines.

We will present our e-tractor demonstrator at the AGRITECHNICA for the first time. Apart from the conventional small standard tractor structure, we developed a flexible, cost-efficient, and high-performing solution for small volumes and small-size tractors. Furthermore, the e-tractor is featured with autonomous driving functionality. Therefore, don't miss the chance to meet us at our booth.
---
Date
10th - 16th of November, 2019
Location
Hannover Fairground, Hannover, Germany