Go back
AVL AST India Electrification Tech Day 2019 - GURGAON
July 12, 2019
,
Share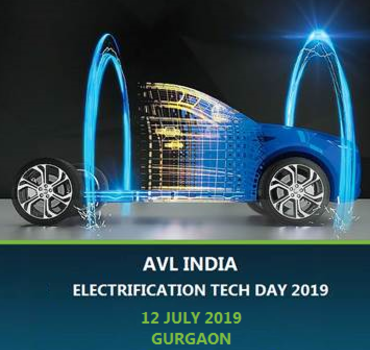 Share
AVL AST India Electrification Tech Day 2019 - GURGAON
---
We all know that Indian automobile industry is in transition phase towards electrified powertrains and AVL has always been a reliable partner in the field of Research, Development and Testing.

On the same lines, we are pleased to inform you that AVL - Advanced Simulation Technologies (AST) business unit has planned an Electrification Tech Day on 12th July 2019 at Gurgaon, India.
Topic
Our team of experts, Mr. Oliver Knaus and Mr. Juergen Schneider from AVL Graz will share their valuable global experience on electrification and will showcase simulation software such as AVL eSUITE and modelling of different applications such as System Modelling of xEV Powertrain and component level simulation of E-Motor, Fuel Cell and Battery.

Detailed information about the event is attached for your reference.
---
Agenda
Time
Title
08:30 - 09:00
Registration
09:00 - 09:15
Welcome and Overview on AST India TechDay 2019
Mr. Abhishek Agarwal (BUH - AST)
Mr. Oliver Knaus (Group Product Manager – AST)
Mr. Juergen Schneider (Senior Application Manager - AST)
09:15 - 10:00
AVL eSUITE Overview
AVL eSUITE is a special bundle program of all AVL Simulation products dedicated to electrification. From system level conceptualization and integration to detailed 3D analysis of single components like e-motors, batteries, fuel cells and power electronics.
10:00 ~ 10:30
Tea Break
10:30 - 12:00
System Modeling of xEV Powertrain: powertrain concept and system layout analysis, control function development and virtual calibration

Vehicle Energy Management Systems (VEMS) analysis of electrified powertrains
xEV vehicle integration virtual and HiL for mechanical driveline, cooling circuits, electric network, HVAC systems and control systems

12:00 - 13:00
Lunch Break
13:00 - 15:00
E-motor Simulation

Support in the development of electric motors from the concept phase to the detailed design and evaluation in terms of
​​​​​​​Electro-magnetic (performance)

​​​​​​​Thermal analysis
​​​​​​​Rotor dynamic/NVH

15:00 ~ 15:30
Tea Break
15:30 - 17:00
Battery Simulation - From cell to system

​​​​​​​Overview of Electrochemical versus Electro-thermal simulation
​​​​​​​Cell to pack level modelling, pack cooling
​​​​​​​Hazard handling like battery short circuit, thermal runaway and venting.
Data compression and automated handover from detailed 3D simulation to system integration

17:00 - 17:30
Fuel Cell Simulation

​​​​​​​A short view into fuel cell future.

17:30 - 18:00
Q&A Session
18:00
Closing Session
---