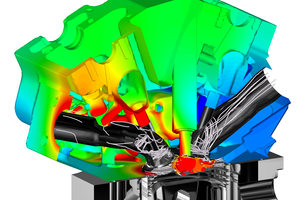 CFD for IC Engine
AVL FIRE™ Engine
AVL FIRE™ Engine is a specifically tailored CFD solution supporting the development and optimization of IC engines and engine components.
---
AVL Approach
Due to its unique in-depth modeling capabilities, AVL FIRE™ Engine is the CFD solution of choice when analyzing and optimization IC engine-related fluid flow tasks, such as the flow in injection nozzles, fuel injection, combustion, emission formation, heat transfer and exhaust gas aftertreatment.
---
Benefits at a Glance
Highly realistic 3D CFD simulation.
Dedicated to solve IC engine-related development tasks.
Accurate, validated models and proven simulation methods.
Strong process automation and high simulation performance support design studies improving product quality and maturity.
Result analysis tailored to solve engineering tasks.
---
What FIRE™ Engine Simulates
Single phase flows
Eulerian and Lagrangian multiphase flows
Species transport and general gas phase reactions
Combustion and emissions deploying intrinsic models
Physics and chemistry in exhaust aftertreatment systems
Thin films
Flows in porous media
Flows in systems with and without moving boundaries
Heat transfer
Radiation
---
References
AVL FIRE™ is deployed by all leading automotive OEMs, but the best reference we can provide is AVL's own CAE Service team, which performs CFD Simulation as a customer service and as a service for in-house research and development projects. In parallel with the continuous development and improvement of numerical, physical and chemical simulation models, this project work is a unique contribution to the reliability, accuracy and performance of AVL FIRE™.
---
Related Simulation Solutions
---