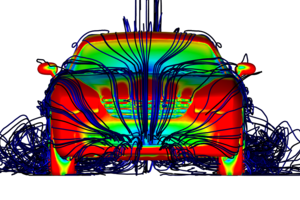 CFD for General Purpose
AVL FIRE™ General Purpose
AVL FIRE™ General Purpose is a cost-efficient enterprise CFD solution applicable for solving a broad range of simulation tasks.
---
AVL Approach
AVL FIRE™ General Purpose is the CFD Solution of choice when simulating fluid flow problems of a general nature, such as they are appear in numerous industrial applications, environment, sports and vehicle development - to give just a few examples.
---
Benefits at a Glance
Highly realistic 3D CFD Simulation.
Focus on ease of use and short turnaround times.
Mature, validated models.
Automated pre and post-processing, high simulation performance supporting large design studies.
---
What FIRE™ General purpose simulates
Non-reacting single phase flows.
Reacting single phase flows incl. species transport and general gas phase reactions.
Flows in simple and complex geometries.
Flows in systems with and without moving boundaries.
Flows in rotating systems.
Flows in porous media.
Heat transfer, radiation.
---
Where FIRE™ General Purpose can help you
Aerodynamics and aero acoustics
Environment
Home appliances
Manufacturing (Quenching)
Powertrains
Process engineering
Sports
Thermal management
Vehicle
---
References
AVL FIRE™ is deployed by all leading automotive OEM's, but the best reference we can provide is AVL's own CAE Service team, which performs CFD Simulation as a customer service and as a service for in-house research and development projects. In parallel with the continuous development and improvement of numerical, physical and chemical simulation models, this project work executed as integral part of the engine development process, is the major contribution to the reliability, accuracy and performance of AVL FIRE™.
---