Go back
BATTERIES EVENT 2019
October 22 - 24, 2019
Nice Acropolis, Nice, France
Share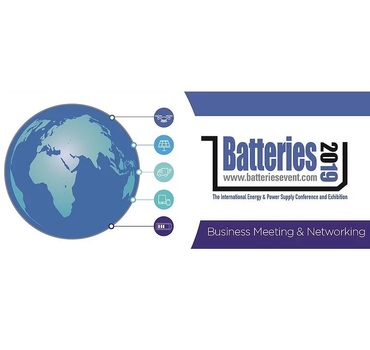 Share
October 22 - 24, 2019
Nice Acropolis, Nice, France
Come and meet our experts!
BATTERIES EVENT 2019
---
21st Edition of the Batteries Event Nice: this international conference with speakers and participants from Europe, Asia and America focusses specifically on batteries. It covers various technologies (lead acid, NiMH, Li-ion, Post Li-ion) and applications (from micro batteries to large format batteries), and the whole value chain from chemists and OEMs to end users.
Topic
Program 2019:
Global market issues and trends
Young Energy Storage Scientific Award 2019 (YESS Award)
Raw materials
Battery manufacturing
Nickel, Zinc and Sodium batteries
Latest trends in research and development
BMS, thermal management safety and regulations
Recycling, End of Life and Circular Economy
---
Exhibition
Mr. Benoît STALIN will speak about "EV Battery Cell Testing: Why and How?" on Wednesday Oct 23rd at 10:00 am.
Mr. Bernhard BRUNNSTEINER will present a "Front Loading Approach in battery development for changing cell chemistry" on Wednesday Oct 23rd at 11:00 am.
Contact Marketing.France@avl.com to pre-arrange a meeting with our experts during or after the conference.
---
Access to Nice AcropolisOrganizer's information
From the airport:
Take Bus n° 98 to the station "cathédrale vieille-ville"; then take the tramway towards "Hôpital Pasteur";
Stop at "Acropolis".
From the train station:
Take the tramway towards "Hôpital Pasteur";
Stop at "Acropolis".
Attractive discounts on a wide range of fares on all Air France and KLM flights worldwide.
From the A8 motorway "Provencal":
Exit n° 50 towards "Nice Centre" and the "Promenade des Anglais"; then follow the sign "Acropolis".
---
Date
October 22 - 24, 2019
Location
Nice Acropolis, Nice, France