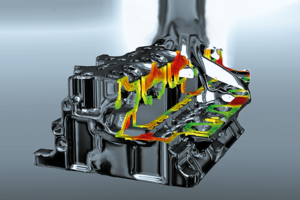 ---
The Challenge
Quenching Simulation
Can air quenching and oil quenching be simulated?
Is it possible to predict spray quenching?
Can I consider the martensitic phase transformation during steel quenching?
Residual Stresses
How can I localize residual stress concentrations?
Do residual stresses depend on processed parameters?
Is submerging orientation important?
Deformations
Can I predict structural deformations of large components?
Is stacking of numerous parts important?
Are quenchant temperature and agitation relevant?
---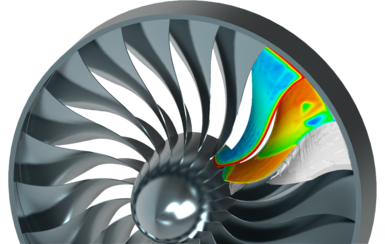 The AVL Solution
AVL FIRE™ offers the unique simulation solution for the quenching process, which is affected by a variety of factors, including initial solid temperature, solid piece orientation or water temperature. The software is architected to accurately predict real-time quenching effects, local temperature gradients and the overall cooling history of complex quenched components – in a single-step approach avoiding time-consuming iterative steps. It has proven to be an accurate numerical tool in numerous complex configurations. Eventually, heat treatment specifics, such as orientation, stacking or quenchant temperature, will influence the nature and the level of residual stresses and deformations.
---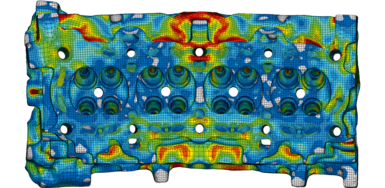 The Added Value
Virtual optimization replacing physical experiment
Reduced residual stresses
Lower deformations
Cutting down on waste
---
References
Ford Motor Company, James Jan et al.
Development and Validation of CFD Methodology to Simulate Water Quenching Process
Proceedings of the ASME 2014 International Manufacturing Science and Engineering Conference, Detroit, Michigan, USA, June 9-13 2014
Ford Otosan, Aslihan Mulayim Kaynar et al.
Experimental and Numerical Investigation of Water Quench Cooling of Aluminum Cylinder Heads
Orlando, Florida, USA, Aeromat Conference 2014
GM Global Powertrain Engineering, Ke Su et al.
Numerical And Experimental Study Of Aluminum Casting During Water Quenching
Orlando, Florida, USA, Aeromat Conference 2014
Dante Solutions, Li Z.C.et al.
Coupling CFD and Oil Quench Hardening Analysis of Gear Component
28th ASM Heat Treating Society Conference, Detroit, Michigan, USA, October 2015
---