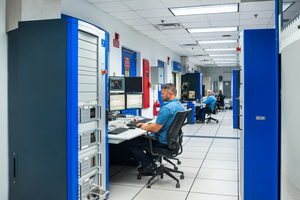 Automotive and Beyond
AVL Test Cell Services
AVL Test Cell Services provides the power of AVL instrumentation and software with the expertise of the industry's leading powertrain engineers. With the right combination of infrastructure and experience, AVL delivers accurate data and customized solutions – without the hassle.

Users are continuously carrying out complex development work in various environments and may not have the necessary tools or systems for consistent results. At AVL's North American Technical Centers in Michigan and California, the needed tools and systems are readily available, providing users with consistent data and results, and the ability to duplicate testing data in their own testing environment.

With more than 60 years of experience in testing, AVL has the knowledge and ability to help resolve the most demanding testing challenges. Using equipment that is designed, engineered, and built by AVL, its technical centers have the capacity to perform a variety of tests from component level to complete powertrains.

---
---
Performance and Emissions
INDUSTRY CHALLENGE
Meeting increasing demands for efficiency
Obtaining the proper tools and solutions to solve complex development tasks

AVL APPROACH
Base development targets, such as performance, emissions, and fuel consumption, increase the complexity of development solutions for powertrains and internal combustion engine vehicles. Regardless of the testing environment, development activities need to be supported with powerful, smart tools and solutions that are consistently applied to testing methods and processes, data management and evaluations.

AVL's Technical Centers have state-of-the-art equipment and software available for use on your next project. Use the most current edition of AVL Team Suite™ in conjunction with available combustion analysis and measurement tools to support testing environments during the verification/validation phase, including a:
Chassis dynamometer test rig
Powertrain test rig
Engine test rig
Virtual test rig

AVL ADDED VALUE
AVL's proven testing solutions and 24/7 access to AVL's US and worldwide technical centers and staff
Advanced development methodologies using AVL's powertrain engineering know-how
Emphasis on frontloading and model-based engineering approaches
---
Certification
INDUSTRY CHALLENGE
Meeting 40CFR1065 and US and European Light Duty Test regulations
Keeping up with new regulations for hybrid and electric powertrains

AVL APPROACH
AVL has a long history of providing software and equipment for engine and vehicle certifications for numerous regulatory bodies, including the U.S. EPA and California Air Resource Board. Its Technical Centers provide comprehensive engine and vehicle testing solutions to address the ever-changing requirements for emission certifications found throughout the world.

Providing complete engine and vehicle testing solutions, AVL addresses the present and future requirements for emission certification for different engine applications. Changes in regulations now require a more holistic approach at a systems level, making flexibility more important than ever.

ADDED VALUE
Availability of AVL-designed testing equipment and software for numerous different applications
Ability to duplicate test data with system level, even at lowest emission levels
Capability to perform tests that fulfill nearly all known emission regulations worldwide
More than 60 years of experience in engine and vehicle certifications
Access to AVL solutions that have been tested and proven at numerous certification agencies throughout the world
---
Durability and Reliability
INDUSTRY CHALLENGE
Meeting higher expectations of calculated lifetime targets by verifying powertrain durability and reliability

AVL APPROACH
Product lifetime forecasting must be done before vehicles can go into mass production, and it requires a great deal of understanding. AVL's Ann Arbor Technical Center has more than 50 staff members with an average of 15 years of experience working with various engine and vehicle types (diesel, gasoline, small passenger car, heavy duty truck, etc.). AVL's durability and reliability knowledge doesn't stop with its experts – it's also embedded in its advanced simulation tools like AVL EXCITE™ and AVL FIRE™.

Supporting the tasks of durability development and fatigue strength assurance is vital during the process of creating new engines and engine components. The goal is to reduce the (1) number of warranty claims and (2) total lifecycle cost once the vehicle is launched, all with the least amount of testing as possible.
The AVL Durability Test System includes all necessary devices and system modules, as well as specific needed automation functions to support durability development with the Endurance Testing Library. AVL's Endurance Testing Library is a built-in application library that is equipped with pre-installed test procedures typically used during the mechanical development of engines. The following test runs and library components are available:
Break-in test run
Oil-consumption test run
Thermo-stress test run
Cat-ageing test run

ADDED VALUE
Access to the Endurance Testing Library with pre-installed test procedures
AVL's proven safety concept for engine operation
Robust Durability Test System to support durability development
---
Powertrain Calibration and Optimization
INDUSTRY CHALLENGE
Meeting the demand for optimal results in a shorter amount of time
Keeping up with new calibration methods as tasks become more complex
Creating efficient calibration processes and data storage

AVL APPROACH
When performing complex calibration tasks, modern software tools and methods are needed to get consistent results and meet requirements such as data quality, reproducibility, stability, and safety. As a leader in the development of high-performance tools and methods, AVL has years of experience with xCU calibration and aims to provide a complete workflow for each single calibration task. Its calibration software is proven to significantly increase efficiency by simulating real-world driving – including road conditions – in a laboratory environment.

ADDED VALUE
Software tools that support development engineers during the entire calibration workflow, making the influence of complex xCU parameters easier to manage
Models that can be reused throughout the different stages of the development process
Full utilization of the test facility using intelligent test runs – even in unmanned 24-hour operation
Tools that are supported and maintained on a global scale (roll-out capability for test facilities and different locations)
---
Single Cylinder Engine Research
INDUSTRY CHALLENGE
Finding cost-efficient methods for single cylinder engine research
Difficulty viewing the combustion chamber of the single cylinder research engine
Getting new engine developments from concept to SOP

AVL APPROACH
AVL specializes in designing customer-specific single cylinder engines by incorporating individual requirements into the design with the goal to fully replicate multi-cylinder engines. This leads to a reliable transfer of test results, allowing most of the predevelopment work to be carried out on the single cylinder in a shorter amount of time.

For flow studies and combustion research, AVL Single Cylinder Engines can be converted into transparent engines with optical access through the piston and liner. Using quartz glass in the construction of the transparent engines allows for the application of UV laser systems possible. With the Engine Timing Unit, sophisticated measuring techniques, like the UV laser system, can be precisely synchronized with the single cylinder engine.

In the fuel and lube oil industry, single cylinder engines are currently being used for intake valve deposits and combustion chamber deposits tests. Here, single cylinder engines offer the ability to test future engine design features without having to wait for the production unit. A variety of single cylinder engine versions are used as screener engines for piston deposit tests with excellent correlation to multi-cylinder tests.

ADDED VALUE
Ability to test component concepts under realistic engine conditions long before they are applied to the full engine
Availability of various sizes of engines, from small passenger car to heavy duty truck
Modular design concept allows easy conversion into customer specific engine versions
Versatile GDI cylinder head with highest flexibility in tumble and injector installations
Proven optical top-works allow the application of modern laser supported measuring techniques
Single Cylinder Engines for heavy duty trucks allow for maximum combustion peak firing pressures of > 300 bar
Reduce testing costs and times while carrying out high performance quality research
Reliable transfer of results from single-cylinder to multi-cylinder engines
Can equip engines with state-of-the-art engine technology
---
Scope of Services
System engineering & requirement development for powertrain systems
Powertrain component and integration design / simulation
Emission testing on chassis dynos and on road
Battery pack assembly and testing
Vehicle integration, demo vehicles build up
Engine & transmission calibration
Engine & transmission testing
Drivetrain electrification and software / controls
Vehicle fleet test management and operations
Benchmarking and vehicle drivability assessment
Supplier assessment and quality development
---
Locations
Ann Arbor Technical Center
1801 E. Ellsworth Road
Ann Arbor, MI 48108

Plymouth Technical Center
47519 Halyard Drive
Plymouth, MI 48170

California Technical Center
25111 Arctic Ocean Drive
Lake Forest, CA 92630
---