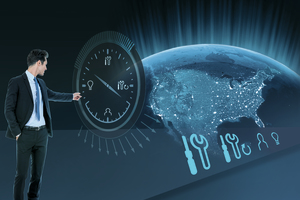 Experience the added value.
AVL Customer Services
Customer focused services for equipment, processes and staff

AVL Customer Services North America is committed to you, our customer. We show our commitment by listening to your situation and providing the best solution for your needs. Our objective is to allow you to succeed in your job and achieve your individual goals.
---
---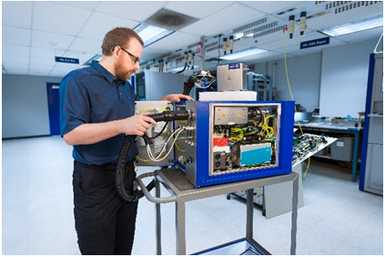 Local solution competence
AVL's local staff of engineers and technicians are experts in the industry. Their vast wealth of experience and knowledge comes from years of supporting customers' requests in a professional and skilled manner. To maintain this expertise, AVL provides specialized update trainings to ensure that the most competent resource is working on your behalf.
---
Close to our customers
Certified Service Engineers are located throughout the country for quick support. In addition, we have multiple spare part hubs along with a local Repair/Calibration Center to minimize downtime.
AVL North America at a glance:
Service Team > 100
Certified Hotline
Certified Repair / Calibration Center
Certified Skills Center
Certified CAREline
AVL eShop™ Hubs
---
A true partner
We build relationships with our customers by working together. Using essential knowhow, creative solutions and long-term cooperation, AVL is dedicated to being your #1 partner for all your testing needs.
---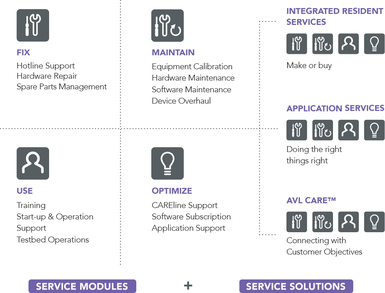 Our comprehensive portfolio
AVL Service Modules
Services for everyday efficiency challenges.
AVL Service Modules are structured according to customer use cases: Fix. Maintain. Use. Optimize. Customer needs are addressed by reactive, preventive and proactive services.
AVL Service Solutions
Reliable Service Partnerships.
Our Service Solutions are comprehensive and tailored service packages, which are developed for individual customer needs in their specific testing environments. Service Solutions combine relevant service modules with additional skills, knowledge and methodologies. The aim is to improve overall productivity and data quality of test fields beyond the optimization of individual systems. This is where our creativity in providing customized plans for your requirements enables us to become your perfect partner.
---
Contact
For further information or support please contact:
AVL North America, 47603 Halyard Drive, Plymouth, Michigan 48170-2438, USA

Service Hotline:
Phone: (800) 352-4343, hotline.na@avl.com
www.avl.com
---
Service Modules
FIX – COMPETENT AND FAST SYSTEM RECOVERY
The Hotline provides case management support for technical issues or questions related to the usage of AVL equipment
In case of unexpected equipment failures, AVL has a range of professional Repair and Rental services to minimize downtime
AVL eShop™ Hubs located in Michigan and California ensure quick delivery for critical spare and maintenance parts
MAINTAIN – PROFESSIONAL PREVENTATIVE MAINTENANCE
On-site and factory calibration services ensure that equipment is regularly calibrated
Customer Services helps to reduce the risk of unexpected breakdowns with preventative maintenance
AVL Software Maintenance is a special service designed to provide you with fast software solutions to keep your systems running and up-to-date
AVL also offers complete device overhaul to upgrade products to the latest versions
USE – SAFE AND EFFECTIVE OPERATION
A dedicated team of certified trainers along with knowledgeable application engineers delivers training classes at the AVL Skills Center or customer site
AVL Start-Up & Operation Support helps get your testbed hardware and staff productive quickly
AVL can also embed testbed operators in the customers organization to provide additional training equipment and management
OPTIMIZE – MAXIMIZING EQUIPMENT VALUE AND USE
AVL CAREline Support is a contract-based service that provides you with special support for your AVL test equipment and AVL software
Software Subscription keeps you up-to-date with latest releases, features and fixes
Application Support is a highly practical and targeted service that helps you reach and maintain a high level of productive operation within a short period of time
---
Service Solutions
AVL CARE™
Connecting with customer objectives.
The content and level of services in an AVL CARE™ agreement are defined according to specific customer objectives. The contract is tailored according to agreed targets and KPIs (e.g. technical availability, fixed annual service cost). The services are easily accessible and their performance is monitored by means of indicators. This makes planning easy and reduces costs. AVL North America runs a CAREline with local dedicated agents for premium support and manages services for more than 400 testbeds.

APPLICATION SERVICES
Doing the right things right.
AVL can support the adoption of the latest methodologies and tools to fulfill current and future targets in calibration for powertrain and vehicle testing. Whether through improvement of data quality, data collection rate, methodologies or the overall system, AVL Application Services can support customers' targets. AVL's application experts for engine, powertrain and vehicle testing can help reduce testing time by >70%. A tailored service concept can boost utilization rates to >80% and technical availability to >97%.

INTEGRATED RESIDENT SERVICES
Make or buy.
This service represents a partnership model where AVL resident services can perform maintenance (preventive maintenance, planning and execution, facility maintenance), support (user support, product and newcomer training, application support) or test field operations (testbed operation, on-site spare part stock management, system/database administration). In North America, more than 30 resident support engineers are maintaining, supporting and operating over 400 testbeds at customers' sites.
---