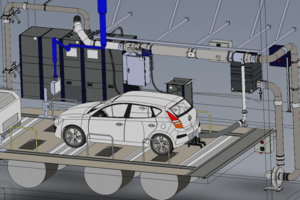 How AVL's 'One Team' approach is key to Hyundai's new South Korean Certification Center
AVL and Hyundai: Building the 'Benchmark for all Tech Centers in Korea' Together
In 2014, Hyundai Motor Company realized a need to improve its emission testing certification processes, including test protocol revisions, test data management improvements, and employee training enhancements.
After separating the emissions certification group into two smaller groups – homologation and R&D – Hyundai decided to build a new Certification Center that would better meet its future needs. Major goals of the project included: (1) equipping the facility with a transparent test data management system, (2) creating reproducible tests, and (3) increasing test field efficiency. Once complete, the new $89.2 million facility in South Korea will span 107,380 square feet. AVL is providing multi-millions worth in equipment, instrumentation, and software for this facility.
During the selection process, AVL showed Hyundai stakeholders how its equipment functioned in real-world laboratories at customer sites, including the EPA, Porsche, and UMICORE. Through discussions with Hyundai's team in Namyang, Korea, AVL emissions experts advised on how to design a flexible lab to meet ever-changing US and global emissions regulations. Due to AVL's "One Team" approach across all areas of the company, Hyundai was confident that it selected the right partner for this large project.
To fulfill the EPA's requirement of transparent data processing, AVL provided Hyundai with a data management system, AVL SANTORIN™--a central system that stores data from different test domains and locations. Hyundai also received AVL's iGEM Lab Scheduler; this tool will help increase overall test field efficiency by automatically scheduling routine quality and diagnostic checks required by regulatory agencies. Hyundai also received AVL's weighing robot that can automate weighing of particle mass filters; this process prevents disturbances and ensures a high-quality measurements and reproducibility. These tools were key components of the project that successfully met Hyundai's goals of transparency, efficiency, and reproducibility.
AVL's emission equipment will be delivered in 2017, with the goal to have all test cells fully commissioned by the fall of 2018. Mr. Kang, Hyundai Certification Center director, stated, "The Hyundai Certification Center will be, in all aspects, the benchmark for all Tech Centers in Korea."
The success at the Certification Center influenced Hyundai's decision to acquire additional AVL equipment, instrumentation, and software for its vehicle performance team (VPT), a group that focuses on research and development. AVL has also installed emissions testing equipment at Hyundai Technical Centers in three additional countries. Hyundai and AVL continue to discuss how to grow this new relationship and continue Hyundai's goal of improving its emission testing processes.
---
List of AVL Equipment Installed
Light-duty SULEV Gasoline/GDI Emission System, including PHEV testing
Light-duty ULEV Diesel Emission System
Light-duty SULEV Gasoline Emission System for cold CO testing
Light-duty SULEV Gasoline/GDI Emission System including Point Source Measurement in hot chamber
Calibration equipment
Filter Weighing Robot, including a second weighing chamber
iGEM Vehicle
iGEM Lab Scheduler / Data Management System
Diesel test cells
Full-size VT SHED chambers
Canister Loading Systems
---