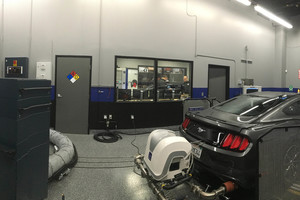 Bringing Real Driving Emissions Data from the Road to the Lab
The subject of "real-world driving emissions" is a hot topic for the entire industry. Last year's media revelations regarding inconsistencies between results in the laboratory compared with those in real-world driving situations put an increased focus on developing new-vehicle testing methodologies. It was in this environment that AVL conducted an emissions workshop recently, hosted by SEMA Garage in California.
The workshop consisted of practical presentations and live demonstrations for moving real-world emissions to the lab, and was designed to be most applicable to three distinct groups:
Emissions development, certification and calibration engineers
Emissions facility managers
Regulators
The star of the workshop was AVL's "lab on wheels," where a vehicle is instrumented with the AVL M.O.V.E. Gas PEMS iS (Portable Emissions Measurement System), which collects and measures gaseous emissions in real time on a road. Although other companies offer PEMS units, no one other than AVL has a way to then quickly and accurately replicate the on-road results back in the lab with a test driver employing exactly what occurred in the real world.
This difference is an important one, since vehicles do things differently out in the field compared to how they react in the lab. The integration of AVL PEMS with workshop simulations helps engineers spot the "outliers" and better determine a vehicle's expected real-world driving attributes.
Eugene Mondrusov, AVL's Sr. Software and Solutions Engineer who helped conduct the demonstration, said OEM engineers were impressed while regulators, in particular, were surprised. "They didn't know what to expect and weren't aware the technology we had was available."
AVL's demonstration also included a two-phased component. The first phase showed how AVL M.O.V.E correlated to AVL's AMA i60 laboratory analytical exhaust measurement systems. The second phase demonstrated how the test vehicle's emissions repeated when tested on the road and in the recently commissioned chassis dynamometer emissions test cell at the SEMA Garage. The 47- mile "RDE" road course was designed by CARB. It provided a mix of freeway, city and mountain roads to ensure the vehicle was put "through its paces."
The presentations at this workshop also explained how AVL can simulate road-recorded curvature and grade on the chassis dyno. It also included discussion of AVL In-Motion, which adds traffic and driver simulation into the laboratory test cycles.
At the conclusion of the workshop, AVL was invited back for further, in-depth discussions with a number of automotive executives and industry regulators.

Specialty Equipment Market Association (SEMA) of the automobile aftermarket provides services for employees of its member companies that include education and professional development, market research, legislative and regulatory advocacy, industry publications, international business development and business-to-business events.
---