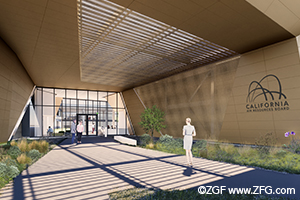 CARB taps AVL to provide integrated testing solution for world's largest net-zero emission lab of its kind
AVL has been awarded the contract to provide nearly all the software and hardware for light and heavy duty vehicle, engine, and powertrain testing at the new California Air Resources Board's (CARB) lab in Riverside, Calif.
CARB has already broken ground on its new Southern California vehicle emissions testing and research facilities, set to open in Spring 2021, which will house one of the world's most advanced vehicle emissions testing and research centers. The $368 million laboratory, designed and built by Hensel Phelps, AEI and ZGF, will house approximately 450 employees. As designed, it will also be the largest net-zero energy structure in the United States.
"This is more than a typical lab project," said Kyle Kimel, president of AVL Test Systems, Inc. "We're honored to be chosen as the best integrated solution to help CARB achieve its 2030 vision and bring this lab to fruition. CARB is really keeping with industry standards here."
AVL's equipment and hardware provides solutions to the challenges of multiple testing environments and propulsion technologies, including electrified powertrains. AVL will deliver 18 dynamometers for chassis, engine and powertrain testing; more than 90 emission measurement devices and systems; SHEDs for evaporative testing; fuel and air measurement instruments; and the associated control, simulation, and data acquisition I/O.
"Developing clean, efficient propulsion technology is the driving force behind everything we do," Kimel said. "At the end of the day, we're here to help our customers achieve their goals."
Another plus for California is 25 percent of AVL's contract value will be sourced to small and disabled veteran-based businesses as part of the project.
With experience working on projects of this scale, AVL will provide vehicle testing solutions with flexibility to adapt over time. Because mobility systems continue to evolve, AVL's seamless lab operating system coupled with its hardware will future-proof the facility so CARB is fully-equipped to achieve its goals for decades.
With AVL's configurable software, CARB will not only be able to quickly create and run tests, but also monitor and control their systems and data from anywhere through wireless tracking via PCs and mobile devices.
"A project of this scale and pace relies on AVL's global support," said Kimel. "We have a team in California that will be in the lab with CARB day in and day out, but we will also work with AVL experts around the world to ensure all of CARB's needs are met."
Find out more about the building and the project here.
---