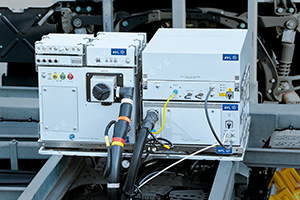 PEMS Testing: Fighting the fear of the unknown
How do you certify a vehicle when the legislative requirements are unclear? This is the daunting challenge facing passenger car and off-road vehicle manufactures in the United States. In today's world of rapidly-changing emissions regulations, planning ahead and anticipating unknowns is more important than ever.
---
Fear of the unknown
Light-duty manufacturers are quite familiar with the need for accurate emissions testing on passenger cars to ensure compliance with the U.S. Environmental Protection Agency (EPA) and the California Air Resources Board (CARB) requirements. Portable Emission Measurement Systems (PEMS) have become more important as manufactures need to ensure real world emissions are in line with what is coming out of the test cell. Now, more than ever, the need to validate on road emissions with PEMS is at the forefront.
While heavy-duty manufacturers are used to dealing with legislative required PEMS testing for large trucks, the industry is now facing uncertainties. As non-road PEMS requirements have been looming large, the pressing topic now is discussions of possible light duty vehicle PEMS requirements. Europe already has PEMS requirements for Light Duty Passenger car (Real Driving Emissions) and requirements for non-road equipment, (In Service Conformity), it's just a matter of time until the USA follows with its own requirements.
According to Brian Slater, business manager and PEMS engineering specialist at AVL, many factors must be considered when calibrating an engine and some of it could be missed. He explained, "That's where in-use testing comes in. It reveals a lot that you may not normally see in a test cell."
By performing highway routes, traffic scenarios and steep grade test routes, AVL can validate calibration models. "These types of exercises help us see if there are anomalies that don't show up on the engine test cell." Slater said "PEMS testing gives peace of mind that you're actually meeting the requirements without the surprises later."
AVL solution with PEMS equipment and services
AVL PEMS experts have more than 12 years of PEMS testing experience – from the beginning of PEMS testing itself – with more than a thousand tests performed in the past 10 years. Through a combination of certification/compliance work, R&D projects and light-duty Real Driving Emissions (RDE) compliance, AVL's team tackles a variety of in-use emissions challenges. With the autonomy and expertise to get the job done right, AVL's track record is unparalleled. "So many companies struggle completing PEMS tests," said Slater. "We thrive on this, we're perfectionists with the correct tools and equipment to succeed the first time. We don't stop until we fulfill our customers' testing requirements."
Because each manufacturer is different, customers can (1) purchase AVL's industry-leading PEMS instruments for their own use, or (2) hire skilled AVL experts to perform on-site testing as a service. Purchasing AVL PEMS equipment doesn't mean communication ends at equipment delivery; instead, AVL experts will arrive on site to provide training for each customer and support them throughout the process. "We do what's best for the customer," Slater said. "We show up on site and train them so they can be successful." With the support of AVL hardware and software, AVL's team can determine whether a test is valid including Pass / Fail requirements in under 10 minutes, saving time and minimizing wasted effort.
Drawing upon years of experience, two AVL experts can perform in-use compliance tests for five heavy-duty vehicles in 5-6 days; this aggressive timing means testing is completed in a third of the time of competitors. With the ability to troubleshoot quickly, the team members are an invaluable asset, and this flexibility gives AVL customers an advantage.
The future of PEMS testing
AVL recently launched its mobile PEMS testing trailer, an all-in-one set up that allows AVL experts to be on-site performing testing services quickly and efficiently. With a fully equipped shop including welding capabilities, equipment, and supplies, the trailer gives the team the necessary tools to react at a moment's notice, a necessity when dealing with the unpredictable nature of in-use testing. The trailer also gives AVL complete control and flexibility to do the job right, no matter the time of day or location.
While PEMS is currently a compliance tool, there are many advantages to using it as a development tool as well. AVL can assist with PEMS testing during all phases of the calibration process to help find drivability and emission compliance issues earlier on and "course-correct" as early as possible. This has the potential to reduce the development process by months, saving not just time, but money.