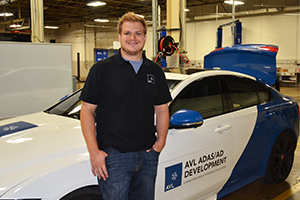 Project Engineer – AVL North America
Voices of AVL: Tom Goddette
Tom Goddette traded his flip flops for snow boots when he accepted a position at AVL. He grew up in Florida and went to school in Mississippi, but his career in the automotive industry brought him to Michigan after college. While he still prefers the beach to the snow, he has adjusted to the change in climate and has now been with AVL for five years.
Tom became interested in the automotive industry while studying mechanical engineering at Mississippi State. He joined the school's EcoCAR team, which helped prepare him for his career. EcoCAR taught him what it was like to work on a long-term project that required planning, budgeting and teamwork. The program also introduced Tom to AVL, and he accepted a position with the company upon graduation.
Tom worked with a few different departments during his first two years at AVL. He started working in design, then moved to the vehicle group and finally the simulation team. Tom moved departments when they needed help with busy projects, and he always knew that his skills were needed and valued. He now works as a project engineer for the vehicle team and couldn't be happier in his position.
"I like that my job changes. Every project that I work on is different," said Tom. "Nothing is ever cookie-cutter or repetitive."
As a project engineer, Tom does a little bit of everything. He works directly with customers, writes his own proposals and works on a variety of different projects each year—including a Tesla Model 3 battery benchmarking analysis.
His job changes with the industry, and he is now developing an ADAS package and benchmarking e-motor and battery powered vehicles. He's noticed a shift towards electrification since he first started with AVL and is interested to see how the mobility industry continues to evolve.
AVL has also allowed Tom to travel to places he had never seen before. He spent three months in Steyr, Austria, which was his first time in Europe. He also worked on a month-long project in China, where members of the AVL team in China showed him around.
"It was helpful to see how other affiliates work," said Tom. "It's nice to be with a company that gives you the chance to go overseas and experience new things."
When Tom books his own vacations, he usually chooses to go to the beach. He misses the ocean, but he has found a way to bring a little bit of Florida with him to Michigan. Tom has a huge coral reef tank at home that reminds him of the tropical area that he grew up in.
"When people ask me what I miss the most, I always say the seafood," said Tom. "But I have no plans on leaving Michigan anytime soon."
---