{attributes={}, name=downloadList, data=, type=selection_break, options=[], optionsMap={}, mainTitle={attributes={language-id=en_US}, name=mainTitle, data=Discover more, type=text, options=[], optionsMap={}}, sectionList={attributes={}, name=sectionList, data=, type=selection_break, options=[], optionsMap={}, sectionIcon={attributes={language-id=en_US}, name=sectionIcon, data=newsletter, type=list, options=[], optionsMap={newsletter=Newsletter, download=Download, software=Software, white-paper=White Paper, webinar=Webinar}}, sectionName={attributes={language-id=en_US}, name=sectionName, data=Contact us, type=text, options=[], optionsMap={}}, downloadFiles={attributes={}, name=downloadFiles, data=, type=selection_break, options=[], optionsMap={}, LinkTitle={attributes={language-id=en_US}, name=LinkTitle, data=Get in touch with our Simulation experts!, type=text, options=[], optionsMap={}}, CTALink={attributes={language-id=en_US}, name=CTALink, data=https://www.avl.com/registration-cta?articleId=48433440&groupId=10138, type=text, options=[], optionsMap={}}, DownloadFile={attributes={language-id=en_US}, name=DownloadFile, data=, type=document_library, options=[], optionsMap={}}}}}
false

Release Notes 2021 R2
Virtual Battery Development – From Cell to Vehicle
Updates and improvements to AVL's simulation solution
In recent years, the global automotive landscape has undergone a major transformation and with it the needs of our customers and the end users. In order to meet your requirements and to provide you with the best possible support, we are constantly working on updating and improving all our products and services. In all our disciplines and areas of expertise, we have once again made a large number of updates for you. Below you will find some of the highlights of the latest release in our battery solution area.

Solution: Battery Thermal Analysis

The latest version of AVL FIRE™ M has been enhanced with the ability to use electrothermal battery models in electrically unresolved active layers. Each battery cell is now represented by an electrical node. Here, the current sources are prescribed in the electrically conducting parts touching the battery and the reaction heat source is evenly distributed in the battery cell volume.

With this new approach, you no longer need special meshing approaches for battery cells and ultimately least to shorter turnaround times. This optimization allows you to perform fast and efficient simulation of battery modules and packs.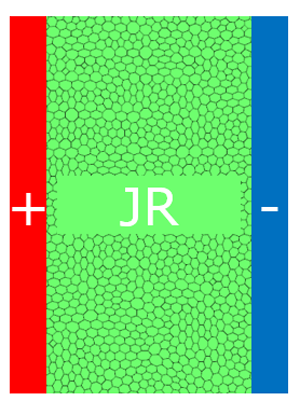 Solution: Battery Layout

The already existing model generators in AVL CRUISE™ M are extended with this release by a special model generator for battery modules and packs. For the creation of a high fidelity battery pack model the Batemo Pack Generator offers you a kind of configuration questionnaire. It takes into account all electrical and thermal aspects that are essential for you for concept phase studies and assessments.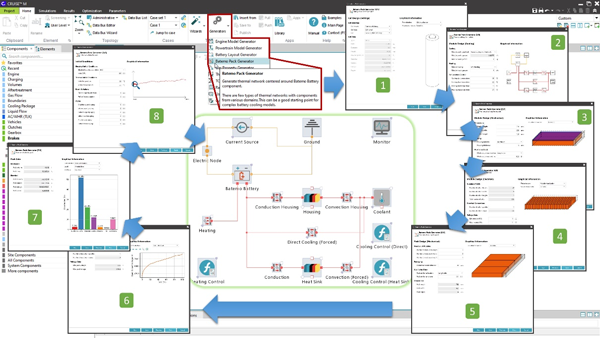 Since the entire generator process is supported by text and graphical outputs, you always receive immediate feedback on your chosen configuration. The process already starts on cell level. Here you can choose from a library of cylindrical, prismatic and pouch cells (Batemo Cell Library) or have a Batemo Custom Cell model.

Futhermore, you have the possibility to choose from different options of air and water cooling concepts, either in reduced or more detailed form. The KPIs of cells, modules and packs are summarized for you and, if suitable, the actual CRUISE M model is automatically created.

The main advantage of this new feature is that it allows you to independently set up a battery pack from scratch within 5 minutes. This makes it easier for you to perform battery concept studies without the hassle manual model creation. In addition, Batemo's extensive cell database allows for a comprehensive evaluation of the pack, to be carried out even without detailed knowledge of the properties of the respective cells.

Solution: Battery Electrochemical Analysis

AVL CRUISE™ M 2021 R2 offers you a new dedicated Batemo battery component.The component is part of the battery module introduced in the first release of this year. Using this new component, you can now build a cell, module or pack by upscaling. This maintains the accuracy of the Batemo cell models without having to specify complex details of the module or pack design.

As with the battery module component, you can choose between the two modelling options "Batemo cell library" and "Batemo cell custom". Here you can draw from most common cells on the market (cylindrical, pouch and prismatic cells) from manufactures such as LG, Samsung, Panasonic, Murata and others. All models are "ready to go", which means they can be used by engineers who are not specialists in electrochemistry and battery material properties.

Cell aging issues are addressed by a descriptive approach. This allows to parameterize different types of cell losses. The upscaling of the single cell model to the level of a module or pack can be configured by you according to the actual conditions. This flexibility is also provided for the thermal integration of the Batemo battery component into the CRUISE M cooling networks.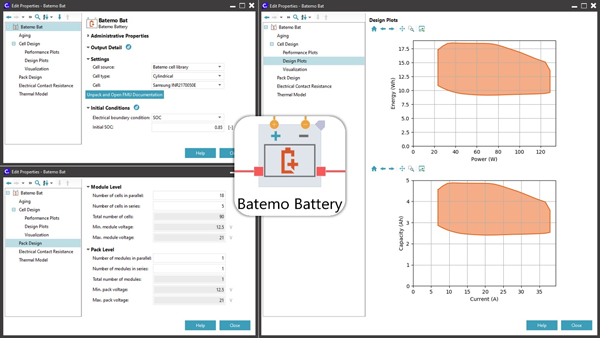 The electrochemical battery model in CRUISE M has also been expanded in this release.
Thus, online analysis of battery health is now enabled by new output channels for SEI and Li-plating thickness, as well as analysis of the remaining capacity of the cell.
A concentration-dependent cation transference number is added to the property database. This allows an additional part of the migration effect, i.e. the drag of lithium ions with the ionic current is considered in the model.
The property database is enhanced with cation diffusion coefficients dependent on the lithium concentration in the electrolyte.


Solution: Battery Thermal Analysis

For easy setup of complex discretizations as well as efficient model setup, the updated Discretized Solid 3D component in CRUISE M now features UI support. This allows you to check (view, rotate, zoom, etc.) the structure and discretization of the 3D object. Furthermore, any selection of cells or cell surfaces can be defined to represent heat connections and measurement positions.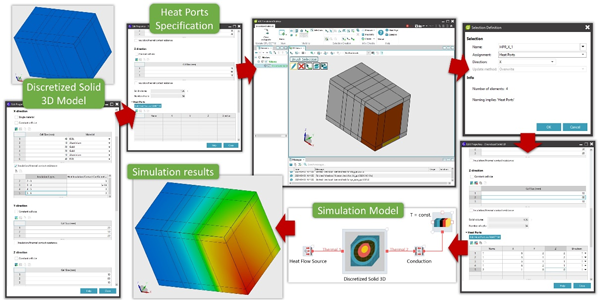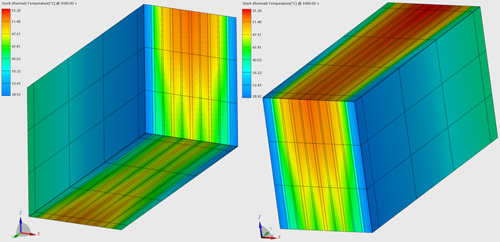 The focus in this release of FIRE M has been placed on ease of use and efficiency in performing simulation tasks. Therefore, it comes to the biggest and most profound change in the workflow, since the introduction of FIRE M. These innovations allow you to define the entire simulation setup based on clean and discrete geometry. The lengthy meshing process is now the first step of the simulation and only after that the actual calculation is started.


With the extension of the FAME M project tree and its preprocessing capabilities, you can now perform preprocessing directly in AVL FIRE™ Home. This allows you to set up the simulation from scratch without waiting for meshing.

By selecting one of the options listed below when starting FIRE M, you enable targeted support for your model setup.
1. Use a Solution App FIRE M has a variety of solution apps tailored for specific applications, such as our Thermal Runaway Workflow App. The app allows you to set up complex Thermal Runaway simulations within minutes with best practice solver settings and meshing parameters.
2. Use a Custom App: By using the API, the application supports you in creating customized workflows and using them in a FIRE M model.
3. Use Generic Workflow: If you want to set up the simulation in the "traditional way", you can do it using the generic workflow.

Flexibility has always been one of FIRE M's key strengths. All new features are built on the strengths of existing ones. FIRE M therefore also allows you to fall back on a generic, meshing-based setup approach at any time.

Solution: Battery Safety Analysis

This release introduces dedicated Solution apps for battery safety. A special focus has been placed on optimally supporting you in performing your tasks in connection with the thermal runaway of batteries. In particular, in deriving simulation inputs from measurement data and the generation of simulation models for thermal runaway.


Thermal Runaway Workflow App: To save you valuable turnaround time when performing thermal runaway simulations, we have transferred our expert knowledge into an app. From now on, you will be supported by best practice mesh settings as well as automated solver setup with optimal parameters. The app allows you to reduce setup time from hours to minutes. Its ease of use makes it especially suitable for new users. Based on the groups that the app finds on the specified mesh, the materials are automatically assigned according to their names. You also have the option to adjust all the required materials yourself. Furthermore, there is a connection to the Property Database (PDB). This guarantees you access to all available materials.

Thermal Runaway Measurement Fitting App: If you already have your abuse measurement data, you can now process it using this app. In addition to reading and processing the data, it creates the necessary input data for your simulation. All this happens within minutes and you always have full visual control.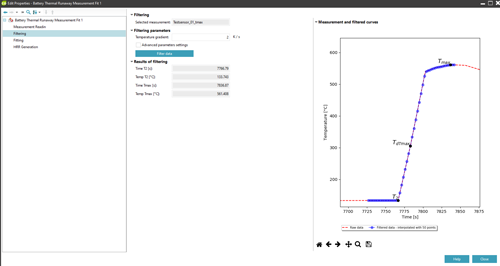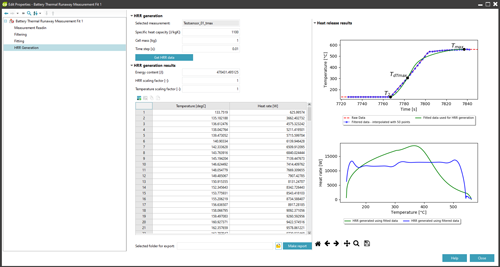 ---