{attributes={}, name=downloadList, data=, type=selection_break, options=[], optionsMap={}, mainTitle={attributes={language-id=en_US}, name=mainTitle, data=Discover more, type=text, options=[], optionsMap={}}, sectionList={attributes={}, name=sectionList, data=, type=selection_break, options=[], optionsMap={}, sectionIcon={attributes={language-id=en_US}, name=sectionIcon, data=newsletter, type=list, options=[], optionsMap={newsletter=Newsletter, download=Download, software=Software, white-paper=White Paper, webinar=Webinar}}, sectionName={attributes={language-id=en_US}, name=sectionName, data=Contact us, type=text, options=[], optionsMap={}}, downloadFiles={attributes={}, name=downloadFiles, data=, type=selection_break, options=[], optionsMap={}, LinkTitle={attributes={language-id=en_US}, name=LinkTitle, data=Get in touch with our Simulation experts!, type=text, options=[], optionsMap={}}, CTALink={attributes={language-id=en_US}, name=CTALink, data=https://www.avl.com/registration-cta?articleId=48376924&groupId=10138, type=text, options=[], optionsMap={}}, DownloadFile={attributes={language-id=en_US}, name=DownloadFile, data=, type=document_library, options=[], optionsMap={}}}}}
false
Release Notes 2021 R2
Virtual Function Development – Controls and ADAS
Updates and improvements to AVL's simulation solution
The automotive industry is in a constant state of change and along with it your needs. To meet these needs, we at AVL are permanently working on the further development of our products and services to support you in fulfilling your daily tasks.

The latest release of our simulation solution for virtual function development, 2021 R2, includes the extension of the usability, integration, and automation capabilities of AVL Scenario Designer™. This is complemented by extended scripting and interfacing features of Model.CONNECT™ and an even tighter integration of open-source codes such as CARLA and esmini. With the release of the open-source project Eclipse OpenMCx, we show you the strategic direction to support a scalable scenario-based ADAS validation process in a modular development environment.

AVL Scenario Designer™ Integration With AVL SCENIUS™​​​​​​​


First of all we would like to introduce you to the newly released AVL ADAS test preparation suite AVL SCENIUS™. Along with AVL Scenario Data Manager and AVL Test Case Generator, AVL Scenario Designer™ is a part of the SCENIUS suite. With a built-in interface to the scenario database, Scenario Designer offers you a seamless test preparation workflow from scenario creation and editing to the execution in the various test environments (office, lab, proving ground).

The new version of AVL Scenario Designer™ brings you several usability improvements. Not only does it allow you to drag and drop catalogs, timelines, events and actors more easily. According to the received user feedback, additional warnings and a clearer display of element properties have also been introduced. This has resulted in a significant acceleration of the daily work steps. The complete list of new add-ons in the latest version can be found in the release notes for the product itself.

Model.CONNECT™ Interfacing for ADAS and vECU SiL Applications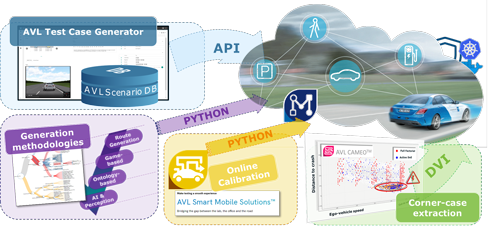 The strategic orientation of the Model.CONNECT framework is to support the automated background execution of complex co-simulation systems in a consistent manner. This is done regardless of the environment from which the applications are controlled. With additional API and scripting support for model creation, parametrization, execution and optimization, Model.CONNECT supports you in the different applications. This ranges from virtual ADAS validation and virtual ECU calibration in HiL and SiL environment, such as the recent ones:
ADAS corner-case extractor with AVL CAMEO™ active DOE set-up
Virtual validation out of the AVL Test Case Generator with automatic scenario and actor's variation and road statistics based parametrization
ADAS test coverage optimization using different ontology-based, game-based and AI based optimization methodologies
Online calibration of virtual ECU in a SiL set-up from an AVL Smart Mobile Solution™ web front-end for electric vehicles
Online optimization of virtual ECU in a SiL set-up in the cloud for hybrid light duty vehicles
Deployment of the Model.CONNECT XCP-communication libraries to a RT system for online calibration of vECU in a HiL environment (with several improvement to the XCP functionalities)

New Integration Components for AVL EXCITE™ and "Compiled Function" (C/C++)


You can use the new Model.CONNECT component "Compiled Function" for adding control units or user defined models into the co-simulation system. This offers you numerous advantages such as:
Using input scalars, functions, and maps as parametrizable elements
Automatic unit conversion support
Separate initialization and integration code parts
Error messaging and debugging support
Improved performance and functionality

Enriching AVL EXCITE™ Power Unit by adding new system components from AVL CRUISE™ M or new control components from "Compiled Function", Simulink, or python is now possible with a dedicated EXCITE interface component in Model.CONNECT (and vice versa).

Model.CONNECT™ Integrates ADAS Open-Source CARLA, esmini, SUMO, ROS/ROS2, etc.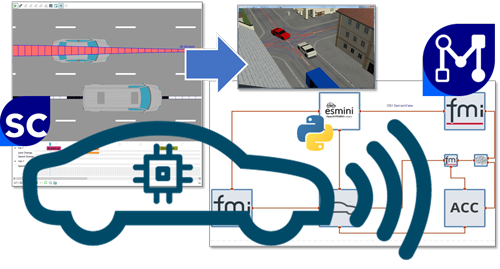 The importance of open-source environment simulation tools is in providing a low-cost alternative to the commercial tool with a good coverage of many realistic use cases in development and validation (especially for the large-scale variation and optimization use-cases in the cloud). It also provids a great agility in development and involvement of different stakeholders.

Model.CONNECT support SUMO and CARLA as the most popular open-source environment modelling tools and the integration of additional sensor and control modules using ROS/ROS2 libraries. There are several improvements added in Model.CONNECT for the latest version of CARLA with an addition of a direct interface to the Unreal Engine within, which enables insertion and configuration of scenario players and direct access to their properties.

Model.CONNECT python interface provides a basic integration of esmini, the first open-source ASAM OpenSCENARIO player with 3D visualization and several interfacing options. This allows for the import of the driving scenarios created by AVL Scenario Designer and executing them in Model.CONNECT in the closed loop with other vehicle, sensor and ADAS functions models

OpenMCx – a referent implementation of the FMI co-simulation standard


In order to promote co-simulation methodology based upon standards, we contributed AVL's basic FMU-based co-simulation technology as an open source project Eclipse OpenMCx within Eclipse Mobility OpenADx working group. It is an open co-simulation engine using Modelica simulation standards, such as FMI and SSP, with aim to support advanced simulation applications in a heterogenous toolchain. For now, only the co-simulation Functional Mock-up Units (FMUs) are supported, while the configuration and parameterization of an OpenMCx co-simulation models and components is based on Modelica System-Structure and Parameterization (SSP) standard.

OpenMCx enables its users to combine various simulation models from different vendors and sources, using standardized interfaces, into one co-simulation model and run it in a remote computing environment. The general idea of the co-simulation model is to provide a virtual validation framework for ADAS/AD function development but is not restricted to this use-case only. With its open and modular architecture, OpenMCx provides a framework for the users to implement interfaces for their own simulation models and integrate them into the co-simulation middleware. Besides that, OpenMCx allows for adopting the existing or adding new methods for data exchange, data analytics, job scheduling and execution management.

More about the project and how to contribute can be found on ecplise.org:
https://projects.eclipse.org/proposals/eclipse-openmcx
https://github.com/eclipse/openmcx

AVL VSM™ – Vehicle Model Factory and Integrated Control Units
​​​​​​​
The latest version of AVL VSM – 2021 R1.1 – brings you two new major features:
Vehicle Model Factory - supports you in automated parameterization and validation of simulation models based on road measurements. This brings you a significant reduction in time and effort in creating validated digital twins for ADAS function development
New Integrated Control Units - for Traction Control (now available for all editions of AVL VSM) and Torque Vectoring

---