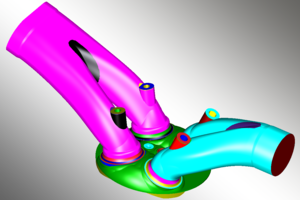 AVL FIRE™ - Effortless IC Engine Meshing
The integration of 3D CFD Simulation into modern engine development processes requires a dramatic reduction of model generation and execution times. Otherwise it would not be possible to investigate a large number of designs or to do automated design optimization. Both tasks are essential for further improving product quality and maturity, which is eventually also reflected in reduced fuel consumption, lower engine out emissions and increased life time.
AVL has now developed tools and methods which set new standards for IC Engine CFD model generation:
An "Engine selection finder" analyzes the input geometry, divides it into intake, exhaust and cylinder domain, detects components such as valves, valve seats, spark / glow plug, injection nozzle tip and determines the location of inlet, outlet, moving and solid wall boundary conditions. Then it assigns respective selections needed to create the computational mesh and to attribute initial and boundary conditions, – in merely seconds, compared to hours up to now.
Scripting of FAME

™

Engine Plus, the AVL FIRE

™

automated meshing solution for IC Engines, and connecting the tool to Microsoft EXCEL further improves the performance as well as the flexibility of the IC Engine pre-processing step. Adapting the meshing setup to a modified design now requires just a few mouse clicks.
Validating the approach by running a series of test cases, it never took longer than 2 hours from importing CAD data to start of meshing.
If you want to find out more about this exciting method, please download the PDF-file.
---