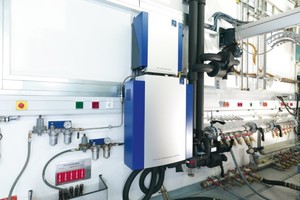 AVL Fuel Balance and Fuel Temperature Control
The combination of AVL Fuel Balance and AVL Fuel Temperature Control is a highly precise fuel consumption measurement and conditioning system.
---
AVL Approach
Combined with the AVL Fuel Temperature Control, the AVL Fuel Balance measures the fuel consumption of engine- and chassis dyno testbeds for transient and steady state measurement where highly accurate temperature control of fuel is needed.
---
Benefits at a Glance
Time-saving ISO9001 testing due to calibration within a few minutes
Universal measurement system for different injection systems and engine sizes
Minimization of testbed times due to high reliability and long maintenance intervals
Easy and fast integration into the engine testbed due to compatible interfaces
Direct determination of the fuel mass
---
Technical Data
AVL Fuel Balance and Fuel Temperature Control
Technical Details AVL Fuel Balance and Fuel Temperature Control
Type:
AVL 733S/753C
Measurement principle:
Gravimetric
Measurement ranges:
Mass

0 … 150 kg/h
Measurement uncertainty:
Mass

≤ 0.12% (acc. to DIN 1319)
Interfaces / output signal:
RS232, analog I/O,0 … 10 V
digital I/O
Measurement frequency:
10 Hz (max.)
Response time:
< 440 ms
Fuel types:
Standard*) and 100% bio fuels
Engine feed pressure:
< 0 … 600 kPa
Fuel circulation quantities:
Optionally 240/450/540 l/h
Control range:
10 … 80° C
Stability:
Better than 0.02° C
Heating / cooling:
1.6 kW / 1.6 kW
Power supply:
230 V, 50 Hz, 220 V, 60 Hz
100 V, 50–60 Hz, 115 V,
60 Hz
Power consumption:
0.4 kW (without heating)
Ambient temperature:
5 … 50° C
Dimensions (W x H x D):
770 x 1,350 x 345 mm

*) With max. 20% alcohol and up to 10% bio diesel
---
Measuring Principle
AVL FUEL BALANCE measurement principle
The fuel consumed by the engine is taken from a continuously weighted measurement vessel with all the properties of the vehicle tank.
The detection of the weight of the fuel is implemented with a capacitive displacement sensor that is connected to the measurement vessel by means of a beam.
A calibration weight is used to perform the accuracy testing and calibration procedures in accordance with ISO9001.
The calibration is implemented in a fully automatic manner within a few minutes and is integrated by default in the AVL Fuel Balance.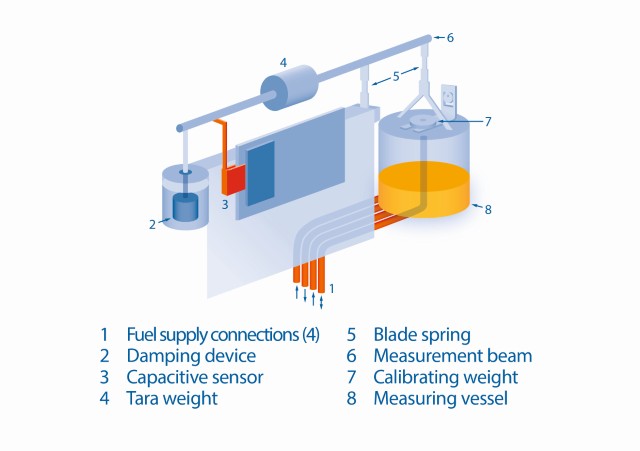 ---