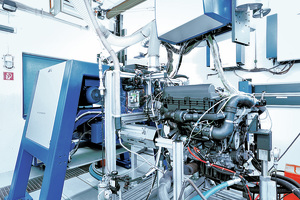 Engine Development and Calibration under dynamic engine test conditions
Advanced Calibration on the Virtual Vehicle Engine Testbed (VVETB)
The Virtual Vehicle Engine Testbed (VVETB) is designed to enable the engineer to observe the engine under its real cyclic behavior where at the same time the mechanical influence of the testbed is eliminated. Such setup allows improved development and calibration and the frontloading of traditionally on-road vehicle tests to the engine testbed. An integration of models to represent vehicle and driving environment completes the VVETB.
---
AVL Approach
The AVL VVETB Test System comprises a base system for high dynamic testing. It can be extended with modules for exhaust emission measuring, automatic calibration tools and special instrumentation like AVL DRIVE™ on engine testbed.
---
Benefits at a Glance
Realistic cyclic rotational behavior of engine is not influenced.
Realistic engine start and stop.
Dual mass flywheel simulation model available.
Featuring up to 40Hz powertrain behavior.
Wide range of engines with only one driveshaft.
---
Technical Data
Functional features
Powertrain simulation: up to 40 Hz at crankshaft of engine.
Realistic engine start and stop.
Dual mass flywheel simulation.
Misfire detection possible.
Load System: Dyno Spirit
Pemax 370 kW
Mdmax 785Nm
nmax 10 000 rpm
delta nmax 54 100 rpm/sec
Inertia 0.208 kgm2
With the portal frame of DynoSpirit the original exhaust system can be mounted in the space below the dynamometer (small adaptions may be necessary depending on the space available).
Mechanical Setup
Driveshaft: 60Hz layout for a wide range of engines:
1.3l 4-cylinder up to .35l V6 and 4.2l V8
The unique combination of the driveshaft layout with the VVETB control system allows relaxed alignment criteria and hence fast engine exchange times.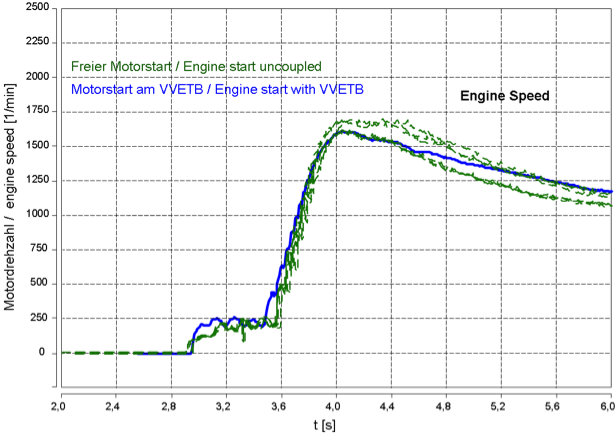 Realistic Engine Start:
The cranking phase is done by dynamometer, the engine run-up is the same gradient as in-vehicle, with no disturbing mechanical resonances.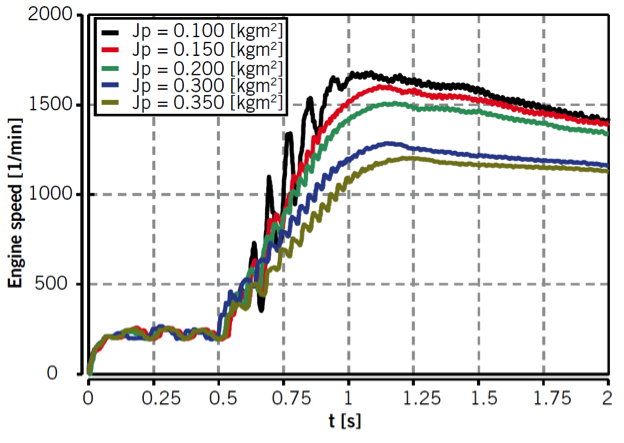 Dual Mass Flywheel Simulation:
Engine can be setup on the test rig without DMF, the DMF is simulated with different inertia values.
---
System Scope
Automation and Control
AVL Suite TM based PUMA Open Automation and Control provides uniform usability and compatibility throughout all AVL Suite TM products. Embedded emission test application software for the entire emission test regulation compliance.
Load System
Low inertia permanent magnet dynamometer based load system with specific controller algorithm to achieve highly accurate and repeatable engine operating conditions (cyclic-true).
Baseline Measurement
Includes a fitting scope on sensors and transmitters for temperature and pressure measurement via AVL Front End Modules. Measuring devices for blow-by, lambda and combustion analysis complete this scope.
Fuel Consumption Measurement and Conditioning
The high precision measurement of diesel and gasoline fuel consumption is facilitated by being suited to most of the common fuel injection systems.
Optional Exhaust Emission Measurement
For both diluted and undiluted exhaust gas sampling and analysis AVL exhaust gas emission benches, particulate sampling systems, soot and opacity smoke measuring devices are considered.
Optional Air Measurement and Conditioning
From intake air consumption and conditioning to boost air cooling and exhaust back pressure adjustment, all the required measurement and conditioning units are provided.
Coolant Conditioning
For keeping the engine's cooling water temperature within specified tolerances and to have repeatable testing conditions.
Test System Mechanics
Suitably sized air spring designed base plate in combination with engine mounting system for precise positioning and alignment of the engine to the dynamometer axle.
System Integration and Start-Up Service
From project kick-off up to final acceptance with start-up support the customer is assisted with professional AVL project services.
---