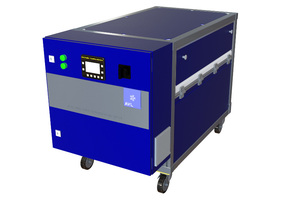 AVL ConsysLube
OIL CONDITIONING
The oil conditioning unit conditions the engine or transmission oil temperature and supply pressure to a pre-definable set value and keeps it within a certain tolerance at steady state and dynamic operation of the unit under test (UUT).
---
AVL Approach
The main applications for AVL ConsysLube are engines up to 400 kW (customized solution for bigger engines available). Several connection modes and unit options allow different applications like oil pan conditioning, oil pressure control and pre-heating. For oil conditioning on gear boxes the AVL ConsysLube can also be used.
---
Benefits at a Glance
High control accuracy
Easy configuration, adjusted to the respective application due to modular design
Quick control response due to a primary controlled media circuit
Various integration possibilities into the engine oil circuit (sump conditioning, pressurized oil conditioning, etc.)
---
Technical Data
AVL CONSYSLUBE

Classification

CL-25/50, CL S 50

Max. cooling capacity

50 kW

Advanced1 cooling capacity

120 kW

Typical application

Pressure and temperature of engine and transmission oil on testbeds from pre-development up to racing applications

Standard control range

Temperature and accuracy

70 to 140°C +/- 1°C

Stationary at entrance engine

Advanced1 control range

Temperature and accuracy

-30 to 155°C +/- 1°C

Stationary at entrance engine

Adjustment time temperature

< 3 min

Standard control range

Pressure and accuracy

0.5 to 8 bar +/- 0.1 bar

Advanced1 control range

Pressure and accuracy

0.5 to 12 bar +/- 0.1 bar

Adjustment time pressure

< 2 min

Standard flow rate range

30 to 60 l/min

Advanced1 flow rate range

10 to 120 l/min

Dimension

Starts with 610 x 350 x 550 mm

(L x W x H)

Weight

Starts with 25 kg
1Advanced = options or modifications
---
Control Principle
The PID control is carried out by an external system (e.g. PUMA OPEN). The temperature control is performed by a mixing valve (heat exchanger/electrical heating). The supply pressure control is handled by a control valve in the bypass between the supply and return lines to/from the unit.
---
Application
The AVL ConsysLube is installed at engine test cells, single cylinder research engines and gearbox test cells.
Beside the standard temperature range, AVL can also offer modified units for climatic test beds down to -40°C.
---