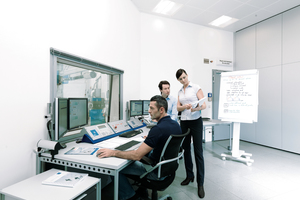 Fast track to skills
AVL Skills Center Training
Training courses for AVL Instrumentation and Test Systems tailor-made to your specific needs, in a perfect environment for fast and efficient learning
We can help you achieve your targets at a rapid pace – hop on our fast track to skills. At our AVL Skills Centers around the globe we have highly qualified and certified experts who can deliver a wide range of knowledge and skills. This is carried out based on your specific use cases and environment.

Why Choose AVL?

Our global network of training locations provides the perfect environment for fast and efficient learning. We offer a variety of training courses, tailored to your specific needs. These range from established training AVL Training Formats to task-specific blended training concepts, taught on site at your own location, remotely or in the classroom at an AVL facility.

Our AVL Skills Centers provide modern classrooms with realistic training environments, equipped with the latest technologies and media. This is in addition to a wide range of simulators and test equipment for practical exercises. For 'real life' training classes fully equipped testbeds for steady state and dynamic test applications are available.

AVL Remote Training offers virtually the same interactive experience as with a face-to-face environment by live online training including the use of relevant equipment for the participants (e.g. simulators ).
​​​​​​​

Furthermore, our experienced trainers are on hand, waiting and willing to work with you on site. This guarantees the best possible results, as we can show you everything you need to know in the exact environment you are familiar with.

Quality standards as well as proven processes support us in delivering consistent high-quality training worldwide.

Key Benefits:

Performance – we help you become experts with new and existing technologies, learn competent and safe handling of testing equipment, covering relevant testing topics and legislative requirements for engines and powertrains.

Geographical Reach – our local experts speak your language, understand your local culture, and have knowledge of your regional markets.

Skills Management – we help you manage and motivate your skilled employees for the economic success of your company through shorter development cycles.

Achieve your targets at a faster pace by gaining knowledge and support for your toolchains and applications and hop on our fast track to skills.

If you have any further questions, contact your local AVL Service Organization and Sales Team.
---
AVL Skills Center Europe
AVL List GmbH
Hans-List-Platz 1
8020 Graz
Austria
Phone: +43 316 787 1188
email: skillscenter@avl.com
AVL France S.A.S.
Espace Claude Monet
2 - 4, rue Hans List
78290 Croissy-sur-Seine
France
Phone : +33 1 30 15 75 07
email: training.france@avl.com
AVL United Kingdom Head Office Hartlebury
Avon House Hartlebury
Trading Estate Nr Kidderminster
Worcestershire DY10 4JB
United Kingdom
Phone: +44 1299 254 627
email: robert.lenihan@avl.com
AVL Analytical Technolgies
Graf-Landsberg-Straße 1C
41460 Neuss
Germany
Tel.: +49 2131 5124 405
email: robert.draksler@avl.com
AVL Moravia s.r.o.
Tovarni 605
75301 Hranice
Czech Republic
Phone: +420 581 653 555
email: radek.szotkowski@avl.com
AVL Ibérica - Oficina Barcelona
Jaume Vicens Vives 22,
Edif. El Rengle núcleo D planta 3
E-08302 Mataró, Barcelona
Spain
Phone: 34 93 755 48 40
email: juan.ruiz@avl.com
Societa per Automazione e Strumentazione Industriale
Via Lanzo 181 I-10071
Borgaro Torinese (To.)
Italy
Phone: +39 011 470 52 03
email: cristian.gianusso@avl.com
AVL Turkey Instrumentation and Test Systems
Esentepe Mh. D100 Güney Yanyol
Lapis Han No: 25 D.2064 K. 2
34880 Kartal - Istanbul
Turkey
Phone: +90 216 353 60 12
email: beratmeric.karabulut@avl.com
---
AVL Skills Center America
AVL North America Inc.
46097 Commerce Center Drive
Plymouth, MI 48170
USA
Phone: +1 734 446 4101
email: bruce.digna@avl.com

AVL South America Ltda.
Rua Antonio Utrilla, 315 – Cid. Industrial Satélite de SP
CEP 07230-650 – Guarulhos - SP
Brazil
T:+55 11 5536 3424
Phone: +55 11 98726 0151
email: anderson.melvino@avl.com
---
AVL Skills Center Asia
AVL List GmbH Beijing Liaison Office
Room 201 and 202, B20,
Central tower,UBP, No.10,
Jiuxianqiao Road, Chaoyang district,
Beijing, 100015,
China
Phone: +86 10 5829 8713
email: yong.li.song@avl.com
AVL Office Gurgaon
376-377 Udyog Vihar, Phase IV
Gurgaon
Haryana - 122015
India
Phone: +91 124 4090 300
Fax: +91 124 2455273
email: avlindia.mkt.info@avl.com
AVL Japan K.K.
Kawasaki Tech Center 1F,
580-16 Horikawa-cho,
Saiwai-ku, Kawasaki-shi,
212-0013, Kanagawa pref.
Japan
Phone: +81 44 455 9349
email: niran.johnsamrong@avl.com
AVL SEA & Australia Co. Ltd. Office Bangkok
34th Floor Suntowers B,
123 Vibhavadi-Rangsit Rd.
Jompol Jatujak
Bangkok 10900
Thailand
Phone: +66 2 299 0532
email: kittipong.pravalpattakul@avl.com
AVL Korea Co. Ltd.
Head Office
3F, Icon Yeoksam bldg.., 8
Teheran-ro 44-gil
Gangnam-gu, Seoul 06210
Ansan Service Application Center
3F 318, 453, Byeolmang-ro, Danwon-gu
Ansan-si, Gyeonggi-do 15599
Phone: +82 2 580 5710
email: eunjong.mo@avl.com
---
Products & Services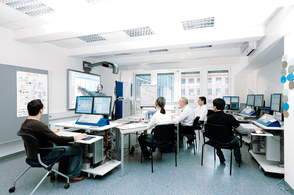 First-hand experience
High-quality, application-oriented training formats
AVL Training Facilities provide the perfect environment for fast and efficient learning. Modern classrooms equipped with the latest technologies...