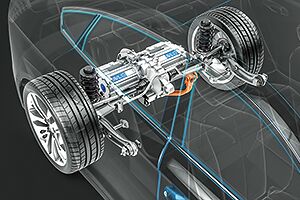 AVL E-Drive Solutions
Design, Develop and Test
AVL designs and develops e-drive solutions which are tailored to your specific applications, including hybrids, e-vehicles or auxiliaries. We have over 15 years of experience under our belts in hybrid and e-vehicle development and have a profound knowledge of e-drive and actuators.

Challenges:
To reach a zero-emission mobility the electrification of vehicle powertrains will be necessary. This fact leads to new challenges for car makers and suppliers:
How to make powertrain component more efficient to extend the range & reduce the charging time?
How to combine compact and lightweight construction of high-power electronics under considering of passenger security?
How to fit new technologies like SiC for e-Drive applications to extend functionality and maximize the performance?
How to ensure safe operation in every environmental condition and for all areas of application?
How to achieve a faster market entrance by efficient development?

AVL offers a range of services for e-drives:
Concepts – from the simulation of electric systems to the prototype
Series development – design, simulation, integration, testing and verification
Component development - motors, generators, power electronics and actuators
E-Drive Software development for electronics
EMC design and simulation
Testing and validation of performance, functionality and EMC
Electrification of auxiliary systems and accessories

Solutions
We develop single e-components but also integrated e-Drives for electric powertrains on every application of use.

The AVL Abilities
Methodologies & Engineering Know-How of the powertrain system integration to increase the system efficiency
Enhancing the development of products and technologies through the interaction of computer-aided engineering tools to exploit feasibility
Improvement loop of technical hardware innovations including the combination of hardware and software to perform high efficiency in power electronics
System validation and durability tests performed by AVL's high tech test benches
Proprietary development & validation as well as cooperation with leading suppliers

Your Benefits
AVL designs, develops, integrates and tests your specific e-drive solution and can take it all the way to series development. Key features include:
Optimal technology for your requirements: PMSM, ASM, SRM, BLDC, linear drives
Electromagnetic compatibility (EMC) of all components
Frontloading with innovative simulation technologies
---