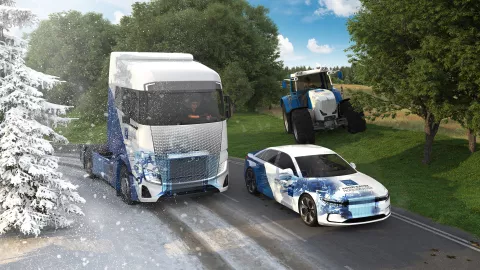 With the increase in battery electric vehicles, cooling and air conditioning are gaining in significance. This makes efficient thermal management even more important.
It is not just passengers who have a "comfort zone", the components do as well. These are becoming increasingly complex, are consolidated more compactly, and are more deeply integrated into the vehicle. Therefore, they must be viewed as an overall system.
At AVL we develop components and systems, and integrate them into the vehicle. We provide the optimal control strategy for efficient thermal management – from the initial concept to the SOP.
In addition to passenger cars, trucks, and tractors, we also serve all other markets, from buses and motorsport, through trains and ships, to aircraft.
With the diversification of drivelines and increasing focus on passenger comfort in semi-automated vehicles, effective energy balance at vehicle level is imperative. It is important to reduce or reuse waste heat, ensure optimal operating temperatures for components and subsystems, and also improve passenger comfort.
With more than 70 years of experience in the automotive industry and more than 15 years of experience with e-mobility, we can address these challenges directly and holistically. Our sophisticated in-house software ensures predictive analysis and modelling, and combines the components in an ideal way to save costs. Through virtual simulation and efficient packaging, we significantly reduce the environmental footprint.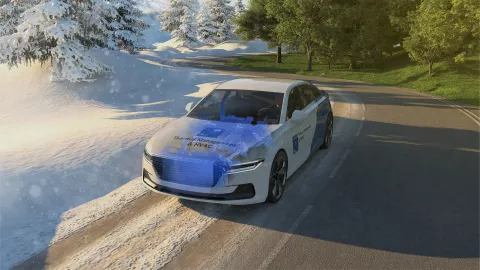 Benchmarking and Target Setting
Our extensive benchmarking database enables us to offer our customers transparent support in the area of target setting. With our many years of experience and development expertise, we are implementing systems with high energy efficiency and cozy thermal comfort with great success. Thus, we offer planning security, reliability, and satisfaction right through to implementation in series production.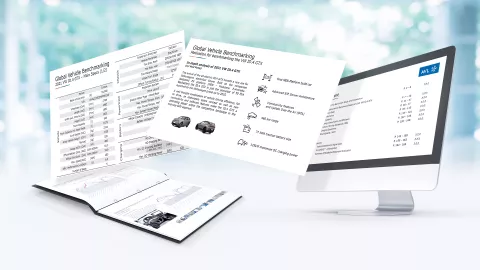 Virtual Approach
Holistic simulation allows us to make precise predictions early on and develop intelligent operating strategies. Up until validation and product release, we make use of virtual solutions, thereby reducing the need for physical prototypes and shortening or even eliminating iteration loops.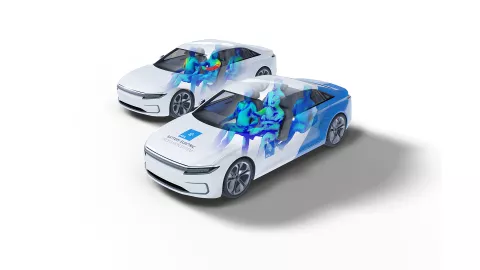 We understand the interaction of all components and subsystems at vehicle level, which allows us to define and implement thermodynamic requirements optimally. This enables us to offer our customers holistic, modular solutions from a single source – from development, to integration and validation. We provide our customers with access to the best technologies and suppliers.
Our thermal system always references the overall vehicle. With our tools such as Model.CONNECTTM, we factor in the increased complexity and can simultaneously guarantee shorter and more efficient development processes. We consequent develop the majority of the Digital Twin from the concept to SOP and shorten the developing time by using model in the loop test environment on our ThermalLAB for System validation and Software Validation & Calibration.
- Michael Bires, Director Product Line Thermal Management & HVAC
Thanks to our many years of experience, we have in-depth knowledge of components and propulsion systems for all relevant vehicle attributes. We offer a virtual development process, as well as predictive thermal management solutions. We use models to calibrate functions and perform integrations, with a unique dynamic model in the loop approach to testing.
Using our tailor-made thermal management concepts, we have successfully completed 25 SOP projects with various OEMs in recent years – from development to series production. We also offer extensive benchmarking of trendsetter vehicles.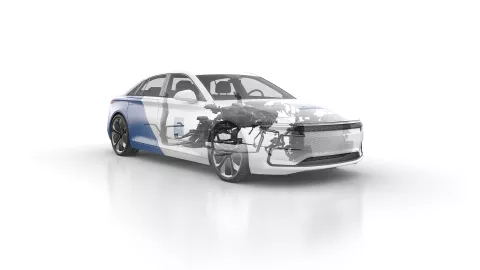 All vehicle disciplines are linked optimally in our global network of engineers and scientists. We offer outstanding expertise in handling simulation platforms for the most relevant software tools that are used in thermal management. Wherever you are located – we can provide on-site support directly.
15+ 
years of experience with all driveline architectures
25+
successful SOP projects with various customers – from development to series production
10+ %
invested in research and development
80 %
electrified projects
News
Moving steadily into the future: Find out what's brand new in the field of thermal management and HVAC.