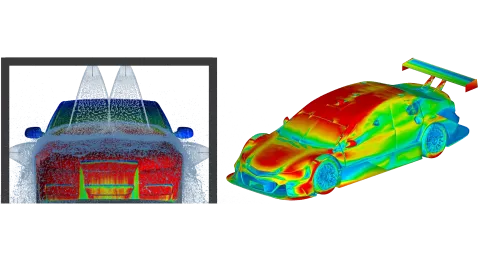 The body is probably the most multifaceted element of a vehicle. Largely responsible for the visual impression, it also provides protection against weather-related influences. In addition, it must be considered that where air flows, air noise is also generated. These noises can be perceived both around the vehicle and in the interior.
In recent years, the number of sensors and cameras on board modern vehicles has continued to increase. This is due to the increase in advanced driver assistance systems and autonomous driving (ADAS/AD) functions. Even the smallest amount of dirt can affect their performance and thus pose a safety risk.
For a long time, the exterior design of vehicles focused on aesthetics. With the development of new vehicle technologies, the body now has many new additional functions.
To ensure passenger safety, engineers must consider the effects of rainwater and soiling when designing the vehicle's aerodynamics. This no longer applies only to windows. To function reliably, ADAS/AD system sensors and cameras must work properly in all weather and road conditions. When it comes to battery electric vehicles (BEVs), aerodynamics are of particular importance. The external shape determines the air resistance and thus influences the range.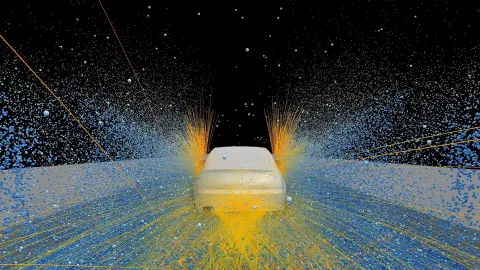 Water management and vehicle aerodynamics are closely linked. Over the course of a calendar year, a vehicle is confronted with various forms of water. Rainwater alone presents several challenges. When driving in the rain, water must be optimally drained from the vehicle. If snow and ice accumulate or windshields and windows mist up from the moisture, it's not just unpleasant. It is a safety risk. The same applies to soiling of the vehicle. In any case, care has to be taken to ensure that the water does not get into areas of the vehicle where it can cause damage.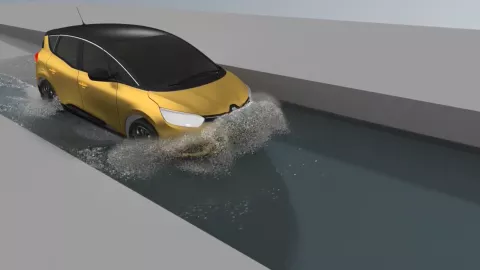 One point that should not be forgotten is self-pollution. Particular key points on the vehicle are places where flow separation takes place - for example, on the side mirrors, where suction can occur.
In order to optimize the body aerodynamically, a wide variety of tests are carried out on the prototypes. Every change to the design naturally leads to new prototypes and tests. Virtual Twins now make it possible to carry out a large part of the tests without a real prototype and in the office.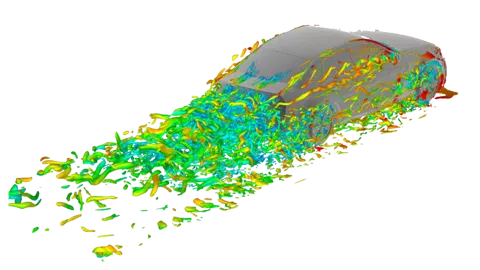 Accelerate your vehicle body development with innovative and highly efficient CFD-based simulation solutions.
Make data-driven design decisions using Virtual Twins.
Study water behavior, soiling, and snow accumulation in detail without a physical prototype.
Achieve reliable results with the easy-to-use, mesh-free Smoothed Particle Hydrodynamics (SPH) flow simulation.
Gain a detailed understanding of the flow fields in and around the vehicle.
Reduce your model preparation and meshing efforts with the Embedded Body Method.
The mobility revolution is in full swing. This is not just about developing new, more sustainable propulsion systems. Rather, the entire development process is in upheaval - with simulation taking the lead.
Right now, it's important to understand the challenge that each of us - OEMs and suppliers alike - face when it comes to pushing the boundaries of both our design process and our engineers. As the number of different systems grows, departments and team structures are changing. We understand that. At AVL, we go through these processes as well, because we are not just software developers. We are also engineers and therefore users. We implement our knowledge in intuitive workflows, generators, wizards, and evaluations in our software and projects.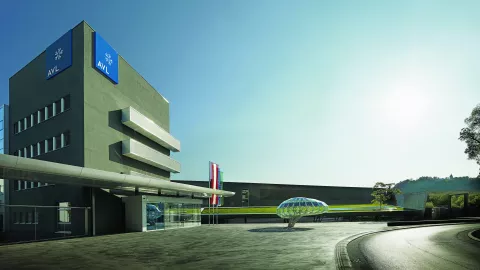 We are your global partner in realizing the mobility of the future. A mobility characterized by its minimal impact on the environment. We offer you simulation solutions ranging from component to system analysis. As we are deeply integrated in the development process, our software solutions - tools and projects - enable you to master the challenges of virtualization.
in 26
countries worldwide
11,200
employees worldwide
68%
engineers and scientist