Our state-of-the-art VR, AR, and 3D scanning technologies bring added value to your testbed and facility. With immersive reality, we drive efficiency, quality, and collaboration throughout your entire value chain. From early engineering design checks and reviews in VR to comprehensive training and maintenance guidance with AR, we provide integral solutions tailored to your specific needs. Our deep understanding of the technology empowers us to create unique tools and methods that deliver measurable value in project execution, service and maintenance, and employee training. Partner with us and unlock the digital potential across your organization.
We achieve this by gaining a comprehensive understanding of your specific needs and how immersive reality technology can support the entire process. With this knowledge, we develop customized tools and methods that address your unique requirements. Our deep expertise in the technology and its impact on working methods, quality, efficiency, and interconnectivity across various functions such as sales, design, support, and service is essential to unlock the digital potential throughout your organization. As a global partner in VR/AR technology, we bring measurable value at every stage:
During project phases, our solutions enhance efficiency and quality.

In service and maintenance, we provide tools that optimize operations and minimize downtime.

In training and employee qualification, our immersive reality solutions deliver effective and engaging learning experiences.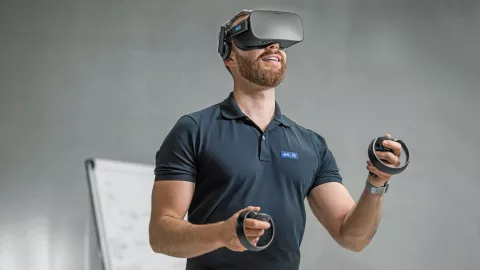 Augmented Reality Services
Our main goal is to bring real added value to your test field or testbed by utilizing the latest Augmented Reality (AR) technology. AR extends the real world by displaying computer-generated information, increasing the interpretability of abstract data. We provide custom-tailored services supported by see-through glasses or handheld devices like tablets or smartphones, allowing users to stay aware of their surroundings. With augmented reality, documentation, service and maintenance tasks become easier and more accessible, as all relevant information is displayed at the desired location. It also enables remote support by allowing experts to guide on-site personnel through video calls and annotations. Additionally, it simplifies spare parts identification and displays live data in real time.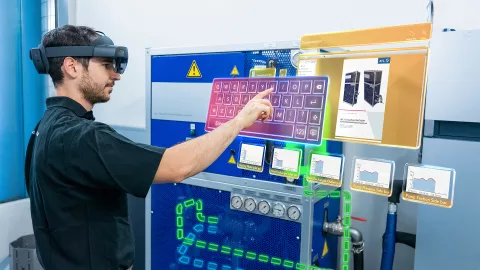 Virtual Reality Services
With Virtual Reality Services, our goal is to provide immersive experiences that make virtual worlds feel as real as the physical world. By using advanced head-mounted displays and controllers, we create a seamless blend between you and the virtual environment. With features like navigation, measurement tools, collaborative sessions, and more, our applications offer a wide range of functionalities for design reviews, collaboration, trainings, data visualization, and beyond. Whether you're seeking to enhance productivity, improve decision-making, or unlock new possibilities, our custom-tailored Virtual Reality (VR) solutions are designed to transform the way you work, create, and explore. Step into a new reality today.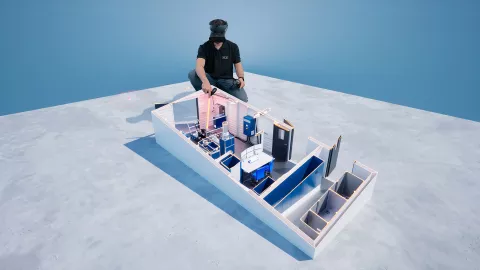 AVL's comprehensive worldwide network of experts allows best customer vicinity, ensuring consistent and connecting testing fields globally. Wherever your R&D challenges take you, we are always close at hand, ready to provide the service you need.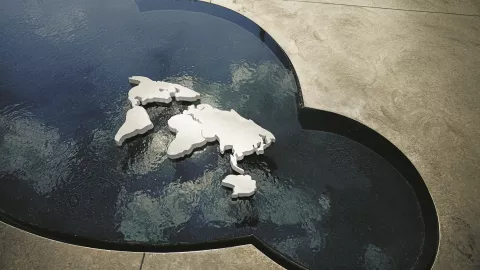 > 5000
employees worldwide for testing solutions
> 30
countries covered by the global network
> 7000
testbeds installed worldwide
See what drives us and explore our latest developments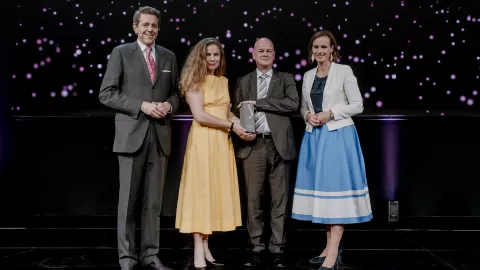 AVL received the Global EcoVision Award for achievements in Hungary
AVL List GmbH received the Global EcoVision Award from WKÖ in the presence of Federal Chancellor Karl Nehammer, Federal Minister Martin Kocher, and WKÖ President Harald Mahrer for the achievements in Hungary.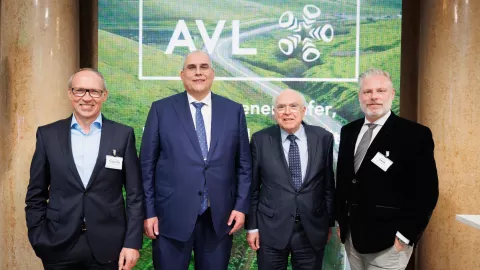 AVL at the 44th Vienna Motor Symposium
What kind of cars will we be driving in the future? These and other exciting questions around the topic of "Future Mobility" were addressed by more than 1,000 participants from 25 countries at the international 44th Vienna Motor Symposium. The tenor: Future automobiles will be CO2-neutral.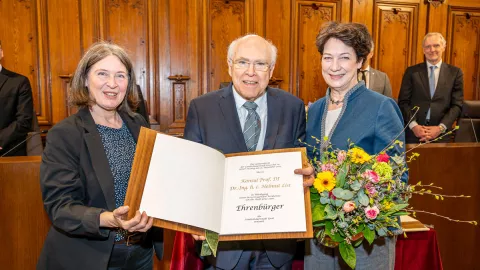 Helmut List Awarded Honorary Citizen of the City of Graz
For his services, Prof. Helmut List was today awarded honorary citizenship of the city of Graz.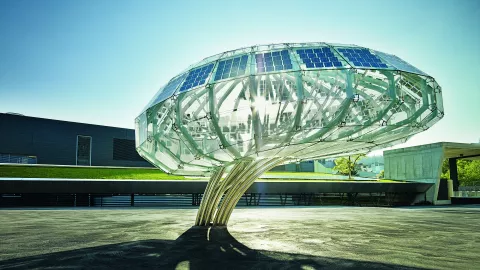 AVL Records Growth of 18 Percent and Continues to Invest in New and Sustainable Mobility Solutions
AVL generated 1.86 billion Euros in turnover last year – Eleven percent flows into research and development – 60 percent of the turnover is already generated by new technologies.