Powertrain, chassis, aerodynamics, electrics and electronics, thermal and HVAC systems - until now, vehicle systems were usually developed independently and optimized separately. Interaction with regard to the functional characteristics of vehicle properties such as energy management, fuel consumption, drivability or driving dynamics often only took place in the real vehicle.
To enable you considering the growing interdependencies between the individual systems right from the first development steps, we have developed the AVL vSUITE™. This bundling of  software solutions allows you to take a holistic view and optimize the vehicle, taking into account all systems and functions in one environment.
For the driver, criteria such as range, driving experience, cabin comfort, etc. are decisive. As these features progress, the complexity of modern vehicles also increases. The logical consequence to keep up with the development of safe and optimally designed vehicles is the virtualisation of as many development steps as possible.
To consider all the mutual dependencies of the various vehicle attributes, a systemic development approach at the overall vehicle level should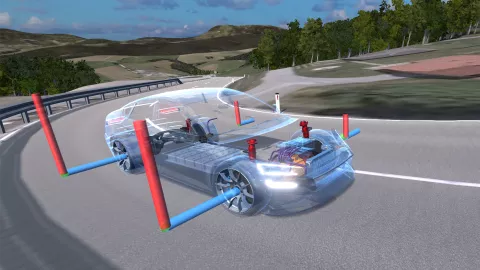 be adopted right from the concept development stage.
This virtualisation requires detailed and real-time capable models that can be used as virtual twins. Only if they accurately represent the processes can the twins be optimally used for calibration and testing tasks in a model (MiL), software (SiL) and hardware-in-the-loop (HiL) environment.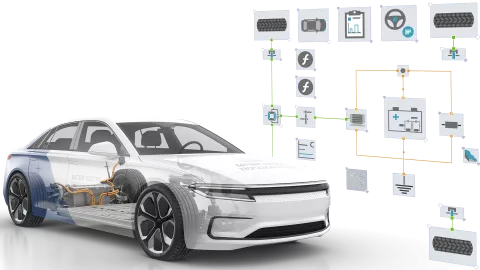 Reduce development time and avoid conflicting goals with vSUITE's systemic development approach.
Optimise the range by simulating real driving conditions in a virtual environment.
Adapt your processes independently using the detailed documentation and validated models of different vehicle types.
Build, calibrate and test the entire control architecture and associated operational strategies across systems.
The mobility revolution is in full swing. This is not just about developing new, more sustainable propulsion systems. Rather, the entire development process is in upheaval - with simulation taking the lead.
Right now, it's important to understand the challenge that each of us - OEMs and suppliers alike - face when it comes to pushing the boundaries of both our design process and our engineers. As the number of different systems grows, departments and team structures are changing. We understand that. At AVL, we go through these processes as well, because we are not just software developers. We are also engineers and therefore users. We implement our knowledge in intuitive workflows, generators, wizards, and evaluations in our software and projects.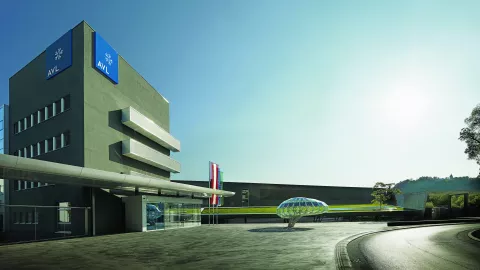 We are your global partner in realizing the mobility of the future. A mobility characterized by its minimal impact on the environment. We offer you simulation solutions ranging from component to system analysis. As we are deeply integrated in the development process, our software solutions - tools and projects - enable you to master the challenges of virtualization.
in 26
countries worldwide
11,200
employees worldwide
68%
engineers and scientist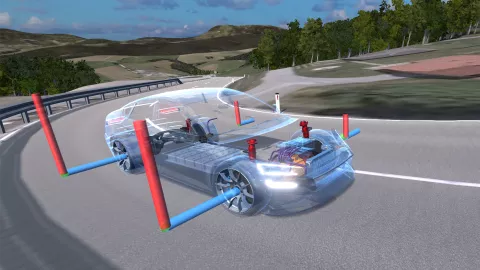 Vehicle System and Chassis Simulation
The demands placed on modern vehicles go far beyond pure transportation. In addition to performance and energy consumption, the decisive factors are above all subjective attributes that make up the driving experience and ensure comfort. With electrification, vehicles are becoming increasingly complex. To find the ideal vehicle concept, a large...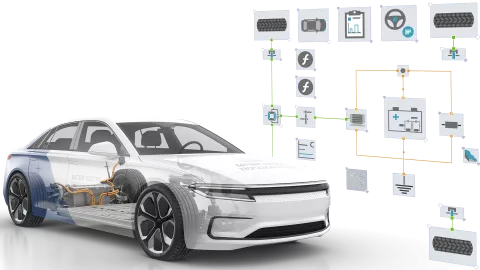 Powertrain, HVAC, Thermal and E/E System Simulation
Range and performance are crucial to the success of electrified vehicles (EVs). For vehicle manufacturers, this means that energy-intensive systems such as heating, ventilation, and air conditioning (HVAC), as well as Vehicle Thermal Management Systems (VTMS) and the E/E architecture have a special place in development.