Go back
8th AVL Large Engines TechDays
11th - 12th of April, 2018
Helmut-List-Halle, Graz, Austria
Share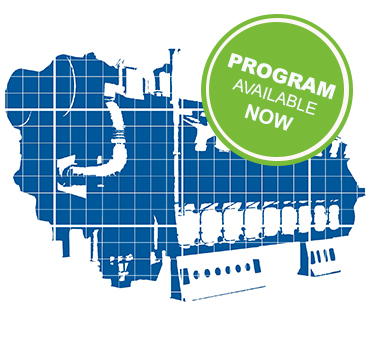 Share
11th - 12th of April, 2018
Helmut-List-Halle, Graz, Austria
SAVE YOUR SEAT
8th AVL Large Engines TechDays
Electrification, New Fuels and Power Sources: Boom or Doom for Large Engines?
---
The large engine application more and more is challenged by multiple factors. A new chapter of engine efficiency has just been started while global and local emission regulations still push the limits of traditional engine development including exhaust gas aftertreatment. Customers require robust solutions with a maximum fuel flexibility – be it Diesel fuel, natural gas, any kind of alcohols or hydrogen, mainly driven by fuel price.

Especially for marine and mobile applications, the challenge will be to intelligently integrate the combustion engines into complex systems side by side with batteries, fuel cells and other power sources.
Topic
Being successful in the long run will mean to adjust with all those new challenges and to provide integrated, tailored solutions for every customer.
AVL's 8th Large Engines TechDays will focus on the multitude of aspects of challenges of electrification and hybridization, new fuels and competitive power sources and will be a platform to discuss the various approaches of OEMs, operators and suppliers to be successful in the future.


Main Topics for the Technical Sessions

Engine Technology
Next level fuel efficiency & ultra-low emissions
Alternative fuels & fuel flexibility
Aftertreatment strategies & technologies

Complementary Technologies
Potential of electrification and hybridization
Battery & fuel cell technology
System integration and system optimization

Applications
Marine
Power generation
Mining, Oil & Gas
Rail
---
Agenda
CONFERENCE PROGRAM - TUESDAY, APRIL 10th, 2018
| | |
| --- | --- |
| 07:00 p.m. | Welcome Cocktail at Sky Bar Graz |
CONFERENCE PROGRAM - WEDNESDAY, APRIL 11th, 2018
08:45-09:15 a.m.
Opening of the Conference
Dr. Marko Dekena, Executive Vice President, AVL List GmbH
09:15-09:30 a.m.
Welcome Address
Dr. Peter Piffl-Percevic, Member of the Municipal Council of the City of Graz
Chairman:
Ulrich Walter
09:30-10:00 a.m.
KEYNOTE: Gas engines as Essential Building Block for Distributed Power Generation
Andreas Lippert, GM Product Management & Engineering, GE Distributed Power, GE Jenbacher GmbH & Co OG
10:00-10:30 a.m.

UPDATE

KEYNOTE: Medium Speed Engines in the Dawn of Hybrids
Leif-Arne Skarbo, Chief Technology Officer, Bergen Engines AS, a Rolls-Royce Power System Company
10:30-11:15 a.m.
COFFEE BREAK
11:15-11:45 a.m.

"Large Diesel Engines and the "Energiewende"
Diethard Plohberger, General Manager, Liebherr Components Colmar SAS

11:45-12:15 a.m. UPDATE
The Modular Large Engine for Future Markets
Dr. Helfried Sorger, Executive Chief Engineer Design, Simulation and Mechanical Development
Engineering and Technology Powertrain Systems, AVL List GmbH
12:15-01:45 p.m.
LUNCH
Chairman:
Ulrich Walter
01:45-02:15 p.m.
Insight in the Development of MAN's Game Changing 45/60CR Engine Portfolio
Alexander Knafl, Head of Advanced Engineering & Exhaust Gas Aftertreamtent, Engineering 4-Stroke, MAN Diesel & Turbo SE
02:15-02:45 p.m.
Wärtsilä Hybrid Solutions
Mikael Wideskog, Director, Research & Technology Development, Wärtsilä Finland
02:45-03:30 p.m
COFFEE BREAK
03:30-04:00 p.m.
SOFC Application in Stationary and Automotive Industries: An Evaluation of the Opportunity and Challenges
Brent Ness, Director, Growth Office, Cummins Inc
04:00-04:30 p.m.
Fuels and Power for Container Vessels - a Decision between LNG, LSF's, HFO, Scrubbers, Electrical Solutions or All-together-Hybrids
Dr. Hermann J. Klein, Managing Director CPO Holding (GmbH & Co.) KG and COO Offen Group
04:30-05:00 p.m.
Fusion of Hybrid and LNG
Toru Motoda, Manager / System Design Team, Marine Engineering Group, Engineering & Technology Center, Niigata Power Systems Co., Ltd.
07:00 p.m.
Social Evening at Stefaniensaal/Congress Graz
CONFERENCE PROGRAM - THURSDAY, APRIL 12th, 2018
Chairman:
Ulrich Walter
08:30-09:00 a.m.
Peak Performance in a Broad Operational Envelope
Oliver Riemenschneider, Managing Director Business Unit ABB Turbocharging, ABB Turbo Systems Ltd.
09:00-09:30 a.m.
Fuels Options for Large Engines - Today and Tomorrow
Wolfgang Warnecke, Chief Scientist Mobility, Shell
09:30-10:00 a.m.
Caterpillar's Large Power Systems - Solutions for Diverse Requirements
David L. Frohberg, Chief Engineer, Caterpillar Inc.
10:00-10:45 a.m.
COFFEE BREAK
10:45-11:15 a.m.
"Energiewende" in Shipping
Daniel Sahnen, RD Projectmanager, MEYER WERFT GmbH & Co. KG
11:15-11:45 a.m.
Electromobility in the Maritime World
Christian Schmoll, Managing Director, TAMSEN MARITIM GmbH, Rostock; Michael Lueders, Managing Partner, DESIOS GmbH
11:45-12:15 p.m
UPDATE
Miba's Intelligent Bearing Condition Monitoring for Large-Bore Engines integrable in AVL EPOS TM
Rainer Aufischer, CTO, Miba Bearing Group
12:15-01:45 p.m
LUNCH
Chairman:
Ulrich Walter
01:45-02:15 p.m.
UPDATE
Yara Birkeland - Worlds First Autonomous Zero Emission Container Feeder
Stefan Bremer, Sales Director, Sensing Solutions, Kongsberg Maritime
02:15-02:45 p.m.
UPDATE
From Waste Heat to Electricity - Maximizing large engine efficiency using the CraftEngine
Harald Nes Risla, R&D Director, Viking Heat Engines AS
02:45-03:30 p.m.
UPDATE
Panel Discussion
Moderator Ulrich Walter
03:30-03:45 p.m.
UPDATE
Closing Remarks
Dr. Marko Dekena, Executive Vice President, AVL List GmbH
---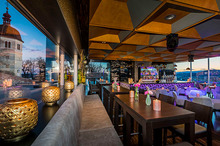 Evening Program
We invite you to continue networking in the relaxed atmosphere of our evening program:

Welcome Reception
Tuesday, April 10th, 19:00 at Skybar Graz

Social Evening
Wednesday, April 11th, 19:00 at the Stefaniensaal/Congress Graz
---
Info Point
Conference Venue
Helmut List Halle
Waagner-Biro-Straße 98a
8020 Graz
Austria

Conference Languages
English

Dress Code
Conference daytime event: Business attire
Welcome Reception and Social Evening: Business casual

Shuttle Service
A shuttle service has been organized and will bring you to the different event locations.
For further details please visit the download area at www.avl.com/letd-2018

Arrival
By plane: Graz-Thalerhof
By train: Graz Main Station

Contact
For further information please contact:
AVL List GmbH
Hans-List-Platz 1
8020 Graz
Austria
Phone: +43 316 787-927
Fax: +43 316 23 11 23 44 90
event@avl.com
---
Hotel Reservation

---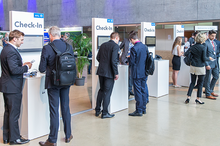 Tickets
Conference Fees

General admission: € 1,290.- + 20 % VAT
Conference fee for students (non post-graduate) € 120.- + 20 % VAT
Conference fee for university members € 580.- + 20 % VAT
Free of Charge for Members of the Press.

Fees include Proceedings, 2 Lunches and Snacks and Social/ Evening Events

Online Registration
---
AVL Large Engines
Over the last 60 years, AVL has engineered around 100 large engines for all major applications, such as ships, power plants, locomotives and compressors. Worldwide, AVL has the most experienced independent engineering team in the industry with a wide range of development expertise. This enables AVL to design completely new large engines, from the first sketch to the finished product. Advanced simulation, efficient engineering methods and innovative technologies pave the way to higher product efficiency and quality.

AVL's global engineering expertise in the field of powertrain integration results in efficient and comprehensive solutions for optimizing the entire performance – under consideration of the boundary conditions of the customer. It is about taking into consideration the engine and the additional applicationspecific systems of conventional and electrified systems while anticipating the challenges of less emissions and cost.

On the single-cylinder research test bed at the Large Engines Competence Center in Graz emission and fuel consumption technologies for the year 2016 and beyond are already being studied by AVL. Furthermore, AVL continuously proves its innovator role with regard to complex environments thanks to new applications and methodologies.
---
Date
11th - 12th of April, 2018
Location
Helmut-List-Halle, Graz, Austria
---