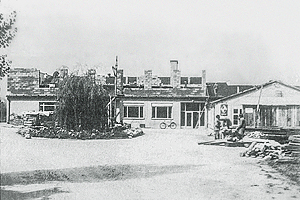 Our History
How it all began.
For more than 70 years we have provided world-class solutions, empowering the automotive industry to achieve sustainable, market-leading performance improvements.

​​​​​​​1948
A team of diesel engine experts headed by Prof. Dr. Hans List sets up the "Ingenieurbüro List" (IBL).

1951
IBL becomes AVL ("Anstalt für Verbrennungskraftmaschinen List").

1952
Central research premises were established in Kleiststraße with funds from the Marshall Plan.

1960
AVL expands its business to include engine instrumentation systems.

1969
The first fully automatic digital testbed is installed at AVL headquarters.

1979
Helmut List is appointed CEO.

1985
Operating a real engine in a virtual vehicle becomes a reality with AVL's highly dynamic testbed.

1987
AVL launches its newest division, Advanced Simulation Technologies.

1993
AVL is the first and only company worldwide to supply engine testbeds that can simulate the dynamic requirements of racing engines.

1998
Testbed technology of the future: The worlds of numeric simulation and testbed technology are converging.

2002
Acquisition of engine testing center MTC AB in Sweden and opening of AVL Test Track near headquarters.

2003
AVL takes over the engine developer Dr. Schrick in Germany.

2008
The new subsidiary "AVL Software and Functions GmbH" is established in Regensburg, Germany.

2010
Opening of battery laboratory at AVL Shanghai Tech Center in China.

2014
AVL acquires a majority share in qpunkt, which specializes in thermal management, fluid dynamics and acoustics.

2015
AVL opens its second technical center in China, the "AVL Tianjin Technical Center".

2016
Announcement of the partnership with Greenlight Innovation Corp., a global leader in the supply of testing and manufacturing equipment for hydrogen fuel cells, electrolysers, batteries and energy storage systems.

2017
AVL and TU Graz jointly open the world's most advanced competence center for R&D of novel transmission systems.

2018
AVL launches its new ADAS Competence Center and doubles its testing capacity with the new Battery Test Lab at the headquarters in Graz.
2019
AVL offers its comprehensive know-how in new technologies to the maritime business and opens its very first AVL maritime office in Hamburg.
---