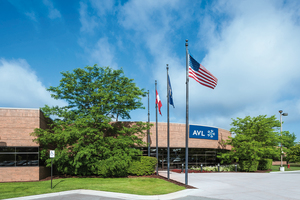 AVL North America
AVL is the world's largest independent company for development, simulation and testing of powertrains (hybrid, combustion engines, transmission, electric drive, batteries and software) for passenger cars, trucks and large engines.
---
AVL North America offers combined solutions of testing and instrumentation systems, propulsion engineering, and simulation software.
AVL Test Systems, Inc. supplies the best simulation, measurement and testing technology at every stage, from initial prototype development to the full production cycle.
AVL Powertrain Engineering, Inc. development facilities and expert engineers enable AVL to conduct a full range of projects from simple analysis of detailed powertrain aspects to total engine concept design and development.
AVL Advanced Simulation Technologies provides comprehensive simulation tools in a flexible and open environment enabling multi-disciplinary solutions as integral part of your development process.