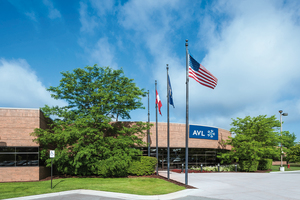 AVL North America
AVL is the world's largest independent company for the development of powertrain systems with internal combustion engines as well as instrumentation and test systems.
---
Overview
AVL North America offers combined solutions of powertrain engineering, simulation software, and testing and instrumentation systems.
AVL Test Systems, Inc. supplies the best simulation, measurement and testing technology at every stage, from initial prototype development to the full production cycle.
AVL Powertrain Engineering, Inc. development facilities allow AVL to conduct a full range of projects from simple analysis of detailed powertrain aspects to total engine concept design and development.
AVL Advanced Simulation Technologies provides comprehensive simulation tools in a flexible and open environment enabling multi-disciplinary solutions as integral part of your powertrain development process.
---
Locations
Test Systems, Inc.
(TSI)

Powertrain Eng. (PEI) &
Advanced Simulation Technology
(AST)

California Technology
Center (PEI)

Ann Arbor Technology Center
(PEI)
---
AVL Test Systems, Inc.
AVL Test Systems, Inc. (TSI) provides powertrain testing and simulation solutions to the North American market. TSI offers a full range of products and support services to meet a variety of testing needs.

Local Expertise
With the resources of a global company as well as local, technical expertise, TSI meets North American customers' needs quickly and efficiently. TSI provides local support of all AVL equipment and tools, develops products and creates custom software. The TSI team handles (1) project management and test system engineering, (2) service and support, (3) manufacturing, and (4) specification of solutions.

Customer-focused
TSI is committed to serving its customers with services such as:
Hotline - respond quickly to questions
Systems Integration - coordinate all sub-contractors
Project Management - integrate AVL systems into existing testing environment
Application Support - customize applications to maximize benefit
Full training program for all systems and products - increase productivity when using AVL technology
---
AVL Powertrain Engineering, Inc
AVL Powertrain Engineering, Inc. (PEI) is the leading powertrain design and development consultancy in North America. From initial feasibility studies to complete turnkey programs, PEI has the experts, technology and facilities to meet any powertrain challenge.

Local Expertise
With multiple facilities across North America and a well-trained, innovative staff, PEI builds local partnerships with its customers. Customers include local and global automotive and powertrain OEM's as well as component/system suppliers in all fields of powertrain development.

Technical Centers
PEI has three technical centers across the United States with 21 test sites for engine/transmission/powertrain development and testing. Specifically designed for battery pack and e-motor development and testing, PEI's Ann Arbor New Energy Lab has three dedicated battery test cells as well as a vehicle fabrication area. At these facilities, PEI experts perform a wide range of powertrain development tasks to meet its customers' unique needs.
---
AVL Advanced Simulation Technologies
AVL Advanced Simulation Technologies (AST) provides a comprehensive suite of simulation tools to the world's leading automotive companies. AST's highly validated, state-of-the-art physics-based simulation models are an integral part of the powertrain development process.

Local Expertise
Located in Plymouth, Michigan, AST partners with its North American customers to develop multi-disciplinary solutions. AST prioritizes customer training and methodology development to teach users how to get the most value from their AVL simulation tools.

Our Solutions
AST's embedded simulation models enable virtual prototyping on both the component and system level for an efficient combination of simulation, design and testing.
---
Employment Opportunities
Being a part of the AVL team offers you many career opportunities. We have a current need for specialists and experts with the following education and/or experience:
Calibration Engineer
Application Engineer
Simulation Engineer
Software Engineer
Electrical and Vehicle Integration Engineer
Electrification Engineer
Controls Engineer
Mechanical Engineer
Chief Engineer
Requirements
AVL looks for the following characteristics in its employees:
Highly technical aptitude and/or scientific qualification
Ability to perform tasks creatively and efficiently
Self-motivated and team-oriented
Previous automotive experience and/or internships encouraged
Apply Online
Please apply online here: AVL's open jobs.

Should there be a suitable opportunity, qualified candidates will be contacted for an interview. Thank you for your interest in employment opportunities with AVL North American Corporate Services, PEI, TSI and AST.
---