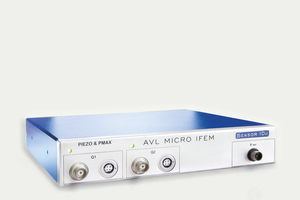 Measure & Control
Indicating Amplifiers
Modular amplifiers for high-end conditioning of cylinder pressure, manifold pressure, rail pressure, or timing signals for the purpose of combustion analysis.
---
AVL Approach
Our indicating amplifiers portfolio is suitable for most application fields and test environments. The different form factors of the FI/FlexIFEM and MicroIFEM amplifier families cover stand-alone usage as well as full integration into the test facility.
---
Benefits at a Glance
Quick sensor swap and best traceability due to AVL Sensor Data Management SDMTM
Easy integration in various environments due to robustness and signal filtering
Compatibility with a large range of sensor types
High transient accuracy due to intelligent drift compensation for piezoelectric sensors
User-friendly parameterization due to full integration in IndiCom
---
Technical Data
Indicating amplifiers and signal conditioning
Product Family

MicroIFEM

FI

FlexIFEM

Number of channels

2 or 4

1 or 2

1 or 2

Power supply

9.5…36 VDC

9.5…36 VDC

9.5…36 VDC

Dimensions WxHxD

4.75'' or 9.5'' x 1HU x 230 mm

86x112x270 mm

86x112x270 mm

Weight

0.75 or 1.5 kg

1.6 kg

1.6 kg

Signal output

-11…+11 V

-11…+11 V

-11…+11 V

Parameterization

Remote via RS232 interface

Via front-keypad, or remote via RS232 or USB interface

Via front-keypad, or remote via RS232 or USB interface

Integrated LCD

no

yes

yes

Sensor Data Management

SID & SDC

SID(*) & SDC

SID(*) & SDC

Peak firing pressure measurement

yes (optional, only for MicroIFEM 2P5)

yes (optional)

yes (optional)

Additional time-based measurements

Engine speed for MicroIFEM 2P5

Engine speed
Combustion noise
Knock peaks
---
AVL Products
Indicating amplifiers
The AVL indicating amplifiers close the gap perfectly between our sensor solutions and our data acquisition units. Our amplifiers indeed offer full compatibility with our sensors, especially via our Sensor Data Management SDMTM concept. The integration of our amplifiers in the indicating chain – especially in terms of parameterization and user-friendliness - is guaranteed by the software solution IndiCom.
Our amplifiers also offer complete stand-alone solutions in terms of basic combustion analysis, and their flexibility furthermore allows integration into a broad variety of testing environments.
Product Family

Description

Applications

Products

MICROIFEM


Well-proven, modular and advanced amplifier concept, best suited for applications directly at the test bed and in vehicle

R&D and application of light/heavy-duty, racing, large engines

MicroIFEM Piezo
MicroIFEM Combi
MicroIFEM Multipurpose

FI





Stand-alone and intelligent amplifier concept, furthermore delivering basic combustion characteristics such as peak firing pressure

R&D and application for light/heavy-duty, racing, large engines
Endurance testing
On-board measurement
In-vehicle performance testing

FLEXIFEM



High-end scalable amplifier family with increased processor performance for complex cylinder pressure-based computations such as combustion noise or knock peaks, upwards compatible to FlexIFEM Indi via simple software upgrade

R&D and application for light/heavy-duty, racing, large engines
Endurance testing
On-board measurement
In-vehicle performance testing
Acoustics development

FlexIFEM Noise, FlexIFEM Knock
---
Key Features
Key features

Description

Drift compensation

State-of-the-art drift compensation for highest accuracy

Standard piezoelectric amplifiers are subject to drift, meaning that at constant cylinder pressure the output voltage signal does not remain constant as one would expect, but drifts towards either end of the output range. Such electric drift can have different root causes (e.g. low input isolation) and is inherent to the piezoelectric measurement chain, but can be compensated for so that the amplifier delivers a constant voltage at constant cylinder pressure.
All our indicating amplifiers are therefore equipped with a state-of-the-art drift compensation technology, implemented by feeding back to the input of the operation amplifier a compensation current which is as large as the lost current. The feedback current is updated at the beginning of every cycle, thus ensuring highest accuracy throughout the entire measurement.

Peak firing pressure measurement

More than just an amplifier.

Via built-in digitalization of the cylinder pressure signal and LCD display the AVL FI Piezo and FlexIFEM amplifiers optionally offer the possibility to detect engine cycles, display cycle-based pressure curves, and calculate peak firing pressure or engine speed.
DAC and digital outputs transform those devices into real stand-alone pmax measurement or monitoring devices. Further time-based algorithms such as combustion noise are also available in the FlexIFEM family.

SDM Sensor Data Management

Increasing efficiency due to organized workflow

SDM guarantees end-to-end automated data transfer and thus ensures error free measurements. This solution covers the complete measurement chain running from the sensor to the post-processing software. AVL Sensor Data Management™ SDM consists of several hardware and software components:

SID Sensor Identification
SIC Sensor Identification Cable
SDC Sensor Data Connector
SDB Sensor Data Base
---