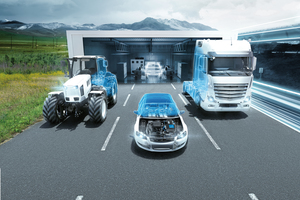 Our Solutions
Supporting future mobility demands
Technology-driven trends such as Connectivity, Autonomous Driving and E-Mobility revolutionize the way how our customers need to respond to changing consumer demands, local legislative and environmental requirements.

We help in planning the proper energy pathway by ecological treatment of resources for the reduction of greenhouse gas emissions in the transport sector. With sustainable design and development, we as AVL reduce the CO₂ footprint of all types of powertrains in all lifecycle stages while considering affordability for the end consumer.

With our experience and customer orientation approach, we deliver the best fit solutions for our customers and are the ideal partner to accompany both the OEMs and new market players on their way to sustainable performance improvement – be this substantial CO₂ reduced ICE, electrified powertrains, all kinds of hybrids, fuel cells to ADAS and automated driving and finally integrating all systems into the vehicle.

Hence, the future mobility landscape is diverse, it will be impacted by many factors, each unfolding at a different pace. By understanding our customer's roadmap, we offer the right solutions to support mobility demands of tomorrow across all applications. With our pioneering solutions, we provide complete and integrated development environments, measurement and test systems as well as state-of-the-art simulation methods.

Electrification
From Mild and Plug-in Hybrid to Battery and Fuel Cell Electric Vehicles, we offer development support, testing and validation solutions, simulation tools and the know-how to transform our customer's technical landscape across all applications.

ADAS and Autonomous Driving
​​​​​​​We cover everything from system design, calibration and validation services, tailored control and functions development, to tools and methods for development and testing.

Vehicle
Our solution portfolio for vehicle, stretches from powertrain integration into the vehicle, attribute engineering, thermal management & HVAC, NVH development, chassis solutions, software and prototypes as well as supplier management, industrialization and homologation. We have strong partnerships with other vehicle engineering companies for full vehicle development.​​​​​​​

Zero-Impact Emission
We are committed to support OEMs develop zero-impact emission mobility solutions. With technological know-how and the experience of our global network of experts, we are creating a cleaner and greener automotive landscape.

Data Intelligence
Our data intelligence services support the complete vehicle development process from concept phase to after-sales management – on a global and local level.
---