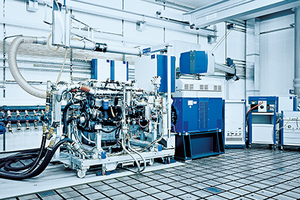 AVL Dynamometers
AVL Dynamometers are representing the load system in testbeds with highest robustness and dynamic beside highest measurement accuracy. Engineered to meet application requirements of combustion engine testing, powertrain testing and E-motor testing. Our product families are optimized to meet different testing tasks like R&D, Calibration, HD Engine Certification and End of Line. The power ranges cover small off-road engines up to 2 stroke ship engines (10kW – 140,000kW).
All Solutions
---
AVL Approach
The range of performance of modern engines demands dynamometers that are of the highest quality technologically, but are also highly reliable and equipped with precise measurement devices. AVL dynamometers meet these requirements in an optimal way.

AVL offers for all applications technically and economicwise the optimal solution. The product portfolio includes Eddy Current Load Units, AC Induction Load Units, AC Permanent Magnet Synchronous Load Units (PMM Drives) and Hydraulic Load Units.

The high dynamic converter control unit ensures high dynamic and high efficient performance by using the Rotorflux Vektor Control Technology.
Special versions to meet NVH requirements and setups with original exhaust system are available.
---
Benefits at a Glance
Compact, robust and maintenance friendly design
Decades of experience / hundreds of installations worldwide
Simulation expertise for complete mechanical set up
Expertise for integrating dynos into the customers grid
Global Support
AC Induction and PMM Drives:

Extreme low total harmonic distortion (THD) at the supply side

The energetic recovery system saves energy costs in the testing field

The Rotorflux Vektor Control Technology ensures a high dynamic operation

Interfaces according to common standards in the automotive industry
---